Welcome to our World of Warcraft Classic PVP Warlock Builds List. This guide is complete with detail on each spec how they will perform in PVP Battlegrounds, we also included links to the full spec build which has Gear Stats and the Talents you should get. We also listed some of the strengths and weaknesses so you know what you are about to start playing if you do decide to play it.
Best Warlock Race 
The Warlock Class has trouble with Rogues, because of this you will want some form of CC removal this is why we recommend you use the Undead or Gnome Race. In the case, you already rolled Human or Orc doesn't despair, they are solid picks and some cases may be more useful. For instance, Humans can detect stealthed enemies, ie Rogues and even Feral druids if you see any.
Best  –  Undead,  Gnome
Average  –   Humans,  Orc
Weak  –
Not Available –  Dwarves,  Night Elf,   Troll,  Tauren
Best Warlock Spec
When it comes to levelling from 1-60 the Affliction and Demonology are some of the easiest to do it with. They also provide a lot of damage though DOTs in both Dungeons and raids and even in PVP Battlegrounds. We recommend trying Destruction Spec if your focus is to PVP, but Affliction is just as if not even better in some cases.
Best  –   Destruction,  Affliction
Average  –  Demonology
Weak  –
World of Warcraft Classic Best Warlock Build

 Best Affliction Warlock Build
We consider this a solid choice for players interested in the Warlock Class, mostly because of its ability to be effective be used in PVP and PVE (Dungeons and Raids). However, it's a little weaker on the PVP side like most cloth wearing classes in Classic WoW.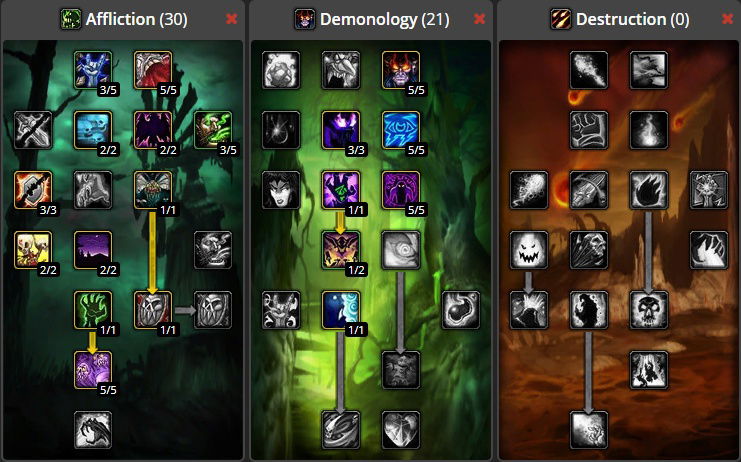 Best Destruction Warlock Build
As you might expect this class is more about casting big fire damage spells, and less about DOTs unless they are applied through burns. If you are looking for a spec that plays more like the Mage Class this is it, and what think is a solid choice when it comes to PVP.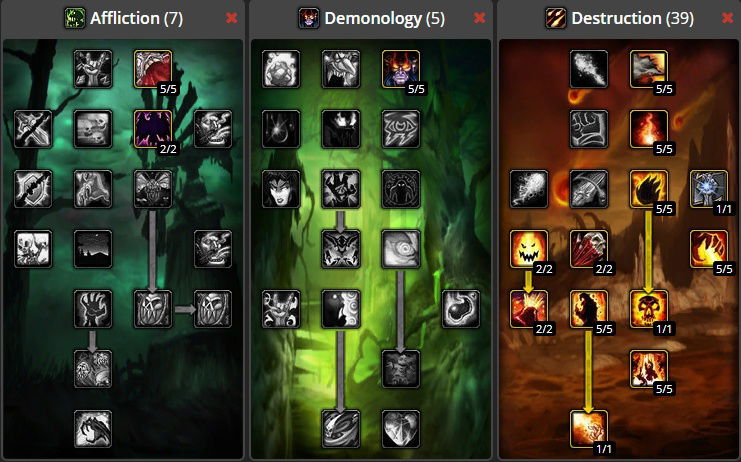 Best Demonology Warlock Build
Another easy levelling spec in Classic WoW, with the added bonus of being able to Off-Tank certain Bosses and Mobs in Raid/Dungeons. This is mostly due to the Pets and the Talents you can grab in this skill tree.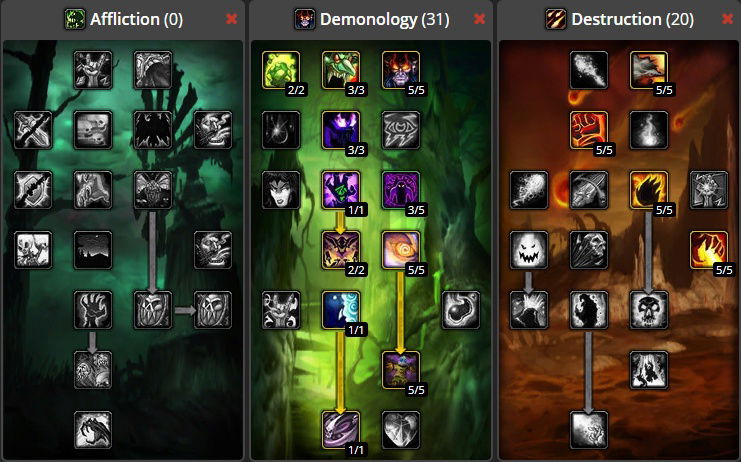 You can view even more WoW Classic Warlock Build Guides by Clicking/Tapping the links below.
You can view more WoW Classic Class Guides by Clicking/Tapping the links below.