Pokemon Sword and Shield Dracovish is a Water and Dragon Type, which makes it weak against Dragon, Fairy type moves. You can find and catch Dracovish using our guide below on How To Obtain this pokemon. The Max IV Stats of Dracovish are 90 HP, 90 Attack, 70 SP Attack, 100 Defense, 80 SP Defense, and 75 Speed.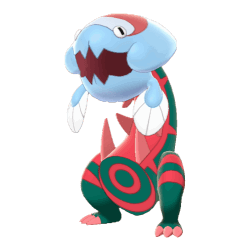 Dracovish
Galar Pokedex ID: 376
2 Defense Point(s)
Ev Yield
List of Dracovish Max IV Stats in Pokemon SW SH.
| | | |
| --- | --- | --- |
| Total | 505 | |
| HP | 90 | |
| Attack | 90 | |
| Defense | 100 | |
| Special Attack | 70 | |
| Special Defense | 80 | |
| Speed | 75 | |
Based on this pokemon's stats we consider the best nature for Dracovish to have is Impish, this will increase it's Defense and decrease it's Sp. Atk stats.
| | | |
| --- | --- | --- |
| Ability | Type | Effect |
| Water Absorb | Normal | Restores HP if hit by a Water-type move instead of taking damage. |
| Strong Jaw | Normal | The Pokémon's strong jaw boosts the power of its biting moves. |
| Sand Rush | Hidden | Boosts the Pokémon's Speed stat in a sandstorm. |
Sword Pokedex Entry

Powerful legs and jaws made it the apex predator of its time. Its own overhunting of its prey was what drove it to extinction.
Shield Pokedex Entry

Its mighty legs are capable of running at speeds exceeding 40 mph, but this Pokémon can't breathe unless it's underwater.
Pokemon Sword and Shield Dracovish Evolutions
How do i evolve Dracovish in Pokemon Sword and Shield?
Currently Pokemon Sword and Shield Dracovish does not have an evolution form in Generation 8.
Dracovish Locations in Pokemon Sword and Shield
Where do i find and how to get Dracovish?
Dracovish does not normally spawn in the wild, you will need to find this pokemon using a different method.
When you reach the Fossil Lady at Route 6, you will be offered the chance to revive 1 of 4 extinct Fossil Pokemon by combing two different fossils.
Pokemon Sword and Shield Dracovish Weakness
Dracovish is a Water and Dragon Type pokemon. This will cause it to take More Damage from Dragon, Fairy Type Moves and will take Less Damage from Steel, Fire, Water type moves.
Damage
Types
4.0x
Damage
2.0x
Damage

Dragon

Fairy

0.5x
Damage

Steel

0.25x
Damage

Fire

Water

Immune to Damage
What pokemon is Dracovish Weak Against?
What pokemon is Dracovish Strong Against?
Pokemon SW and SH Dracovish Moves List
What moves can Dracovish learn from TMs, TRs, and Leveling?
Dracovish can learn the dragon type move Dragon Rush at level 77. This Physical move May cause flinching. Bolded Pow numbers are adjusted for this pokemon's Water and Dragon type +50% STAB damage.
| Lvl | Move | Type | Class | Pow | Acc | PP | Effect |
| --- | --- | --- | --- | --- | --- | --- | --- |
| 01 | Tackle | | Physical | 40 | 100 | 35 | |
| 01 | Water Gun | | Special | 60 | 100 | 25 | |
| 07 | Protect | | Status | — | — | 10 | Protects the user, but may fail if used consecutively. |
| 14 | Brutal Swing | | Physical | 60 | 100 | 20 | The user swings its body around violently to inflict damage on everything in its vicinity. |
| 21 | Ancient Power | | Special | 60 | 100 | 5 | May raise all user's stats at once. |
| 28 | Bite | | Physical | 60 | 100 | 25 | May cause flinching. |
| 35 | Dragon Breath | | Special | 90 | 100 | 20 | May paralyze opponent. |
| 42 | Stomp | | Physical | 65 | 100 | 20 | May cause flinching. |
| 49 | Super Fang | | Physical | — | 90 | 10 | Always takes off half of the opponent's HP. |
| 56 | Crunch | | Physical | 80 | 100 | 15 | May lower opponent's Defense. |
| 63 | Fishious Rend | | Physical | 127.5 | 100 | 10 | If the user attacks before the target, the power of this move is doubled. |
| 70 | Dragon Pulse | | Special | 127.5 | 100 | 10 | |
| 77 | Dragon Rush | | Physical | 150 | 75 | 10 | May cause flinching. |
TM Moves Dracovish can learn
| TM | Move | Type | Class | Pow | Acc | PP | Effect |
| --- | --- | --- | --- | --- | --- | --- | --- |
| TM01 | Mega Kick | | Physical | 120 | 75 | 5 | |
| TM08 | Hyper Beam | | Special | 150 | 90 | 5 | User must recharge next turn. |
| TM09 | Giga Impact | | Physical | 150 | 90 | 5 | User must recharge next turn. |
| TM21 | Rest | | Status | — | — | 10 | User sleeps for 2 turns, but user is fully healed. |
| TM22 | Rock Slide | | Physical | 75 | 90 | 10 | May cause flinching. |
| TM24 | Snore | | Special | 50 | 100 | 15 | Can only be used if asleep. May cause flinching. |
| TM25 | Protect | | Status | — | — | 10 | Protects the user, but may fail if used consecutively. |
| TM33 | Rain Dance | | Status | — | — | 5 | Makes it rain for 5 turns. |
| TM36 | Whirlpool | | Special | 52.5 | 85 | 15 | Traps opponent, damaging them for 4-5 turns. |
| TM39 | Facade | | Physical | 70 | 100 | 20 | Power doubles if user is burned, poisoned, or paralyzed. |
| TM45 | Dive | | Physical | 120 | 100 | 10 | Dives underwater on first turn, attacks on second turn. |
| TM48 | Rock Tomb | | Physical | 60 | 95 | 15 | Lowers opponent's Speed. |
| TM54 | Rock Blast | | Physical | 25 | 90 | 10 | Hits 2-5 times in one turn. |
| TM55 | Brine | | Special | 97.5 | 100 | 10 | Power doubles if opponent's HP is less than 50%. |
| TM67 | Ice Fang | | Physical | 65 | 95 | 15 | May cause flinching and/or freeze opponent. |
| TM76 | Round | | Special | 60 | 100 | 15 | Power increases if teammates use it in the same turn. |
| TM81 | Bulldoze | | Physical | 60 | 100 | 20 | Lowers opponent's Speed. |
| TM97 | Brutal Swing | | Physical | 60 | 100 | 20 | The user swings its body around violently to inflict damage on everything in its vicinity. |
| TM98 | Stomping Tantrum | | Physical | 75 | 100 | 10 | Driven by frustration, the user attacks the target. If the user's previous move has failed, the power of this move doubles. |
| TR | Move | Type | Class | Pow | Acc | PP | Effect |
| --- | --- | --- | --- | --- | --- | --- | --- |
| TR01 | Body Slam | | Physical | 85 | 100 | 15 | May paralyze opponent. |
| TR03 | Hydro Pump | | Special | 165 | 80 | 5 | |
| TR04 | Surf | | Special | 135 | 100 | 15 | Hits all adjacent Pokémon. |
| TR07 | Low Kick | | Physical | — | 100 | 20 | The heavier the opponent, the stronger the attack. |
| TR10 | Earthquake | | Physical | 100 | 100 | 10 | Power is doubled if opponent is underground from using Dig. |
| TR16 | Waterfall | | Physical | 120 | 100 | 15 | May cause flinching. |
| TR18 | Leech Life | | Physical | 80 | 100 | 10 | User recovers half the HP inflicted on opponent. |
| TR20 | Substitute | | Status | — | — | 10 | Uses HP to creates a decoy that takes hits. |
| TR24 | Outrage | | Physical | 180 | 100 | 10 | User attacks for 2-3 turns but then becomes confused. |
| TR26 | Endure | | Status | — | — | 10 | Always left with at least 1 HP, but may fail if used consecutively. |
| TR27 | Sleep Talk | | Status | — | — | 10 | User performs one of its own moves while sleeping. |
| TR32 | Crunch | | Physical | 80 | 100 | 15 | May lower opponent's Defense. |
| TR62 | Dragon Pulse | | Special | 127.5 | 100 | 10 | |
| TR67 | Earth Power | | Special | 90 | 100 | 10 | May lower opponent's Special Defense. |
| TR69 | Zen Headbutt | | Physical | 80 | 90 | 15 | May cause flinching. |
| TR74 | Iron Head | | Physical | 80 | 100 | 15 | May cause flinching. |
| TR75 | Stone Edge | | Physical | 100 | 80 | 5 | High critical hit ratio. |
| TR84 | Scald | | Special | 120 | 100 | 15 | May burn opponent. |
| TR97 | Psychic Fangs | | Physical | 85 | 100 | 10 | The user bites the target with its psychic capabilities. This can also destroy Light Screen and Reflect. |
| TR98 | Liquidation | | Physical | 127.5 | 100 | 10 | The user slams into the target using a full-force blast of water. This may also lower the target's Defense stat. |