Fire Emblem Heroes Awakening Guide, We will explain how to awaken your characters in Fire Emblem Heroes and what that means.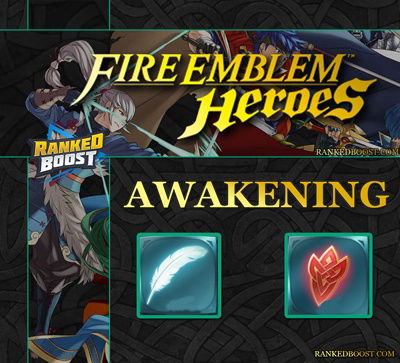 What Is Awakening In Fire Emblem Heroes?
Awakening is the process of evolving/transforming your heroes from 1☆ rarity into a 5☆ rarity hero. When you awaken characters, not only will their rarity increase but so will their Stats. These is another method for making your Heroes more powerful.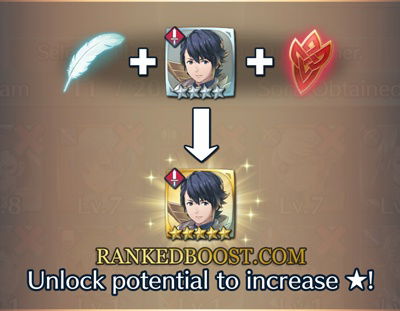 Increasing a Characters Rarity will also increase their Level Cap.
(Important Note: When you awaken a Character their level will reset back to 1.)
Hero Awakening
How Do I Awaken Hero Characters?
To use Fire Emblem Heroes Awakening your character will need to reach level 20, the cost will vary depending on the Rarity of your character.
| Rarity | CostLevel |
| --- | --- |
| ★ | 5 Coloured Badges + 100 Feathers |
| ★★ | 10 Coloured Badges + 200 Feathers |
| ★★★ | 20 Coloured Badges + 2000 Feathers |
| ★★★★ | 20 Great Coloured Badges + 20,000 Feathers |
When unlocking a character's potential and increasing their Rarity rank, Their stats and Level will reset, but they will keep their skills and SP.
Depending on your characters Rarity rank they will be using a certain type of weapon.
★ = Iron Weapon Version.

★★ = Steel Weapon Version.

★★★ = Silver Weapon Version.

★★★★ = Named Weapon with Special Effect.

★★★★★ = Named Weapon with Special Effect.
Emblems/Badges

Emblems and Badges are Used to unlock potential in allies, this will increase the characters rarity star. Only certain badges and emblems will work specific color types, for example, Scarlet Emblems only work on Red Type Heroes.
Hero Feathers

Hero feathers are similar to Badges and emblems in that they also increase the hero character potential. However, Feathers have a low drop rate and are recommended that you save them until you find a character you really want to power up.
The Best Characters To Awaken In Fire Emblem Heroes
Characters best used on awakening are as follows:
| Best Characters | Att |
| --- | --- |
| Camilla | |
| Roy | |
| Tiki | |
| Nowi | |
| Fae | |
| Takumi | |
| Robin | |
| Chrom | |