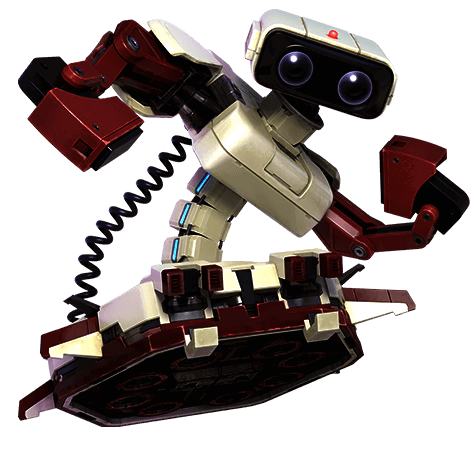 R.O.B.
Super Smash Bros Ultimate R.O.B. is from the R.O.B. Series and ranks as a B Tier Pick (Good). This How To Play R.O.B. Guide details the Best Spirits to use and highest Stats. This character is in the Heavy Weight Class and has a Average Run Speed, Average Air Speed, Average Dash Speed. You unlock R.O.B. by playing as Incineroar in the VS. Game Mode.
| | |
| --- | --- |
| Weight | |
| Air Speed | |
| Fall Speed | |
| Run Speed | |
| Dash Speed | |

Weight
Heavy

Air Speed
Average

Fall Speed
Average

Run Speed
Average

Dash Speed
Average
Super Smash Blog Entry

He has two powerful projectiles: Robo Beam and Gyro, along with a very effective recovery. The 1P color in the North American version of the game is a light gray, and the 2P is red and white, but this is reversed in the Japanese version.
How To Unlock R.O.B. In SSBU
You can Unlock R.O.B. from playing VS. Matches, Classic Mode and World of Light Game Modes In Super Smash Bros Ultimate.
World of Light Unlock Method - Mysterious Dimension (World of Dark)
Cassic Mode Unlock Method - Unlocked by Luigi
VS Mode Unlock Method - Play Incineroar
You can learn more about the fastest way to unlock R.O.B. HERE.
Best Spirits for R.O.B.
These are the Best Primary and Support Spirits to use with R.O.B. based on their Moves and playstyle.
| Best R.O.B. Spirits | Spirit Name |
| --- | --- |
| Primary Spirit | Dark Daroach |
| Support Slot 1 | Rock Mario |
| Support Slot 2 | Rathalos |
| Support Slot 3 | Shine Sprite |
Improves fire and explosion moves, overall physical strength, air attacks, and all special move power.
You can learn more about Spirits HERE.
The Best Character Matchups for R.O.B., these are Counter Picks R.O.B. is Weak Against.
Zero Suit Samus
Sheik
Bayonetta
Cloud
Corrin
R.O.B. Movesets
Here you can view all the Neutral, Dash, Defensive, Tilt, Smash, Grab, Aerial and Special Move Attacks.
| Technique | Description |
| --- | --- |
| Storing Your Charge | Some fighters have special moves that can be charged up. a fully charged special move will deal some serious damage! If you use your shield while charging you can store the charged attack. |
| Robo Burner | Start flying with up special and then use the special move button to rise in the air. You will use fuel while flying, it will replenish upon landing. You can make the fuel last longer by tapping the button instead of holding it. |
| Final Smash | Description |
| --- | --- |
| Guided Robo Beam | Automatically locks on to multiple opponents, then fires homing lasers at them. Finish the attack by shooting a gaint beam that hits multiple targets. The angle of the beam can be adjusted up or down. |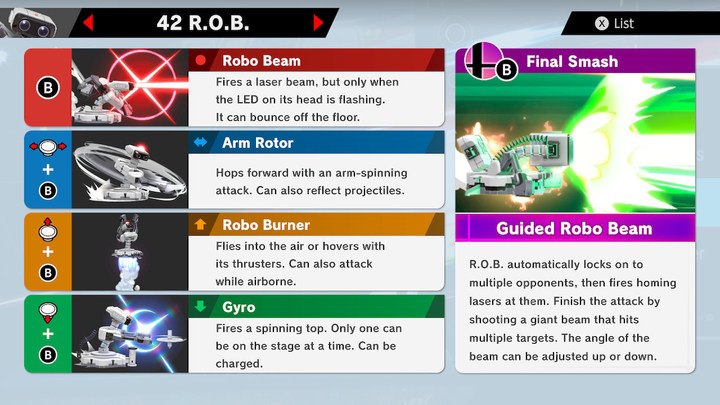 Buy on Amazon
RankedBoost may receive a commission from Amazon purchases.
You can learn more about Leveing Up your Amiibos HERE.
All Alternate R.O.B. Costumes in SSBU
Images of all Alternate Costumes.