This is all of our information on the Digging Duo in Pokemon Sword And Shield. You will learn who the Digging Duo is, where to find them, the differences in their stats, and what they can obtain.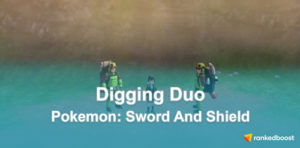 Who Are The Digging Duo
The Digging Duo is a pair of brothers who you can pay to go excavating in a nearby cliff-side and find collectibles for you. They can find an array of rare and not so rare items that can be used to evolve your Pokemon or sell for extra money.
How To Find The Digging Duo In Pokemon Sword & Shield
The Digging Duo can be found in the Wild Area, near the Pokemon Nursery. Here are some steps to help you find them easier.
Fly to Bridge Field

Once you arrive at Bridge Field (Near the Nursery), you will want to go left, beside the wall

The Digging Duo should be straight ahead from you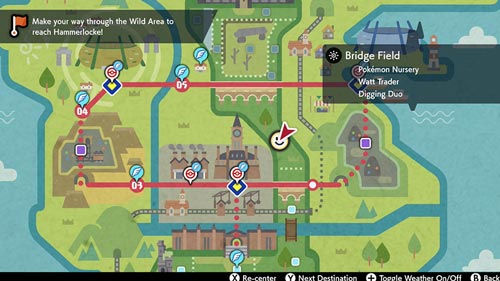 The Digging Duo will ask you for 500 Watts, the currency that can be found in the Wild Area if you want them to dig for items for you.
Differences Between Them
They have differences in stats depending on which Brother you are talking to, the one on the left (Closest to the Nursery) has less stamina than his Brother, but he will find rarer items. The Brother on the right has more stamina, so he will dig for longer but will find items that are not as rare.
Depending on which version you have, the brothers can obtain different items. (Pokemon Fossils are different in both versions)
Digging Duo Item Drop Rates in Pokemon Sw & Sh
Below we list all the items you can get from digging duo and their chance rate to drop. Mostly you will find Evolution Items and Fossils, which can be used to obtain Fossil Pokemon.
If you are looking for Fossils, I recommend the Skill Brother (Reward Focused), he is far more cost-efficient, but he gets tired quickly.
List Of Stamina Digging Duo Items
Picture
Item
Chance
Rate
Dawn Stone
3%
Dusk Stone
2%
Sun Stone
4%
Moon Stone
3%
Star Piece
4%
Fire Stone
4%
Ice Stone
2%
Water Stone
3%
Shiny Stone
2%
Thunder Stone
4%
Leaf Stone
4%
Float Stone
3%
Everstone
7%
Heat Rock
2%
Smooth Rock
2%
Icy Rock
3%
Hard Stone
3%
Metal Coat
1%
Iron Ball
2%
Sticky Barb
1%
Normal Gem
1%
Rare Bone
5%
Lagging Tail
1%
Soft Sand
4%
Star Dust
17%
Fossilized Fish

Shield Exclusive 4%

Fossilized Bird
Sword Exclusive 4%
Fossilized Dino
Sword Exclusive 4%
Fossilized Drake

Shield Exclusive 4%

Damp Rock
2%
Light Clay
2%
List Of Skill Digging Duo Items
Picture
Item
Chance
Rate
Dawn Stone
4%
Dusk Stone
3%
Sun Stone
4%
Moon Stone
4%
Ice Stone
5%
Comet Shard
7%
Gold Bottle Cap
0.05%
Bottle Cap
2%
Metal Coat
4%
Iron Ball
5%
Sticky Barb
3%
Normal Gem
3%
Rare Bone
24%
Lagging Tail
4%
Light Clay
3%
Fossilized Fish
Shield Common
Sword Rare
Fossilized Bird
Sword Common
Shield Rare
Fossilized Dino

Sword

Common
Shield Rare
Fossilized Drake
Shield Common
Sword Rare
Wishing Piece
5%