Welcome to our Warcraft 3 Reforged DotA Best Heroes Tier List, DotA also known as Defense of the Ancients is a custom map MOBA. Like most mobas, you will need to select a Hero and we have ranked the Weakest and Strongest Heroes in the WC3 DotA Allstars Map.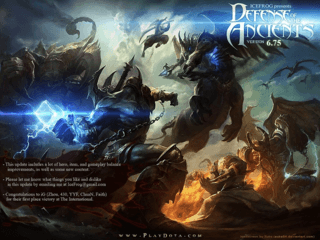 Here we will explain how this Defense of the Ancients DotA Tier List works, each ranking holds many heroes and gives a general idea of what to expect from the heroes within it.
S Tier – (Best) Highest ranking heroes in our DotA Tier List.
A Tier – (Strong) Very strong heroes, but not on the same level as S Tier.
B Tier – (Good) Solid Choice and can be strong in the hands of a skilled player.
C Tier – (Average) The middle of the pack nothing really good nor bad.
D Tier – (Below Average) Slightly on the weaker side of an average pick.
E Tier – (Weak) Underpowered and wouldn't recommend unless you enjoy the character playstyle.
F Tier – (Worst) The lowest ranking characters in this Defense of the Ancients Tier List.
Warcraft 3 DotA Heroes Tier List
Now that you understand what each ranking in this Warcraft 3 DotA Heroes Tier List means, we can finally rank all of these Support, Solo, Ganking and Farming Hero Picks. Keep in mind this Tier List will be kept updated as the Meta changes for this popular WC3 Custom Map.
S Tier – Tauren Chieftain, Earthshaker, Nerubian Assassin, Death Prophet, Necrolyte
A Tier – Undying, Lord of Olympia, Crystal Maiden, Tide Hunter, Tinker, Priestess of the Moon, Enigma, Bane Elemental, Netherdrake, Admiral, Shadow Shaman, Omniknight
B Tier – Rogue Knight, Sand King, Lighting Revenant, Warlock, Faerie Dragon, Treant Protector, Storm Spirit, Lich, Ogre Magi, Magnataur, Axe, Lycanthrope, Lifestealer, Drow Ranger, Vengeful Spirit, Demon Witch
C Tier – Queen of Pain, Shadow Fiend, Keeper of the Light, Venomancer, Beastmaster, Stone Giant, Enchantress, Slithereen Guard, Doom Bringer, Bristleback, Pandaren Brewmaster, Nerubian Weaver, Windrunner, Lina, Dark Seer, Witch Doctor, Leshrac, Dazzle, Bloodseeker, Lone Druid, Necro'lic, Lord of Avernus, Bounty Hunter, Stealth Assassin, Dragon Knight, Faceless Void, Furion, Jakiro, Silencer
D Tier – Sacred Warrior, Broodmother, Naga Siren, Juggernaut, Spirit Breaker, Skeleton King, Clockwerk Goblin, Morphling, Phantom Lancer, Alchemist, Chaos Knight, Spectre, Sniper, Phantom Assassin, Troll, Gorgon, Obsidian Destroyer
E Tier – Oblivion, Terrorblade, Anti-Mage, Butcher, Pit Lord, Geomancer, Goblin Techies
F Tier – Centaur Warchief, Ursa Warrior, Bone Fletcher, Moon Rider, Night Stalker

What's the Best Hero To Play In WC3 DotA?
When it comes to DotA like most MOBA games there are strong champions at any given point during a Patch or Meta, however, this does not mean that they cannot be countered by another hero who has the advantage in lane.
Best Heroes To Play 
Tauren Chieftain – One of the most popular and overpowered Heroes in DotA.
Nerubian Assassin – Strong pick to play in Mid Solo, this combined with the amazing Ganks makes it an easy S Tier.
Earthshaker – TOP Tier Support pick, grabbing a Blink Dagger allows for some great plays to be made.
Lord of Olympia – Lots of AOE Damage and can Nuke/Burst Enemy heroes with damage.
You can view more Warcraft 3 Guides by Clicking/Tapping the links below.