Welcome to our The Elder Scrolls Blades Weapons Tier List, which ranks the weakest and strongest choices. You can view all the Best Weapons in The Elder Scrolls Blades sorted by type with stat details below. We have also listed each weapons type Light, Heavy and Versatile Weapons and what makes them so different from each other.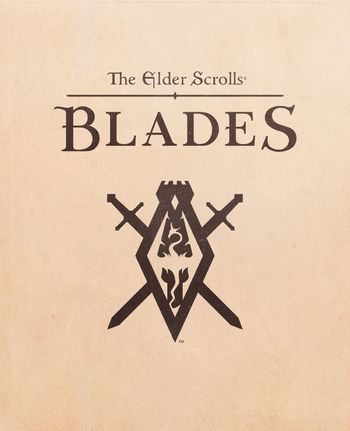 Before we jump into the Weapons List you should know one of the biggest difference between these weapon types.
Daggers, Swords – Deal Slashing Damage
Axes – Deal Slashing Damage
Hammers, Maces – Deal Bashing Damage
Heavy Weapons
Greatswords, Battleaxes and Warhammers are Heavy Weapons in Elder Scrolls Blades, they attack slowly and get little benefit from combo attacks, but deal the most damage, with strong critical strike hits. Heavy Weapons also have the highest block rating, this is likely due to the fact you will not have shield since they require two hands to wield.
Heavy Weapon
Damage
Gold
Cost
Iron Battleaxe
30
440
Iron Greatsword
30
440
Iron Warhammer
30
440
Steel Battleaxe
45
990
Steel Greatsword
45
990
Steel Warhammer
45
990
Rueful Axe
119

(Does 128 damage to stamina)
(Reduces target's maximum Health by 22)
(Does 20% more damage to skeevers, Wolves, and Bears)

–

Light Weapons
Daggers, Hand Axes and Light Hammers are Light Weapons in Elder Scrolls Blades, they deal low damage and have the weakest critical strike, but attack very fast, and can do great combos. They also have the advantage of being one handed so you can wield a shield.
Heavy Weapon
Damage
Gold
Cost
Iron Dagger
18
330
Iron Hand Axe
18
330
Iron Light Hammer
18
330
Steel Dagger
27
737
Steel Hand Axe
27
737
Steel Light Hammer
27
737

Versatile Weapons
Longsword, War Axes and Maces are Versatile Weapons in Elder Scrolls Blades, These are the most flexible of the 3 weapon types. You can wield with one hand and shield or you can wield it as a two-hand weapon for extra damage.
Heavy Weapon
Damage
Gold
Cost
Iron Longsword
26
385
Iron War Axes
26
385
Iron Maces
26
385
Steel Longsword
38
862
Steel War Axes
38
862
Steel Maces
38
862
Watcher's Longsword
48
Hero
Pack
Bloodthirst
93

(Restores Health by damage done, up to 2 points)
(if health is full, repairs by 1 instead)

–
Exemplary Glass Longsword of Arcing
142

(Does 29 shock damage to health and magicka)

–
Majestic Orcish Mace of Frost
(Legendary)
118

(Does 25 Frost Damage to Health and Stamina)
(Reduces Target's Maximum Health by 20)
(Converts up to 18 physical damage done to fire damage)

–
The Elder Scrolls Blades Best Weapons
The Elder Scrolls Blades Best Weapons Tier List is based on stats. This tier list will apply across all platforms this game is available on, which at the moment is Android and IOS.
Rankings
Weapons
S-Tier
[Best]
Watcher's Longsword
A-Tier
[Strong]
 Longsword
Greatsword
B-Tier
[Above Average]
 Dagger
C-Tier
[Average]
 Battle Axe
 War Axe
Maces
D-Tier
[Below
Average]
 Hand Axe
 Light Hammer
F-Tier


[Worst]
You can view more elder scrolls blades Guides by Clicking/Tapping the links below.