This year's upcoming game-changing patch will be a huge one to every item in the game, everything from rebalancing, nerfing, buffing, and even brand new items. This lol pre-season 2021 guide will go into detail on some of the significant changes you should be aware of and the new overpowered Mythic Items.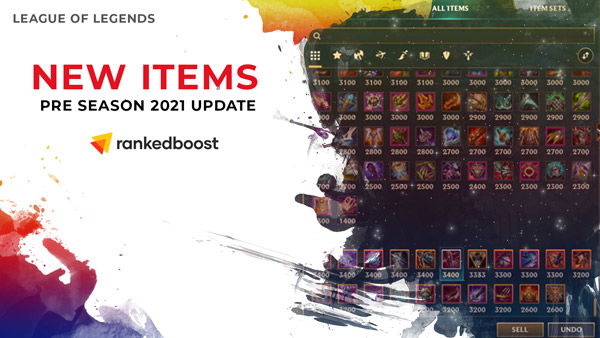 Let's start with the fact that riot has decided to remove some items and repurpose others into Mythics, and in some cases, completely change what they do. Most importantly, now Jungle Players will gain an extra Item Slot to purchase one more Legendary items, thanks to the changes to the Jungle Items.
Each player can only purchase 1 Mythic Item

in-game.

Mythic items will often grow stronger later in-game and provide every

Legendary Item you buy Bonus Stats.
Shop UI redesign

The Shop will

Recommend Items

you should build based on what it considers

Strong Against

your opponent.

The

Champion's Recommended Item

will be highlighted by a ★ Star icon next to the item.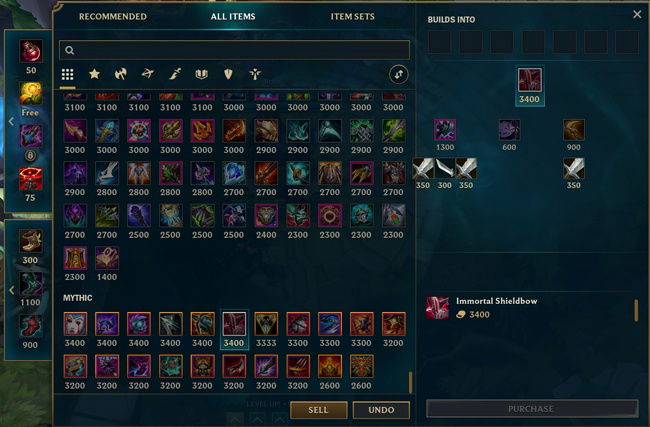 LoL Mythic Items List
Below you will find a complete list of all Mythic Items in League of Legends Pre-season; we have organized them by role just as the Shop UI has them. We will include and keep the NEW Mythic Items and their stats updated on this list as well.
You can quickly navigate all the NEW Pre Season 2021 Mythic Items by using the links below.
Mage Mythic Items
These are both the Mana and Manaless Mage Mythic Items available and can be built on any AP Champions. Manaless Champions such as Akali will have up to 3 effective options that do not provide the player with mana (Axamuk's Folly – Hextech Rocketbelt – Night Harvester).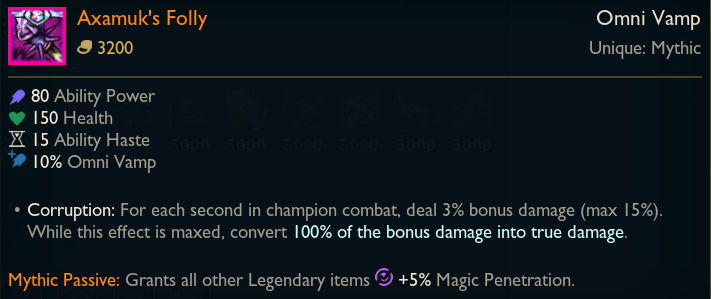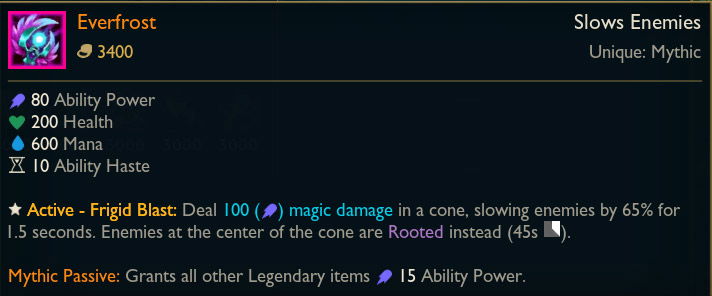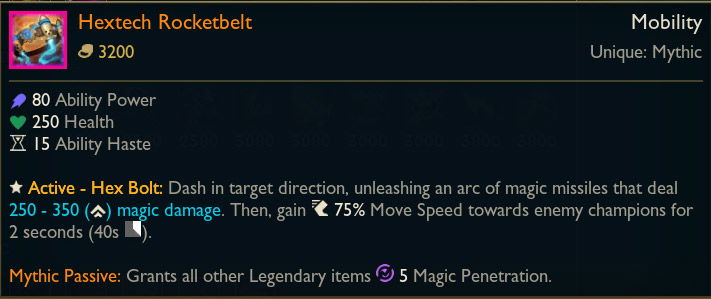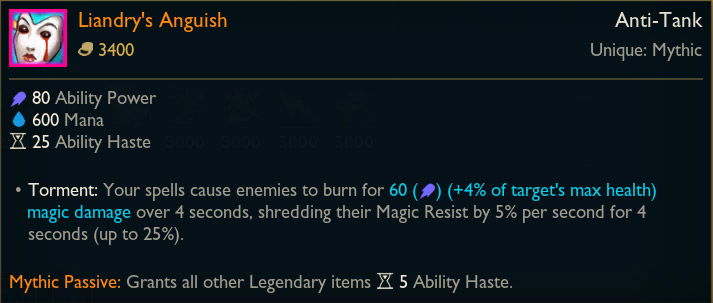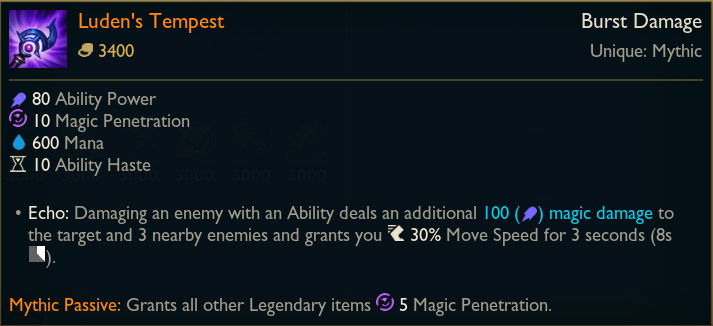 Marksmen Mythic Items
The Marksmen Mythics can be built on other champions such as Graves and even Kindred, but they are mostly meant for the ADC role. One item, in particular, allows any ADC to become a tank slayer similar to Vayne.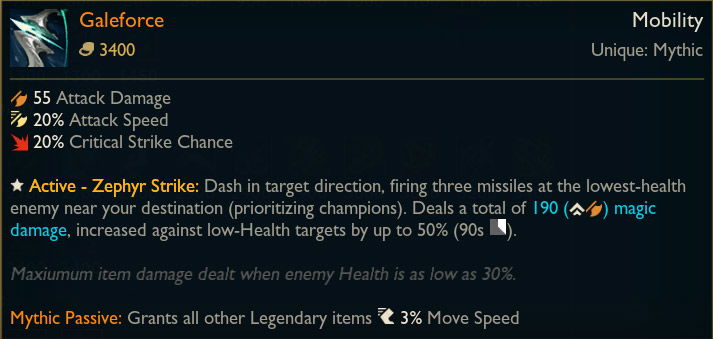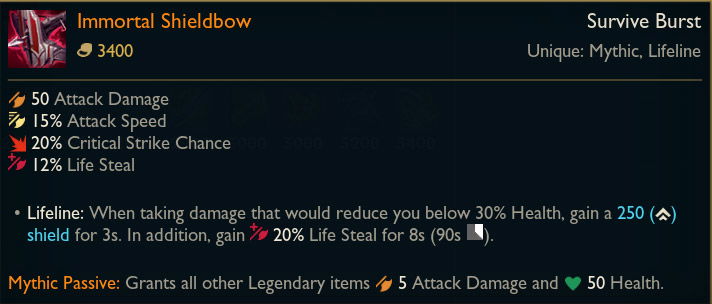 Tank Mythic Items
The Tank Mythic items can be used with great effectivness on many roles such as Support, Top Lane, Jungle and even Mid Lane. Interestingly all of these Mythics share the Immolate Passive that deals damage over time, with the Sunborn Aegis being a more potent version.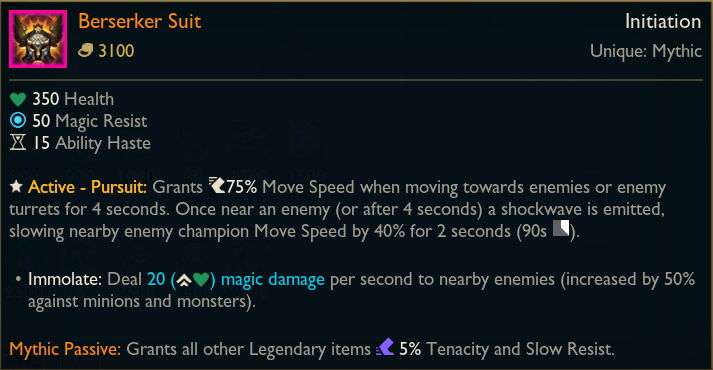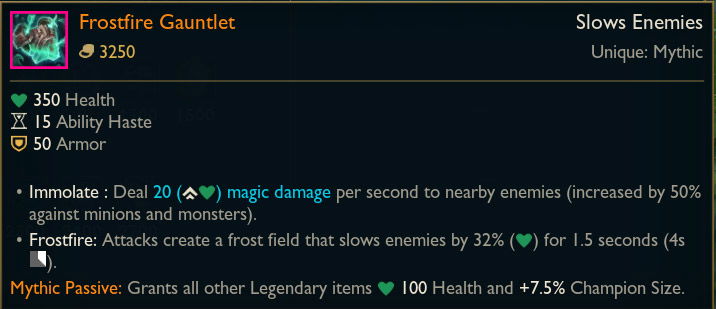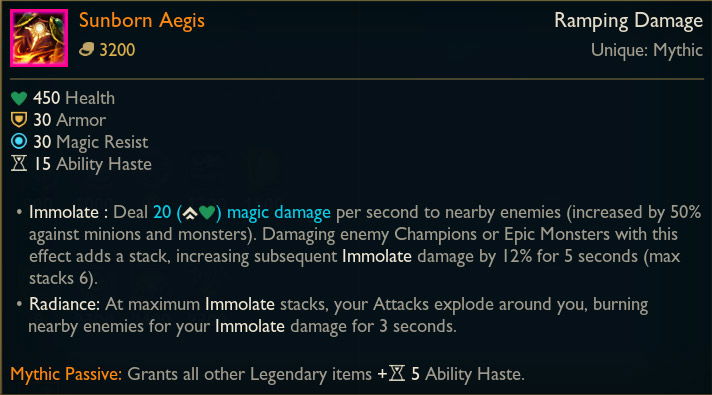 Assassin Mythic Items
The Assassin Mythic are mostly focus towards AD Assassin champions, but you might just see some hybrid champions pick these up, and who knows maybe an Marksmen might use them. For example, the Eclipse Mythic would work nicely on a champion like Jax, since he can make use of the Omni vamp; however, you will lose the chance to buy the new Trinity Force in the process.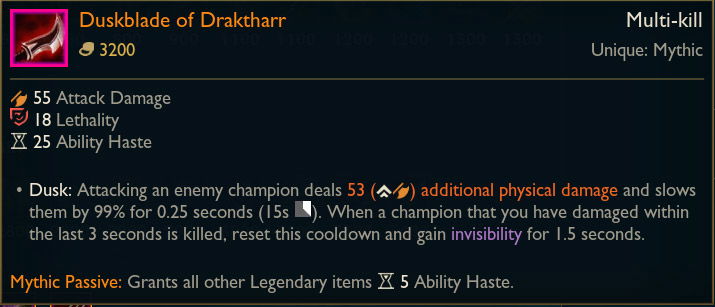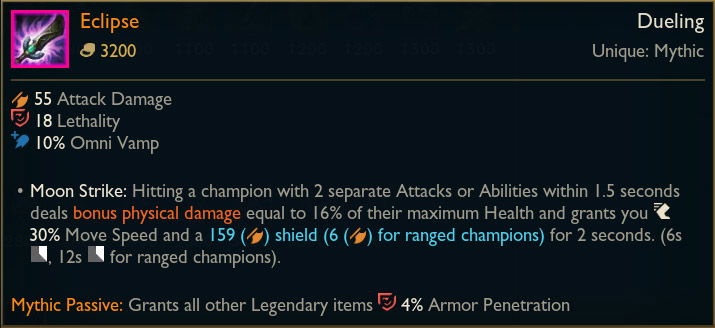 Support Mythic Items
The Support Mythic are focused on Enchanter Champions, if you happen to play alot of Tanky Support then you should look towards the Tank Mythic Items. Vice versa, if you play a lot of Tanks, maybe you might find some of these support items useful.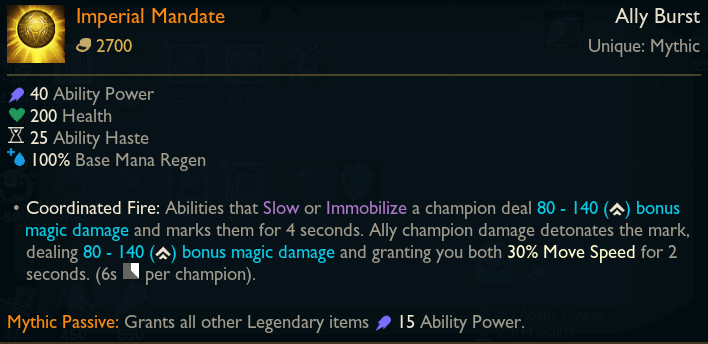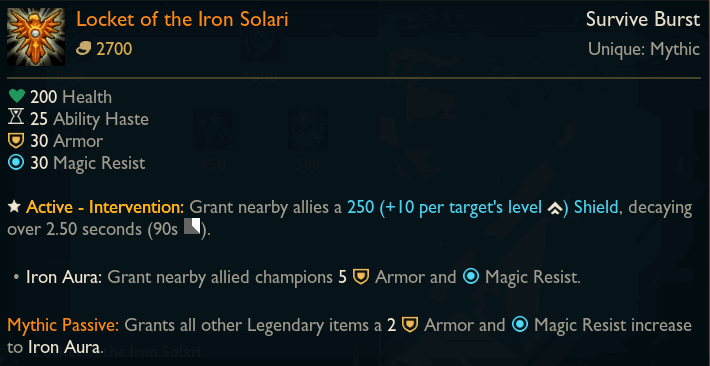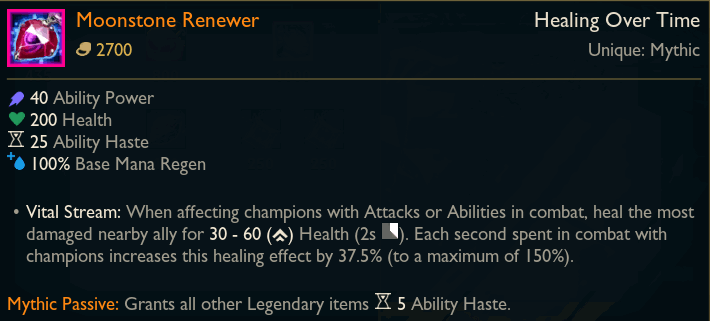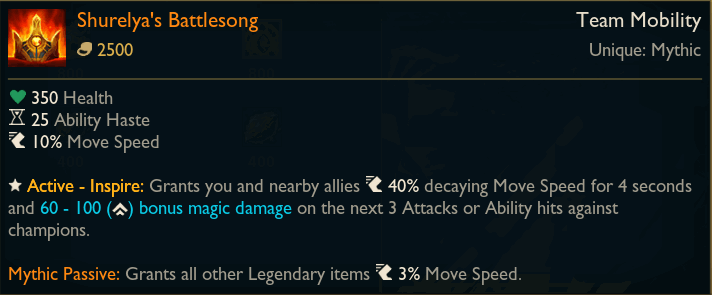 Fighter Mythic Items
The AD Fighter Mythics are used mostly on champions such as renekton, jax and wukong, however many of these can be used Assassins and even ADC with effectiveness. We expect to see even tanks start to build these in some cases when being super tanky is not needed.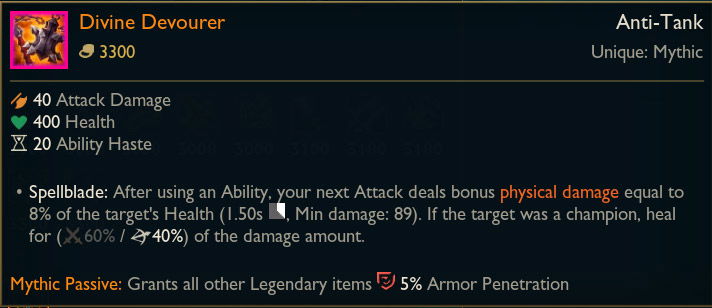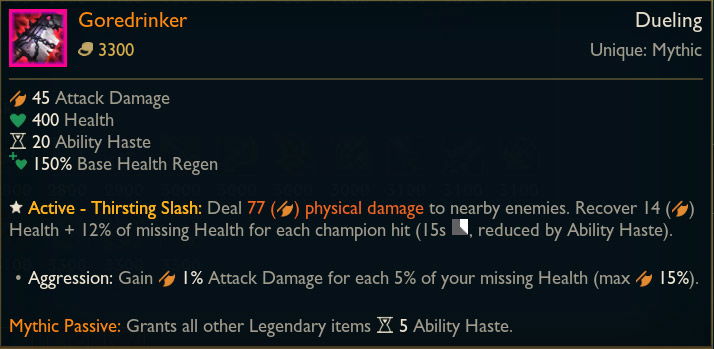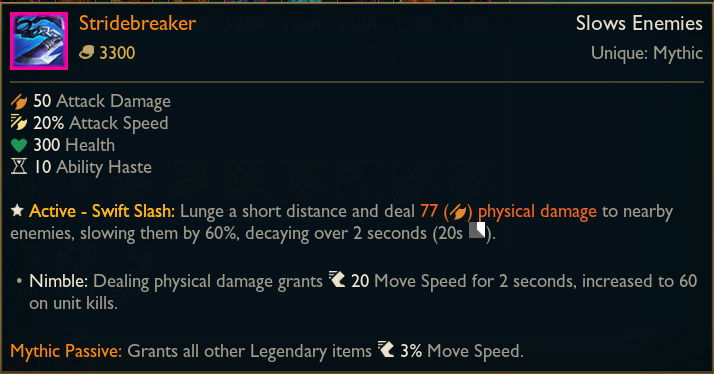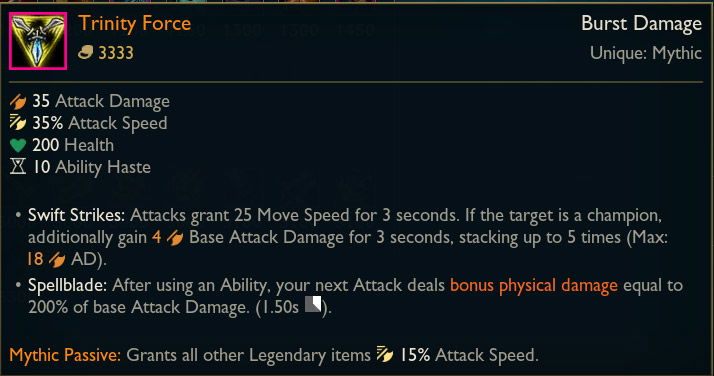 NEW Legendary Items List
Below is a list of all the New Legendary Items that were added with this Pre Season Item Update Patch. Many of the existing legendary league items have had their stats and effects changed, but remain the same in terms of functionality.
Changed Legendary Items
Sunfire Cape -> Sunfire Aegis
Righteous Glory -> Berserker Suit
Iceborn Gauntlet -> Frostfire Gauntlet
Duskblade of Draktharr -> Mythic Version
Liandry's Torment -> Liandry's Anguish
Luden's Echo -> Luden's Tempest
Hextech Protobelt-01 -> Hextech Rocketbelt
Trinity Force -> Mythic Version
Shurelya's Reverie -> Shurelya's Battlesong
Locket of the Iron Solari -> Mythic Version
Removed Legendary Items
Adaptive Helm
Athene's Unholy Grail
Frozen Mallet
Hextech GLP-800
Hextech Gunblade
Spellbinder
Statikk Shiv
Twin Shadows
All Jungle Items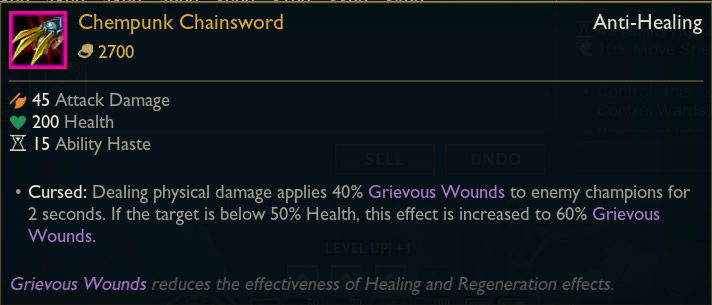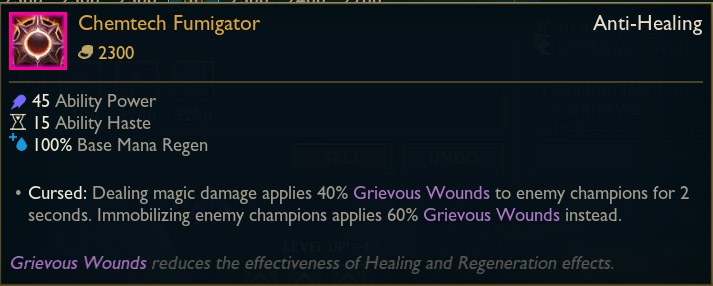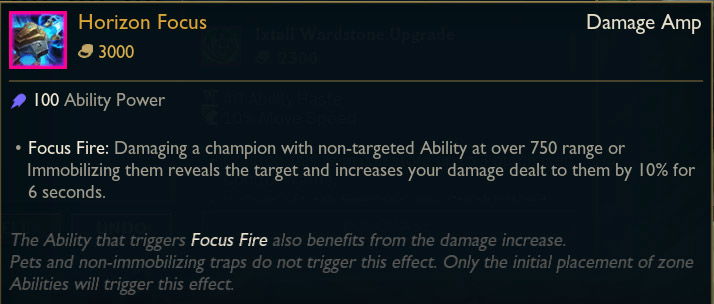 New Jungle Items 2021 Pre Season
2 NEW Jungle items are coming in the Pre Season Item Update. All of the previous Jungle Items were removed from the game, and now Jungle Players will gain an extra Item Slot in Season 11.
How Do Jungle Items Work in Pre Season 2021?
At the start of the Game, Jungle Players will purchase 1 of the 2 Jungle Starter Items, and after 5 Smites Uses, it will be consumed and turned into either Blue or Red Smite. After you have consumed the Forgeheart/Hailseed Jungle Starter, you will have an extra Item slot allowing for another Legendary item into your build.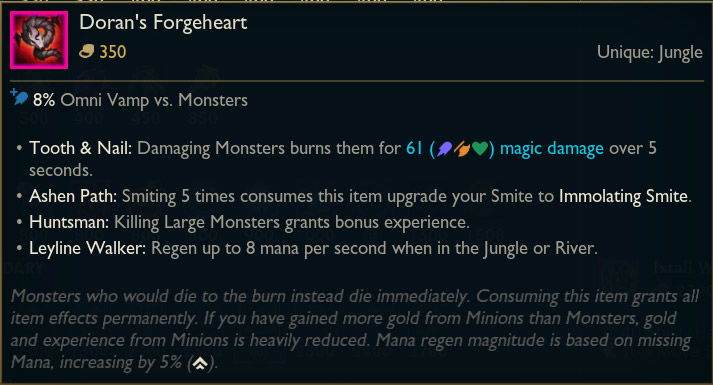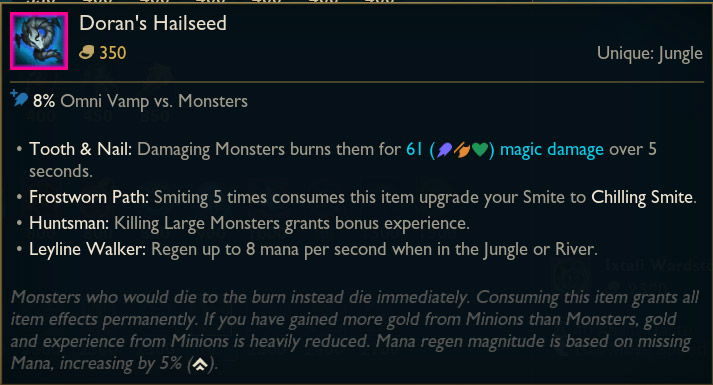 ---
Don't forget that on top of the new Legendary Items this Season, Riot has changed almost all the existing items. Some fo these changes are small others completely change how the item works. When this Patch Update goes live we will be updating our Champion Tier List, so you can quickly find what Meta Champions and Builds you should be using.