Welcome to our League of Legends Best Items Tier List, here you can view the strongest Mythic and Legendary Items in patch 13.4. You can sort by item type such as Attack Damage (AD), Ability Power (AP), Tank (HP, MR, AR) and even Support (Heal, Shield).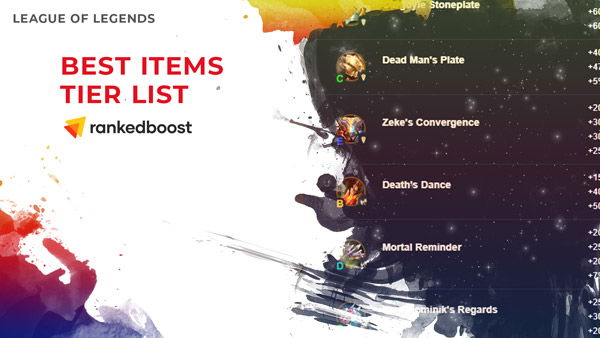 Suppose you want to view every type of item found in LoL, such as Mythic, Legendary, Epic, Basic, and even Starter items. You can check out our NEW Items Guide page, where we fully detail what each item does and their effects.
LoL Items Tier List
Below you will find a Tier List of the Best LoL Items for patch 13.4; we rank them from strongest to weakest. You can find a full explanation of what each tier means below.
NEW LoL Items Tier List 13.4 Explanation
You can sort this page by item type , Tiers, and even a Name Search.

S Tier

– The Best items in LoL patch 13.4.
A Tier – Strong options and in some cases a must have for your item builds.
B Tier – Above Average choice and can be very useful for most builds.
C Tier – Average items that are not Over Powered or Under Powered.
D Tier – We consider these Below Average, you should use items from higher tiers.
E Tier – Weak items that are used for specific situations or only on certain champions.
F Tier – These are the Worst items and the least built. They are either used on only a select few champions or none at all.
Note: This tier list will be updated when more data becomes available.
Note: You can Click/Tap any of the Item Icons below to view Stats, Effects, and Builds for that specific Item.