Welcome to our The Elder Scrolls Blades Armor List Guide, here you can view all the Armor Equipment in Elder Scrolls Blades. Players can obtain Armor from Chests, Quests Rewards, Abyss Rewards and Crafting via the Blacksmith. Depending on the type of armour you will also receive extra bonuses.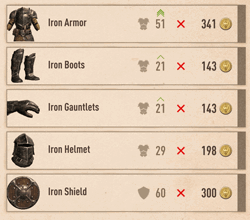 Light Armor – This type typically has lower Armor Rating, however, it will offer bonus Resistances and or Regenerations.
Heavy Armor – This type has higher Armor Rating and can also provide increased Stamina Regeneration.
Armor
Type
What It Does
Hide
Light
Stamina Regain
Leather
Light
Shock Resistance
Bashing Damage Reduction
Chitin
Light
Magicka Regen
Poison Resistance
Orcish Scaled
Light
Cleaving Damage Reduction
Fire Resistance
Dwarven Mail
Light
Slashing Damage Reduction
Frost Resistance
Elven
Light
Magicka Regen
Glass
Light
Shock Resistance
Stamina Regen
Stalhrim
Light
Bashing Damage Reduction
Frost Resistance
Daedric Mail
Light
Slashing Damage Reduction
Firs Resistance
Dragonscale
Light
Cleaving Damage Reduction
Poison Resistance
Iron
Heavy
TBD
Steel
Heavy
TBD
Silver
Heavy
TBD
Orcish Plate
Heavy
TBD
Dwarven Plate
Heavy
TBD
Quicksilver
Heavy
TBD
Chaurus
Heavy
TBD
Ebony
Heavy
TBD
Daedric Plate
Heavy
TBD
Dragonbone
Heavy
TBD
Each armor type can be crafted after unlocking (Upgrade) higher levels of the black smith (Max Level 10), we also list the player required level just to wield that specific armor type.
Light
Heavy
Blacksmith
Level
Player Level
Requirement
Hide
Iron
1
1
Leather
Steel
2
1
Chitin
Silver
3
8
Orcish Scaled
Orcish Plate
4
13
Dwarven Mail
Dwarven Mail
5
18
Elven
Quicksilver
6
23
Glass
Chaurus
7
28
Stalhrim
Ebony
8
33
Daedric Mail
Daedric Plate
9
39
Dragonscale
Dragonplate
10
45
Elder Scrolls Blades Armor List
The Elder Scrolls Blades Armor List Guide, below we will list every Light and Heavy Armor Stats and Gold Cost to craft at the black smith below.
Light Armor
Armor
Stat
Gold
Cost
Hide Armor
38
297
Hide Boots
16
121
Hide Gauntlets
16
121
Hide Helmet
22
165
Hide Shield
45
270
Leather Armor
57
473
Leather Boots
23
187
Leather Gauntlets
23
187
Leather Hood
33
264
Leather Shield
68
430

Heavy Armor
Armor
Stat
Gold
Cost
Iron Armor
51
341
Iron Boots
21
143
Iron Gauntlets
21
143
Iron Helmet
29
198
Iron Shield
60
300
Steel Armor
76
550
Steel Boots
31
220
Steel Gauntlets
31
220
Steel Hood
44
308
Steel Shield
90
408
You can view more elder scrolls blades Guides by Clicking/Tapping the links below.