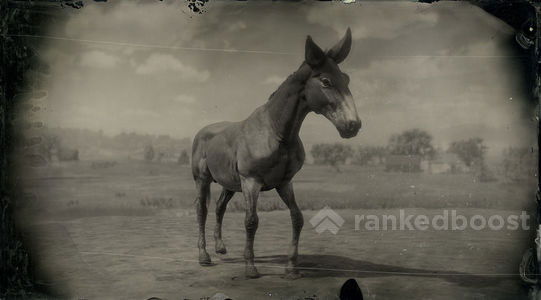 Mule
Red Dead Redemption 2 Mule can be hunted and skinned for crafting materials, it's a Large sized Mammal animal. We recommend using a Rifle or a Sniper to hunt this animal. You can cook the meal from hunting it, . it's not a Legendary Animal.
You can Click/Tap the Names of Animals, Plants, Fish and even Locations to view more information about them.
Red Dead Redemption 2 Mule Locations
Every type of Mule found in RDR2.
Using the best weapons to hunt a Mule in Red Dead 2, will reward you with a Perfect Quality Kill. Since this animal is you should use to attract it in the wild.
Mule Perfect Quality Kill Weapons.
Use
Bow with Arrow
Bow with Poison Arrow
Throwable with Poison Throwing Knife
Rifle with Regular
Rifle with Split Point
Rifle with High Velocity
Rifle with Express
Sniper with Regular
Sniper with Split Point
Sniper with High Velocity
Sniper with Express
There's currently no Legendary version of this animal.
Cooking recipes you can use with this animal.
| Recipe Name | Regular | Thyme Type | Oregano Type | Mint Type |
| --- | --- | --- | --- | --- |
| Material | Cost | Kill Quality |
| --- | --- | --- |
Red Dead Redemption 2 Mule Crafting
What you can make from Mule crafting materials.
| Item Name | Pricing | How to unlock |
| --- | --- | --- |
| Recipe Name | Effect | How to obtain | Type | Price |
| --- | --- | --- | --- | --- |
Where to find these Special Crafting Materials
| Used for | It makes | Crafting ingredients |
| --- | --- | --- |
| Recipe Name | Ingredients | Where to find | Description |
| --- | --- | --- | --- |
| Predator Bait | – 1x Stringy Meat – 1x Wintergreen, Evergreen, Huckleberry, Raspberry or Blackberry | | |
| Predator Bait | – 1x Stringy Meat – 1x Wintergreen, Evergreen, Huckleberry, Raspberry or Blackberry | | |
| Predator Bait | – 1x Stringy Meat – 1x Wintergreen, Evergreen, Huckleberry, Raspberry or Blackberry | | |
| Predator Bait | – 1x Stringy Meat – 1x Wintergreen, Evergreen, Huckleberry, Raspberry or Blackberry | | |
| Predator Bait | – 1x Stringy Meat – 1x Wintergreen, Evergreen, Huckleberry, Raspberry or Blackberry | | |
| Predator Bait | – 1x Stringy Meat – 1x Wintergreen, Evergreen, Huckleberry, Raspberry or Blackberry | | |
| Predator Bait | – 1x Stringy Meat – 1x Wintergreen, Evergreen, Huckleberry, Raspberry or Blackberry | | |
| Predator Bait | – 1x Stringy Meat – 1x Wintergreen, Evergreen, Huckleberry, Raspberry or Blackberry | | |
| Potent Herbivore Bait | – 1x Vanilla Flower – 1x Violet Snowdrop – 1x Bay Bolete, Ram's Head, Parasol Mushroom or Chanterelle | Received at the start of Chapter 2 | |
| Potent Herbivore Bait | – 1x Vanilla Flower – 1x Violet Snowdrop – 1x Bay Bolete, Ram's Head, Parasol Mushroom or Chanterelle | Received at the start of Chapter 2 | |
| Potent Herbivore Bait | – 1x Vanilla Flower – 1x Violet Snowdrop – 1x Bay Bolete, Ram's Head, Parasol Mushroom or Chanterelle | Received at the start of Chapter 2 | |
| Potent Herbivore Bait | – 1x Vanilla Flower – 1x Violet Snowdrop – 1x Bay Bolete, Ram's Head, Parasol Mushroom or Chanterelle | Received at the start of Chapter 2 | |
| Potent Herbivore Bait | – 1x Vanilla Flower – 1x Violet Snowdrop – 1x Bay Bolete, Ram's Head, Parasol Mushroom or Chanterelle | Received at the start of Chapter 2 | |
| Potent Herbivore Bait | – 1x Vanilla Flower – 1x Violet Snowdrop – 1x Bay Bolete, Ram's Head, Parasol Mushroom or Chanterelle | Received at the start of Chapter 2 | |
| Potent Herbivore Bait | – 1x Vanilla Flower – 1x Violet Snowdrop – 1x Bay Bolete, Ram's Head, Parasol Mushroom or Chanterelle | Received at the start of Chapter 2 | |
| Potent Herbivore Bait | – 1x Vanilla Flower – 1x Violet Snowdrop – 1x Bay Bolete, Ram's Head, Parasol Mushroom or Chanterelle | Received at the start of Chapter 2 | |
| Potent Herbivore Bait | – 1x Vanilla Flower – 1x Violet Snowdrop – 1x Bay Bolete, Ram's Head, Parasol Mushroom or Chanterelle | Received at the start of Chapter 2 | |
| Potent Herbivore Bait | – 1x Vanilla Flower – 1x Violet Snowdrop – 1x Bay Bolete, Ram's Head, Parasol Mushroom or Chanterelle | Received at the start of Chapter 2 | |
| Potent Herbivore Bait | – 1x Vanilla Flower – 1x Violet Snowdrop – 1x Bay Bolete, Ram's Head, Parasol Mushroom or Chanterelle | Received at the start of Chapter 2 | |
| Potent Herbivore Bait | – 1x Vanilla Flower – 1x Violet Snowdrop – 1x Bay Bolete, Ram's Head, Parasol Mushroom or Chanterelle | Received at the start of Chapter 2 | |
| Potent Predator Bait | – 1x Gritty Fish Meat – 1x Blackberry, Wintergreen Berry, Raspberry or Evergreen Berry | Received at the start of Chapter 2 | |
| Potent Predator Bait | – 1x Gritty Fish Meat – 1x Blackberry, Wintergreen Berry, Raspberry or Evergreen Berry | Received at the start of Chapter 2 | |
| Potent Predator Bait | – 1x Gritty Fish Meat – 1x Blackberry, Wintergreen Berry, Raspberry or Evergreen Berry | Received at the start of Chapter 2 | |
| Potent Predator Bait | – 1x Gritty Fish Meat – 1x Blackberry, Wintergreen Berry, Raspberry or Evergreen Berry | Received at the start of Chapter 2 | |
| Potent Predator Bait | – 1x Gritty Fish Meat – 1x Blackberry, Wintergreen Berry, Raspberry or Evergreen Berry | Received at the start of Chapter 2 | |
| Potent Predator Bait | – 1x Gritty Fish Meat – 1x Blackberry, Wintergreen Berry, Raspberry or Evergreen Berry | Received at the start of Chapter 2 | |
| Potent Predator Bait | – 1x Gritty Fish Meat – 1x Blackberry, Wintergreen Berry, Raspberry or Evergreen Berry | Received at the start of Chapter 2 | |
| Potent Predator Bait | – 1x Gritty Fish Meat – 1x Blackberry, Wintergreen Berry, Raspberry or Evergreen Berry | Received at the start of Chapter 2 | |
| Improved Arrow | – 1x Arrow – 1x Flight Feather | Received at the start of Chapter 2 | + 15 Damage |
| Improved Arrow | – 1x Arrow – 1x Flight Feather | Received at the start of Chapter 2 | + 15 Damage |
| Improved Arrow | – 1x Arrow – 1x Flight Feather | Received at the start of Chapter 2 | + 15 Damage |
| Improved Arrow | – 1x Arrow – 1x Flight Feather | Received at the start of Chapter 2 | + 15 Damage |
| Improved Arrow | – 1x Arrow – 1x Flight Feather | Received at the start of Chapter 2 | + 15 Damage |
| Improved Arrow | – 1x Arrow – 1x Flight Feather | Received at the start of Chapter 2 | + 15 Damage |
| Improved Arrow | – 1x Arrow – 1x Flight Feather | Received at the start of Chapter 2 | + 15 Damage |
| Improved Arrow | – 1x Arrow – 1x Flight Feather | Received at the start of Chapter 2 | + 15 Damage |
| Fire Arrow | – 1x Arrow – 1x Animal Fat – 1x Flight Feather | Received at the start of Chapter 2 | + 20 Damage | Incendiary Effect |
| Fire Arrow | – 1x Arrow – 1x Animal Fat – 1x Flight Feather | Received at the start of Chapter 2 | + 20 Damage | Incendiary Effect |
| Fire Arrow | – 1x Arrow – 1x Animal Fat – 1x Flight Feather | Received at the start of Chapter 2 | + 20 Damage | Incendiary Effect |
| Fire Arrow | – 1x Arrow – 1x Animal Fat – 1x Flight Feather | Received at the start of Chapter 2 | + 20 Damage | Incendiary Effect |
| Fire Arrow | – 1x Arrow – 1x Animal Fat – 1x Flight Feather | Received at the start of Chapter 2 | + 20 Damage | Incendiary Effect |
| Fire Arrow | – 1x Arrow – 1x Animal Fat – 1x Flight Feather | Received at the start of Chapter 2 | + 20 Damage | Incendiary Effect |
| Fire Arrow | – 1x Arrow – 1x Animal Fat – 1x Flight Feather | Received at the start of Chapter 2 | + 20 Damage | Incendiary Effect |
| Fire Arrow | – 1x Arrow – 1x Animal Fat – 1x Flight Feather | Received at the start of Chapter 2 | + 20 Damage | Incendiary Effect |
| Fire Arrow | – 1x Arrow – 1x Animal Fat – 1x Flight Feather | Received at the start of Chapter 2 | + 20 Damage | Incendiary Effect |
| Fire Arrow | – 1x Arrow – 1x Animal Fat – 1x Flight Feather | Received at the start of Chapter 2 | + 20 Damage | Incendiary Effect |
| Fire Arrow | – 1x Arrow – 1x Animal Fat – 1x Flight Feather | Received at the start of Chapter 2 | + 20 Damage | Incendiary Effect |
| Fire Arrow | – 1x Arrow – 1x Animal Fat – 1x Flight Feather | Received at the start of Chapter 2 | + 20 Damage | Incendiary Effect |
| Dynamite Arrow | – 1x Arrow – 1x Dynamite – 1x Flight Feather | Located at the South end of Wapiti Indian Reservation, at the base of a wooden bridge you will find it within a chest. | Also sold by Fences after "A Short Walk in a Pretty Town" | + 40 Damage | Explosive Effect |
| Dynamite Arrow | – 1x Arrow – 1x Dynamite – 1x Flight Feather | Located at the South end of Wapiti Indian Reservation, at the base of a wooden bridge you will find it within a chest. | Also sold by Fences after "A Short Walk in a Pretty Town" | + 40 Damage | Explosive Effect |
| Dynamite Arrow | – 1x Arrow – 1x Dynamite – 1x Flight Feather | Located at the South end of Wapiti Indian Reservation, at the base of a wooden bridge you will find it within a chest. | Also sold by Fences after "A Short Walk in a Pretty Town" | + 40 Damage | Explosive Effect |
| Dynamite Arrow | – 1x Arrow – 1x Dynamite – 1x Flight Feather | Located at the South end of Wapiti Indian Reservation, at the base of a wooden bridge you will find it within a chest. | Also sold by Fences after "A Short Walk in a Pretty Town" | + 40 Damage | Explosive Effect |
| Dynamite Arrow | – 1x Arrow – 1x Dynamite – 1x Flight Feather | Located at the South end of Wapiti Indian Reservation, at the base of a wooden bridge you will find it within a chest. | Also sold by Fences after "A Short Walk in a Pretty Town" | + 40 Damage | Explosive Effect |
| Dynamite Arrow | – 1x Arrow – 1x Dynamite – 1x Flight Feather | Located at the South end of Wapiti Indian Reservation, at the base of a wooden bridge you will find it within a chest. | Also sold by Fences after "A Short Walk in a Pretty Town" | + 40 Damage | Explosive Effect |
| Dynamite Arrow | – 1x Arrow – 1x Dynamite – 1x Flight Feather | Located at the South end of Wapiti Indian Reservation, at the base of a wooden bridge you will find it within a chest. | Also sold by Fences after "A Short Walk in a Pretty Town" | + 40 Damage | Explosive Effect |
| Dynamite Arrow | – 1x Arrow – 1x Dynamite – 1x Flight Feather | Located at the South end of Wapiti Indian Reservation, at the base of a wooden bridge you will find it within a chest. | Also sold by Fences after "A Short Walk in a Pretty Town" | + 40 Damage | Explosive Effect |
| Dynamite Arrow | – 1x Arrow – 1x Dynamite – 1x Flight Feather | Located at the South end of Wapiti Indian Reservation, at the base of a wooden bridge you will find it within a chest. | Also sold by Fences after "A Short Walk in a Pretty Town" | + 40 Damage | Explosive Effect |
| Dynamite Arrow | – 1x Arrow – 1x Dynamite – 1x Flight Feather | Located at the South end of Wapiti Indian Reservation, at the base of a wooden bridge you will find it within a chest. | Also sold by Fences after "A Short Walk in a Pretty Town" | + 40 Damage | Explosive Effect |
| Dynamite Arrow | – 1x Arrow – 1x Dynamite – 1x Flight Feather | Located at the South end of Wapiti Indian Reservation, at the base of a wooden bridge you will find it within a chest. | Also sold by Fences after "A Short Walk in a Pretty Town" | + 40 Damage | Explosive Effect |
| Dynamite Arrow | – 1x Arrow – 1x Dynamite – 1x Flight Feather | Located at the South end of Wapiti Indian Reservation, at the base of a wooden bridge you will find it within a chest. | Also sold by Fences after "A Short Walk in a Pretty Town" | + 40 Damage | Explosive Effect |
| Poison Arrow | – 1x Arrow – 1x Oleander Sage – 1x Flight Feather | Located Northeast of Bacchus Station, right outside the Mysterious Hill Home. You will receive it from a chest | Also sold by Fences after Chapter 2 | + 5 Damage | Good for Hunting |
| Poison Arrow | – 1x Arrow – 1x Oleander Sage – 1x Flight Feather | Located Northeast of Bacchus Station, right outside the Mysterious Hill Home. You will receive it from a chest | Also sold by Fences after Chapter 2 | + 5 Damage | Good for Hunting |
| Poison Arrow | – 1x Arrow – 1x Oleander Sage – 1x Flight Feather | Located Northeast of Bacchus Station, right outside the Mysterious Hill Home. You will receive it from a chest | Also sold by Fences after Chapter 2 | + 5 Damage | Good for Hunting |
| Poison Arrow | – 1x Arrow – 1x Oleander Sage – 1x Flight Feather | Located Northeast of Bacchus Station, right outside the Mysterious Hill Home. You will receive it from a chest | Also sold by Fences after Chapter 2 | + 5 Damage | Good for Hunting |
| Poison Arrow | – 1x Arrow – 1x Oleander Sage – 1x Flight Feather | Located Northeast of Bacchus Station, right outside the Mysterious Hill Home. You will receive it from a chest | Also sold by Fences after Chapter 2 | + 5 Damage | Good for Hunting |
| Poison Arrow | – 1x Arrow – 1x Oleander Sage – 1x Flight Feather | Located Northeast of Bacchus Station, right outside the Mysterious Hill Home. You will receive it from a chest | Also sold by Fences after Chapter 2 | + 5 Damage | Good for Hunting |
| Poison Arrow | – 1x Arrow – 1x Oleander Sage – 1x Flight Feather | Located Northeast of Bacchus Station, right outside the Mysterious Hill Home. You will receive it from a chest | Also sold by Fences after Chapter 2 | + 5 Damage | Good for Hunting |
| Poison Arrow | – 1x Arrow – 1x Oleander Sage – 1x Flight Feather | Located Northeast of Bacchus Station, right outside the Mysterious Hill Home. You will receive it from a chest | Also sold by Fences after Chapter 2 | + 5 Damage | Good for Hunting |
| Poison Arrow | – 1x Arrow – 1x Oleander Sage – 1x Flight Feather | Located Northeast of Bacchus Station, right outside the Mysterious Hill Home. You will receive it from a chest | Also sold by Fences after Chapter 2 | + 5 Damage | Good for Hunting |
| Poison Arrow | – 1x Arrow – 1x Oleander Sage – 1x Flight Feather | Located Northeast of Bacchus Station, right outside the Mysterious Hill Home. You will receive it from a chest | Also sold by Fences after Chapter 2 | + 5 Damage | Good for Hunting |
| Poison Arrow | – 1x Arrow – 1x Oleander Sage – 1x Flight Feather | Located Northeast of Bacchus Station, right outside the Mysterious Hill Home. You will receive it from a chest | Also sold by Fences after Chapter 2 | + 5 Damage | Good for Hunting |
| Poison Arrow | – 1x Arrow – 1x Oleander Sage – 1x Flight Feather | Located Northeast of Bacchus Station, right outside the Mysterious Hill Home. You will receive it from a chest | Also sold by Fences after Chapter 2 | + 5 Damage | Good for Hunting |
| Small Game Arrow | – 1x Arrow – 1x Regular Shotgun Shells – 1x Flight Feather | Received at the start of Chapter 2 | - 20 Damage | Good for Hunting Small animals |
| Small Game Arrow | – 1x Arrow – 1x Regular Shotgun Shells – 1x Flight Feather | Received at the start of Chapter 2 | - 20 Damage | Good for Hunting Small animals |
| Small Game Arrow | – 1x Arrow – 1x Regular Shotgun Shells – 1x Flight Feather | Received at the start of Chapter 2 | - 20 Damage | Good for Hunting Small animals |
| Small Game Arrow | – 1x Arrow – 1x Regular Shotgun Shells – 1x Flight Feather | Received at the start of Chapter 2 | - 20 Damage | Good for Hunting Small animals |
| Small Game Arrow | – 1x Arrow – 1x Regular Shotgun Shells – 1x Flight Feather | Received at the start of Chapter 2 | - 20 Damage | Good for Hunting Small animals |
| Small Game Arrow | – 1x Arrow – 1x Regular Shotgun Shells – 1x Flight Feather | Received at the start of Chapter 2 | - 20 Damage | Good for Hunting Small animals |
| Small Game Arrow | – 1x Arrow – 1x Regular Shotgun Shells – 1x Flight Feather | Received at the start of Chapter 2 | - 20 Damage | Good for Hunting Small animals |
| Small Game Arrow | – 1x Arrow – 1x Regular Shotgun Shells – 1x Flight Feather | Received at the start of Chapter 2 | - 20 Damage | Good for Hunting Small animals |
| Small Game Arrow | – 1x Arrow – 1x Regular Shotgun Shells – 1x Flight Feather | Received at the start of Chapter 2 | - 20 Damage | Good for Hunting Small animals |
| Small Game Arrow | – 1x Arrow – 1x Regular Shotgun Shells – 1x Flight Feather | Received at the start of Chapter 2 | - 20 Damage | Good for Hunting Small animals |
| Small Game Arrow | – 1x Arrow – 1x Regular Shotgun Shells – 1x Flight Feather | Received at the start of Chapter 2 | - 20 Damage | Good for Hunting Small animals |
| Small Game Arrow | – 1x Arrow – 1x Regular Shotgun Shells – 1x Flight Feather | Received at the start of Chapter 2 | - 20 Damage | Good for Hunting Small animals |
| Volatile Dynamite | – 1x Animal Fat – 1x Dynamite – 1x High Velocity Cartridge | Located at Hani's Bethel just north of the small pond, you will find a chest beneath a broken down wagon. | Also sold by Fences after "American Distillation" | +10 Damage |
| Volatile Dynamite | – 1x Animal Fat – 1x Dynamite – 1x High Velocity Cartridge | Located at Hani's Bethel just north of the small pond, you will find a chest beneath a broken down wagon. | Also sold by Fences after "American Distillation" | +10 Damage |
| Volatile Dynamite | – 1x Animal Fat – 1x Dynamite – 1x High Velocity Cartridge | Located at Hani's Bethel just north of the small pond, you will find a chest beneath a broken down wagon. | Also sold by Fences after "American Distillation" | +10 Damage |
| Volatile Dynamite | – 1x Animal Fat – 1x Dynamite – 1x High Velocity Cartridge | Located at Hani's Bethel just north of the small pond, you will find a chest beneath a broken down wagon. | Also sold by Fences after "American Distillation" | +10 Damage |
| Volatile Dynamite | – 1x Animal Fat – 1x Dynamite – 1x High Velocity Cartridge | Located at Hani's Bethel just north of the small pond, you will find a chest beneath a broken down wagon. | Also sold by Fences after "American Distillation" | +10 Damage |
| Volatile Dynamite | – 1x Animal Fat – 1x Dynamite – 1x High Velocity Cartridge | Located at Hani's Bethel just north of the small pond, you will find a chest beneath a broken down wagon. | Also sold by Fences after "American Distillation" | +10 Damage |
| Volatile Dynamite | – 1x Animal Fat – 1x Dynamite – 1x High Velocity Cartridge | Located at Hani's Bethel just north of the small pond, you will find a chest beneath a broken down wagon. | Also sold by Fences after "American Distillation" | +10 Damage |
| Volatile Dynamite | – 1x Animal Fat – 1x Dynamite – 1x High Velocity Cartridge | Located at Hani's Bethel just north of the small pond, you will find a chest beneath a broken down wagon. | Also sold by Fences after "American Distillation" | +10 Damage |
| Volatile Dynamite | – 1x Animal Fat – 1x Dynamite – 1x High Velocity Cartridge | Located at Hani's Bethel just north of the small pond, you will find a chest beneath a broken down wagon. | Also sold by Fences after "American Distillation" | +10 Damage |
| Volatile Dynamite | – 1x Animal Fat – 1x Dynamite – 1x High Velocity Cartridge | Located at Hani's Bethel just north of the small pond, you will find a chest beneath a broken down wagon. | Also sold by Fences after "American Distillation" | +10 Damage |
| Volatile Dynamite | – 1x Animal Fat – 1x Dynamite – 1x High Velocity Cartridge | Located at Hani's Bethel just north of the small pond, you will find a chest beneath a broken down wagon. | Also sold by Fences after "American Distillation" | +10 Damage |
| Volatile Dynamite | – 1x Animal Fat – 1x Dynamite – 1x High Velocity Cartridge | Located at Hani's Bethel just north of the small pond, you will find a chest beneath a broken down wagon. | Also sold by Fences after "American Distillation" | +10 Damage |
| Volatile Fire Bottle | – 1x Animal Fat – 1x Moonshine | Located Northwest of Horseshoe Overlook, you will find an abandoned camp inside a burned down forest. You will receive it from a chest | Also sold by Fences after "Pouring Forth Oil" | + 10 Damage |
| Volatile Fire Bottle | – 1x Animal Fat – 1x Moonshine | Located Northwest of Horseshoe Overlook, you will find an abandoned camp inside a burned down forest. You will receive it from a chest | Also sold by Fences after "Pouring Forth Oil" | + 10 Damage |
| Volatile Fire Bottle | – 1x Animal Fat – 1x Moonshine | Located Northwest of Horseshoe Overlook, you will find an abandoned camp inside a burned down forest. You will receive it from a chest | Also sold by Fences after "Pouring Forth Oil" | + 10 Damage |
| Volatile Fire Bottle | – 1x Animal Fat – 1x Moonshine | Located Northwest of Horseshoe Overlook, you will find an abandoned camp inside a burned down forest. You will receive it from a chest | Also sold by Fences after "Pouring Forth Oil" | + 10 Damage |
| Volatile Fire Bottle | – 1x Animal Fat – 1x Moonshine | Located Northwest of Horseshoe Overlook, you will find an abandoned camp inside a burned down forest. You will receive it from a chest | Also sold by Fences after "Pouring Forth Oil" | + 10 Damage |
| Volatile Fire Bottle | – 1x Animal Fat – 1x Moonshine | Located Northwest of Horseshoe Overlook, you will find an abandoned camp inside a burned down forest. You will receive it from a chest | Also sold by Fences after "Pouring Forth Oil" | + 10 Damage |
| Volatile Fire Bottle | – 1x Animal Fat – 1x Moonshine | Located Northwest of Horseshoe Overlook, you will find an abandoned camp inside a burned down forest. You will receive it from a chest | Also sold by Fences after "Pouring Forth Oil" | + 10 Damage |
| Volatile Fire Bottle | – 1x Animal Fat – 1x Moonshine | Located Northwest of Horseshoe Overlook, you will find an abandoned camp inside a burned down forest. You will receive it from a chest | Also sold by Fences after "Pouring Forth Oil" | + 10 Damage |
| Fire Bottle | – 1x Animal Fat – 1x Gin, Guarma Rum, Fine Brandy or Kentucky Bourbon | Received at the start of Chapter 2 | AOE Fire Damage on Impact |
| Fire Bottle | – 1x Animal Fat – 1x Gin, Guarma Rum, Fine Brandy or Kentucky Bourbon | Received at the start of Chapter 2 | AOE Fire Damage on Impact |
| Fire Bottle | – 1x Animal Fat – 1x Gin, Guarma Rum, Fine Brandy or Kentucky Bourbon | Received at the start of Chapter 2 | AOE Fire Damage on Impact |
| Fire Bottle | – 1x Animal Fat – 1x Gin, Guarma Rum, Fine Brandy or Kentucky Bourbon | Received at the start of Chapter 2 | AOE Fire Damage on Impact |
| Fire Bottle | – 1x Animal Fat – 1x Gin, Guarma Rum, Fine Brandy or Kentucky Bourbon | Received at the start of Chapter 2 | AOE Fire Damage on Impact |
| Fire Bottle | – 1x Animal Fat – 1x Gin, Guarma Rum, Fine Brandy or Kentucky Bourbon | Received at the start of Chapter 2 | AOE Fire Damage on Impact |
| Fire Bottle | – 1x Animal Fat – 1x Gin, Guarma Rum, Fine Brandy or Kentucky Bourbon | Received at the start of Chapter 2 | AOE Fire Damage on Impact |
| Fire Bottle | – 1x Animal Fat – 1x Gin, Guarma Rum, Fine Brandy or Kentucky Bourbon | Received at the start of Chapter 2 | AOE Fire Damage on Impact |
| Homing Tomahawk | – 1x Tomahawk – 1x Owl Feather | Located South of Moonstone Pond, inside a Flattened Cabin you will find a chest with pamphlet inside | Also sold by Fences after Chapter 2 | + 5 Range | + 10 Accuracy |
| Homing Tomahawk | – 1x Tomahawk – 1x Owl Feather | Located South of Moonstone Pond, inside a Flattened Cabin you will find a chest with pamphlet inside | Also sold by Fences after Chapter 2 | + 5 Range | + 10 Accuracy |
| Homing Tomahawk | – 1x Tomahawk – 1x Owl Feather | Located South of Moonstone Pond, inside a Flattened Cabin you will find a chest with pamphlet inside | Also sold by Fences after Chapter 2 | + 5 Range | + 10 Accuracy |
| Homing Tomahawk | – 1x Tomahawk – 1x Owl Feather | Located South of Moonstone Pond, inside a Flattened Cabin you will find a chest with pamphlet inside | Also sold by Fences after Chapter 2 | + 5 Range | + 10 Accuracy |
| Homing Tomahawk | – 1x Tomahawk – 1x Owl Feather | Located South of Moonstone Pond, inside a Flattened Cabin you will find a chest with pamphlet inside | Also sold by Fences after Chapter 2 | + 5 Range | + 10 Accuracy |
| Homing Tomahawk | – 1x Tomahawk – 1x Owl Feather | Located South of Moonstone Pond, inside a Flattened Cabin you will find a chest with pamphlet inside | Also sold by Fences after Chapter 2 | + 5 Range | + 10 Accuracy |
| Homing Tomahawk | – 1x Tomahawk – 1x Owl Feather | Located South of Moonstone Pond, inside a Flattened Cabin you will find a chest with pamphlet inside | Also sold by Fences after Chapter 2 | + 5 Range | + 10 Accuracy |
| Homing Tomahawk | – 1x Tomahawk – 1x Owl Feather | Located South of Moonstone Pond, inside a Flattened Cabin you will find a chest with pamphlet inside | Also sold by Fences after Chapter 2 | + 5 Range | + 10 Accuracy |
| Improved Tomahawk | – 1x Tomahawk – 1x Eagle Featheror Hawk Feather | Received at the start of Chapter 2 | + 5 Range | + 10 Damage |
| Improved Tomahawk | – 1x Tomahawk – 1x Eagle Featheror Hawk Feather | Received at the start of Chapter 2 | + 5 Range | + 10 Damage |
| Improved Tomahawk | – 1x Tomahawk – 1x Eagle Featheror Hawk Feather | Received at the start of Chapter 2 | + 5 Range | + 10 Damage |
| Improved Tomahawk | – 1x Tomahawk – 1x Eagle Featheror Hawk Feather | Received at the start of Chapter 2 | + 5 Range | + 10 Damage |
| Improved Tomahawk | – 1x Tomahawk – 1x Eagle Featheror Hawk Feather | Received at the start of Chapter 2 | + 5 Range | + 10 Damage |
| Improved Tomahawk | – 1x Tomahawk – 1x Eagle Featheror Hawk Feather | Received at the start of Chapter 2 | + 5 Range | + 10 Damage |
| Improved Tomahawk | – 1x Tomahawk – 1x Eagle Featheror Hawk Feather | Received at the start of Chapter 2 | + 5 Range | + 10 Damage |
| Improved Tomahawk | – 1x Tomahawk – 1x Eagle Featheror Hawk Feather | Received at the start of Chapter 2 | + 5 Range | + 10 Damage |
| Improved Throwing Knife | – 1x Throwing Knife – 1x Eagle Feather or Hawk Feather | Received at the start of Chapter 2 | + 10 Damage | + 5 Range | + 5 Accuracy |
| Improved Throwing Knife | – 1x Throwing Knife – 1x Eagle Feather or Hawk Feather | Received at the start of Chapter 2 | + 10 Damage | + 5 Range | + 5 Accuracy |
| Improved Throwing Knife | – 1x Throwing Knife – 1x Eagle Feather or Hawk Feather | Received at the start of Chapter 2 | + 10 Damage | + 5 Range | + 5 Accuracy |
| Improved Throwing Knife | – 1x Throwing Knife – 1x Eagle Feather or Hawk Feather | Received at the start of Chapter 2 | + 10 Damage | + 5 Range | + 5 Accuracy |
| Improved Throwing Knife | – 1x Throwing Knife – 1x Eagle Feather or Hawk Feather | Received at the start of Chapter 2 | + 10 Damage | + 5 Range | + 5 Accuracy |
| Improved Throwing Knife | – 1x Throwing Knife – 1x Eagle Feather or Hawk Feather | Received at the start of Chapter 2 | + 10 Damage | + 5 Range | + 5 Accuracy |
| Improved Throwing Knife | – 1x Throwing Knife – 1x Eagle Feather or Hawk Feather | Received at the start of Chapter 2 | + 10 Damage | + 5 Range | + 5 Accuracy |
| Improved Throwing Knife | – 1x Throwing Knife – 1x Eagle Feather or Hawk Feather | Received at the start of Chapter 2 | + 10 Damage | + 5 Range | + 5 Accuracy |
| Poison Throwing Knife | – 1x Throwing Knife – 1x Oleander Sage | Located Northeast of Saint Denis is a shack, hidden beneath a floorboard you find the Pamphlet | Also sold by Fences after "Pouring Forth Oil" | + 10 Damage | Good for Hunting |
| Poison Throwing Knife | – 1x Throwing Knife – 1x Oleander Sage | Located Northeast of Saint Denis is a shack, hidden beneath a floorboard you find the Pamphlet | Also sold by Fences after "Pouring Forth Oil" | + 10 Damage | Good for Hunting |
| Poison Throwing Knife | – 1x Throwing Knife – 1x Oleander Sage | Located Northeast of Saint Denis is a shack, hidden beneath a floorboard you find the Pamphlet | Also sold by Fences after "Pouring Forth Oil" | + 10 Damage | Good for Hunting |
| Poison Throwing Knife | – 1x Throwing Knife – 1x Oleander Sage | Located Northeast of Saint Denis is a shack, hidden beneath a floorboard you find the Pamphlet | Also sold by Fences after "Pouring Forth Oil" | + 10 Damage | Good for Hunting |
| Poison Throwing Knife | – 1x Throwing Knife – 1x Oleander Sage | Located Northeast of Saint Denis is a shack, hidden beneath a floorboard you find the Pamphlet | Also sold by Fences after "Pouring Forth Oil" | + 10 Damage | Good for Hunting |
| Poison Throwing Knife | – 1x Throwing Knife – 1x Oleander Sage | Located Northeast of Saint Denis is a shack, hidden beneath a floorboard you find the Pamphlet | Also sold by Fences after "Pouring Forth Oil" | + 10 Damage | Good for Hunting |
| Poison Throwing Knife | – 1x Throwing Knife – 1x Oleander Sage | Located Northeast of Saint Denis is a shack, hidden beneath a floorboard you find the Pamphlet | Also sold by Fences after "Pouring Forth Oil" | + 10 Damage | Good for Hunting |
| Poison Throwing Knife | – 1x Throwing Knife – 1x Oleander Sage | Located Northeast of Saint Denis is a shack, hidden beneath a floorboard you find the Pamphlet | Also sold by Fences after "Pouring Forth Oil" | + 10 Damage | Good for Hunting |
| Split Point Cartridge | – 1x Hunting Knife – 1x Regular Cartridge | Received at the start of Chapter 2 | + 5 Damage | + 10 Accuracy |
| Split Point Cartridge | – 1x Hunting Knife – 1x Regular Cartridge | Received at the start of Chapter 2 | + 5 Damage | + 10 Accuracy |
| Split Point Cartridge | – 1x Hunting Knife – 1x Regular Cartridge | Received at the start of Chapter 2 | + 5 Damage | + 10 Accuracy |
| Split Point Cartridge | – 1x Hunting Knife – 1x Regular Cartridge | Received at the start of Chapter 2 | + 5 Damage | + 10 Accuracy |
| Split Point Cartridge | – 1x Hunting Knife – 1x Regular Cartridge | Received at the start of Chapter 2 | + 5 Damage | + 10 Accuracy |
| Split Point Cartridge | – 1x Hunting Knife – 1x Regular Cartridge | Received at the start of Chapter 2 | + 5 Damage | + 10 Accuracy |
| Split Point Cartridge | – 1x Hunting Knife – 1x Regular Cartridge | Received at the start of Chapter 2 | + 5 Damage | + 10 Accuracy |
| Split Point Cartridge | – 1x Hunting Knife – 1x Regular Cartridge | Received at the start of Chapter 2 | + 5 Damage | + 10 Accuracy |
| Explosive Cartridge | – 1x Express Cartridge – 1x Animal Fat | Received at the start of Chapter 2 | + 25 Damage | Explosive Effect |
| Explosive Cartridge | – 1x Express Cartridge – 1x Animal Fat | Received at the start of Chapter 2 | + 25 Damage | Explosive Effect |
| Explosive Cartridge | – 1x Express Cartridge – 1x Animal Fat | Received at the start of Chapter 2 | + 25 Damage | Explosive Effect |
| Explosive Cartridge | – 1x Express Cartridge – 1x Animal Fat | Received at the start of Chapter 2 | + 25 Damage | Explosive Effect |
| Explosive Cartridge | – 1x Express Cartridge – 1x Animal Fat | Received at the start of Chapter 2 | + 25 Damage | Explosive Effect |
| Explosive Cartridge | – 1x Express Cartridge – 1x Animal Fat | Received at the start of Chapter 2 | + 25 Damage | Explosive Effect |
| Explosive Cartridge | – 1x Express Cartridge – 1x Animal Fat | Received at the start of Chapter 2 | + 25 Damage | Explosive Effect |
| Explosive Cartridge | – 1x Express Cartridge – 1x Animal Fat | Received at the start of Chapter 2 | + 25 Damage | Explosive Effect |
| Incendiary Buckshot | – 1x Regular Shotgun Shell – 1x Moonshine | Located at Copperhead Landing inside a cabin, hidden beneath a floorboard you will find a Pamphlet | Also sold by Fences after "Pouring Forth Oil" | + 15 Damage | Incendiary Effect |
| Incendiary Buckshot | – 1x Regular Shotgun Shell – 1x Moonshine | Located at Copperhead Landing inside a cabin, hidden beneath a floorboard you will find a Pamphlet | Also sold by Fences after "Pouring Forth Oil" | + 15 Damage | Incendiary Effect |
| Incendiary Buckshot | – 1x Regular Shotgun Shell – 1x Moonshine | Located at Copperhead Landing inside a cabin, hidden beneath a floorboard you will find a Pamphlet | Also sold by Fences after "Pouring Forth Oil" | + 15 Damage | Incendiary Effect |
| Incendiary Buckshot | – 1x Regular Shotgun Shell – 1x Moonshine | Located at Copperhead Landing inside a cabin, hidden beneath a floorboard you will find a Pamphlet | Also sold by Fences after "Pouring Forth Oil" | + 15 Damage | Incendiary Effect |
| Incendiary Buckshot | – 1x Regular Shotgun Shell – 1x Moonshine | Located at Copperhead Landing inside a cabin, hidden beneath a floorboard you will find a Pamphlet | Also sold by Fences after "Pouring Forth Oil" | + 15 Damage | Incendiary Effect |
| Incendiary Buckshot | – 1x Regular Shotgun Shell – 1x Moonshine | Located at Copperhead Landing inside a cabin, hidden beneath a floorboard you will find a Pamphlet | Also sold by Fences after "Pouring Forth Oil" | + 15 Damage | Incendiary Effect |
| Incendiary Buckshot | – 1x Regular Shotgun Shell – 1x Moonshine | Located at Copperhead Landing inside a cabin, hidden beneath a floorboard you will find a Pamphlet | Also sold by Fences after "Pouring Forth Oil" | + 15 Damage | Incendiary Effect |
| Incendiary Buckshot | – 1x Regular Shotgun Shell – 1x Moonshine | Located at Copperhead Landing inside a cabin, hidden beneath a floorboard you will find a Pamphlet | Also sold by Fences after "Pouring Forth Oil" | + 15 Damage | Incendiary Effect |
| Explosive Slug | – 1x Regular Shotgun Shell – 1x Animal Fat | Located between Gaptooth Ridge and Cholla Springs is a burned down alchemist house, right outside it you will find a chest with a pamphlet | Also sold by Fences after "A Short Walk in a Pretty Town" | + 25 Damage | + 20 Accuracy | + 5 Range | Explosive Effect |
| Explosive Slug | – 1x Regular Shotgun Shell – 1x Animal Fat | Located between Gaptooth Ridge and Cholla Springs is a burned down alchemist house, right outside it you will find a chest with a pamphlet | Also sold by Fences after "A Short Walk in a Pretty Town" | + 25 Damage | + 20 Accuracy | + 5 Range | Explosive Effect |
| Explosive Slug | – 1x Regular Shotgun Shell – 1x Animal Fat | Located between Gaptooth Ridge and Cholla Springs is a burned down alchemist house, right outside it you will find a chest with a pamphlet | Also sold by Fences after "A Short Walk in a Pretty Town" | + 25 Damage | + 20 Accuracy | + 5 Range | Explosive Effect |
| Explosive Slug | – 1x Regular Shotgun Shell – 1x Animal Fat | Located between Gaptooth Ridge and Cholla Springs is a burned down alchemist house, right outside it you will find a chest with a pamphlet | Also sold by Fences after "A Short Walk in a Pretty Town" | + 25 Damage | + 20 Accuracy | + 5 Range | Explosive Effect |
| Explosive Slug | – 1x Regular Shotgun Shell – 1x Animal Fat | Located between Gaptooth Ridge and Cholla Springs is a burned down alchemist house, right outside it you will find a chest with a pamphlet | Also sold by Fences after "A Short Walk in a Pretty Town" | + 25 Damage | + 20 Accuracy | + 5 Range | Explosive Effect |
| Explosive Slug | – 1x Regular Shotgun Shell – 1x Animal Fat | Located between Gaptooth Ridge and Cholla Springs is a burned down alchemist house, right outside it you will find a chest with a pamphlet | Also sold by Fences after "A Short Walk in a Pretty Town" | + 25 Damage | + 20 Accuracy | + 5 Range | Explosive Effect |
| Explosive Slug | – 1x Regular Shotgun Shell – 1x Animal Fat | Located between Gaptooth Ridge and Cholla Springs is a burned down alchemist house, right outside it you will find a chest with a pamphlet | Also sold by Fences after "A Short Walk in a Pretty Town" | + 25 Damage | + 20 Accuracy | + 5 Range | Explosive Effect |
| Explosive Slug | – 1x Regular Shotgun Shell – 1x Animal Fat | Located between Gaptooth Ridge and Cholla Springs is a burned down alchemist house, right outside it you will find a chest with a pamphlet | Also sold by Fences after "A Short Walk in a Pretty Town" | + 25 Damage | + 20 Accuracy | + 5 Range | Explosive Effect |
| Special Horse Medicine | Ginseng x2, Common Bulrush x2, Wild Carrot x2 | Special Horse Medicine Pamphlet – After you complete "Pouring Forth Oil" sold by Fencer | |
| Special Horse Medicine | Ginseng x2, Common Bulrush x2, Wild Carrot x2 | Special Horse Medicine Pamphlet – After you complete "Pouring Forth Oil" sold by Fencer | |
| Special Horse Medicine | Ginseng x2, Common Bulrush x2, Wild Carrot x2 | Special Horse Medicine Pamphlet – After you complete "Pouring Forth Oil" sold by Fencer | |
| Special Horse Medicine | Ginseng x2, Common Bulrush x2, Wild Carrot x2 | Special Horse Medicine Pamphlet – After you complete "Pouring Forth Oil" sold by Fencer | |
| Potent Horse Medicine | Ginseng x1, Common Bulrush x1 | | |
| Potent Horse Medicine | Ginseng x1, Common Bulrush x1 | | |
| Potent Horse Medicine | Ginseng x1, Common Bulrush x1 | | |
| Potent Horse Medicine | Ginseng x1, Common Bulrush x1 | | |
| Special Horse Reviver | Ginseng x2, Wild Carrot x2, Parasol Mushroom x2 | Special Horse Reviver Pamphlet – After you complete "American Distillation" sold by Fencer | |
| Special Horse Reviver | Ginseng x2, Wild Carrot x2, Parasol Mushroom x2 | Special Horse Reviver Pamphlet – After you complete "American Distillation" sold by Fencer | |
| Special Horse Reviver | Ginseng x2, Wild Carrot x2, Parasol Mushroom x2 | Special Horse Reviver Pamphlet – After you complete "American Distillation" sold by Fencer | |
| Special Horse Reviver | Ginseng x2, Wild Carrot x2, Parasol Mushroom x2 | Special Horse Reviver Pamphlet – After you complete "American Distillation" sold by Fencer | |
| Potent Horse Stimulant | Sage x1, Common Bulrush x1 | | |
| Potent Horse Stimulant | Sage x1, Common Bulrush x1 | | |
| Potent Horse Stimulant | Sage x1, Common Bulrush x1 | | |
| Potent Horse Stimulant | Sage x1, Common Bulrush x1 | | |
| Special Horse Stimulant | Sage x2, Common Bulrush x2, Wild Carrot x2 | Special Horse Stimulant Pamphlet – After you complete "Pouring Forth Oil" sold by Fencer | |
| Special Horse Stimulant | Sage x2, Common Bulrush x2, Wild Carrot x2 | Special Horse Stimulant Pamphlet – After you complete "Pouring Forth Oil" sold by Fencer | |
| Special Horse Stimulant | Sage x2, Common Bulrush x2, Wild Carrot x2 | Special Horse Stimulant Pamphlet – After you complete "Pouring Forth Oil" sold by Fencer | |
| Special Horse Stimulant | Sage x2, Common Bulrush x2, Wild Carrot x2 | Special Horse Stimulant Pamphlet – After you complete "Pouring Forth Oil" sold by Fencer | |
| Potent Snake Oil | Indian Tobacco x1 | | |
| Potent Snake Oil | Indian Tobacco x1 | | |
| Potent Snake Oil | Indian Tobacco x1 | | |
| Potent Snake Oil | Indian Tobacco x1 | | |
| Special Snake Oil | Indian Tobacco x2, Currant or Prairie Poppy x2 | Special Snake Oil Pamphlet – After you complete "American Distillation" sold by Fencer | |
| Special Snake Oil | Indian Tobacco x2, Currant or Prairie Poppy x2 | Special Snake Oil Pamphlet – After you complete "American Distillation" sold by Fencer | |
| Special Snake Oil | Indian Tobacco x2, Currant or Prairie Poppy x2 | Special Snake Oil Pamphlet – After you complete "American Distillation" sold by Fencer | |
| Special Snake Oil | Indian Tobacco x2, Currant or Prairie Poppy x2 | Special Snake Oil Pamphlet – After you complete "American Distillation" sold by Fencer | |
| Cover Scent Lotion | Scent Gland x1 | Given at the start of Chapter 2 | |
| Cover Scent Lotion | Scent Gland x1 | Given at the start of Chapter 2 | |
| Cover Scent Lotion | Scent Gland x1 | Given at the start of Chapter 2 | |
| Cover Scent Lotion | Scent Gland x1 | Given at the start of Chapter 2 | |
| Potent Miracle Tonic | Indian Tobacco x4, Ginseng x4, Sage x4 | | |
| Potent Miracle Tonic | Indian Tobacco x4, Ginseng x4, Sage x4 | | |
| Potent Miracle Tonic | Indian Tobacco x4, Ginseng x4, Sage x4 | | |
| Potent Miracle Tonic | Indian Tobacco x4, Ginseng x4, Sage x4 | | |
| Special Miracle Tonic | Currant x6, Yarrow x6, Burdock Root x4 | Special Tonic Pamphlet – After you complete "A Short Walk in a Pretty Town" sold by Fencer | |
| Special Miracle Tonic | Currant x6, Yarrow x6, Burdock Root x4 | Special Tonic Pamphlet – After you complete "A Short Walk in a Pretty Town" sold by Fencer | |
| Special Miracle Tonic | Currant x6, Yarrow x6, Burdock Root x4 | Special Tonic Pamphlet – After you complete "A Short Walk in a Pretty Town" sold by Fencer | |
| Special Miracle Tonic | Currant x6, Yarrow x6, Burdock Root x4 | Special Tonic Pamphlet – After you complete "A Short Walk in a Pretty Town" sold by Fencer | |
| Horse Meal | Currant x3, Beets x3, Hay x3 | Horse Meal Pamphlet – After you complete "Pouring Forth Oil" sold by Fencer | |
| Horse Meal | Currant x3, Beets x3, Hay x3 | Horse Meal Pamphlet – After you complete "Pouring Forth Oil" sold by Fencer | |
| Horse Meal | Currant x3, Beets x3, Hay x3 | Horse Meal Pamphlet – After you complete "Pouring Forth Oil" sold by Fencer | |
| Horse Meal | Currant x3, Beets x3, Hay x3 | Horse Meal Pamphlet – After you complete "Pouring Forth Oil" sold by Fencer | |
| Horse ointment | Sage x1, Common Bulrush x1, yarrow x1 | Horse Ointment Pamphlet – Given at the beginning of Chapter 2 | |
| Horse ointment | Sage x1, Common Bulrush x1, yarrow x1 | Horse Ointment Pamphlet – Given at the beginning of Chapter 2 | |
| Horse ointment | Sage x1, Common Bulrush x1, yarrow x1 | Horse Ointment Pamphlet – Given at the beginning of Chapter 2 | |
| Horse ointment | Sage x1, Common Bulrush x1, yarrow x1 | Horse Ointment Pamphlet – Given at the beginning of Chapter 2 | |
| Potent Health Cure | Ginseng x1, Yarrow x1 | | |
| Potent Health Cure | Ginseng x1, Yarrow x1 | | |
| Potent Health Cure | Ginseng x1, Yarrow x1 | | |
| Potent Health Cure | Ginseng x1, Yarrow x1 | | |
| Special Health Care | Ginseng x2, Yarrow x2, English Mace of Milkweed x2 | Special Health Care Pamphlet – After you complete "American Distillation" sold by Fencer | |
| Special Health Care | Ginseng x2, Yarrow x2, English Mace of Milkweed x2 | Special Health Care Pamphlet – After you complete "American Distillation" sold by Fencer | |
| Special Health Care | Ginseng x2, Yarrow x2, English Mace of Milkweed x2 | Special Health Care Pamphlet – After you complete "American Distillation" sold by Fencer | |
| Special Health Care | Ginseng x2, Yarrow x2, English Mace of Milkweed x2 | Special Health Care Pamphlet – After you complete "American Distillation" sold by Fencer | |
| Potent Bitters | Sage x1, Burdock Root x1 | | |
| Potent Bitters | Sage x1, Burdock Root x1 | | |
| Potent Bitters | Sage x1, Burdock Root x1 | | |
| Potent Bitters | Sage x1, Burdock Root x1 | | |
| Special Bitters | Sage x2, Burdock Root x2, Violet Snowdrop or Wild Feverfew x2 | Special Bitters Pamphlet – After Chapter 2 sold by Fencer | |
| Special Bitters | Sage x2, Burdock Root x2, Violet Snowdrop or Wild Feverfew x2 | Special Bitters Pamphlet – After Chapter 2 sold by Fencer | |
| Special Bitters | Sage x2, Burdock Root x2, Violet Snowdrop or Wild Feverfew x2 | Special Bitters Pamphlet – After Chapter 2 sold by Fencer | |
| Special Bitters | Sage x2, Burdock Root x2, Violet Snowdrop or Wild Feverfew x2 | Special Bitters Pamphlet – After Chapter 2 sold by Fencer | |