Welcome to our PlayerUnknown's Battlegrounds Melee Items List. You can view the TOP 3 Best Melee Weapons in PUBG and other useful Tips and Tricks. Damage stats and other useful infromation about the various Melee Items found in the game.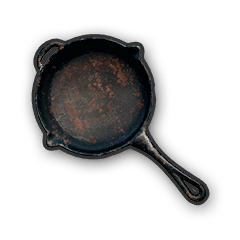 The First Melee Item we need to mention is the "Pan", This is 100% at the moment the only Melee Item worth picking up. Why might you ask?
While the Pan is Equipped hanging on the back of your Torso it can Block Bullet Shots. Yup, While running from shot this Frying Pan might just save your life or at least help you take 1 or 2 fewer Bullets.
All Melee Items In PUBG
[ Top 3 Best Melee Weapons In PlayerUnknowns Battlegrounds are indicated by the # and Ranked by their effectiveness in-game.]
#
Other Weapons
How It Works

#1


Pan
Ability to block incoming Bullet Shots while Equipped.

Killing an Enemy takes 2 Body Shots OR 1 Head Shot.

#2


Crowbar
N/A

#3


Machete

N/A
#4

Sickle

N/A