Welcome to our Mass Effect Andromeda Crafting Guide, we will continuously update this with the newest information and an explanation on how Crafting Works In Mass Effect Andromeda.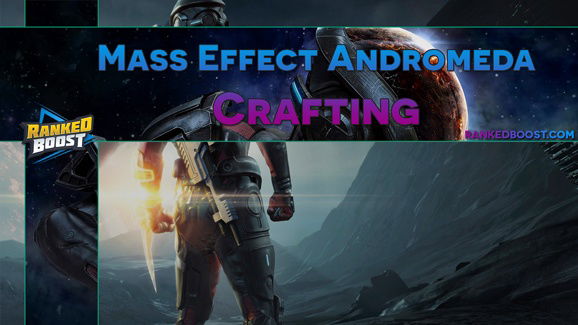 Mass Effect Andromeda Blueprints
What Are Mass Effect Andromeda Blueprints?
Players will discover Blueprints to alien technologies, this will allow them to craft weapons and other items. You can apply these Blueprints in the Tech Lab at the Nexus to research gear. You will need to gather the materials needed to craft these items from the blueprints.
How Do I Get Blueprints in Mass Effect Andromeda?
There are a variety of ways players can earn blueprints.
Purchasable From Merchants.
Obtained by Completing Missions.
Unlocked by Scanning Items while exploring.
When you scan items it will add research points by technology types, you then will spend these points by crafting a blueprint in Mass Effect Andromeda.
How To Craft In Mass Effect Andromeda
Scan Items and Earn Research Points.
Spend Research Points to Create a Blueprint. You can do this once back on the Tempest or in the Nexus by visiting their Tech Labs.
Use Blueprint and Minerals to Develop Your New Weapon or Armor.
Armor/Weapon Augmentations and Crafting
Mass Effect Andromeda Augmentations are special components which can be added to a Blueprint when Crafting an Item. Augmentations can grant many different Armor and Weapon Bonuses.
Augmentation

Effects

Tech Type

Research Cost

Development Cost

Ricochet System
Milky Way
100
Coolant
Milky Way
50
Bio-converter
Milky Way
50
Plasma Charge System
Milky Way
200
Concentration Module
Milky Way
50
Seeking Plasma System
Changes weapon projectile to seeking plasma bolts.
Milky Way
100
Battlefield Assist Module
Milky Way
50
Aerial Stabilizer
Milky Way
50
Electrical Conduits
Milky Way
200
Equilibirum Regulator
Milky Way
50
Grenade Launcher
Milky Way
200
Sticky Grenade Launcher
Milky Way
200
Rebalanced Field Coils
Milky Way
50
Vintage Heat Sink
Ammo refills automatically after a delay.
Milky Way
200
Aerial Lubricant
Weapon: When hovering, +35% rate of fire
Arms: When hovering, +35% Tech damage
Milky Way
50
Aerial Performance Optimizer
Weapon: When hovering, +35% Weapon damage
Arms: When hovering, +35% combat damage
Milky Way
50
Additional Note: In Crafting, researching Augmentations will grant you an 1 extra copy of that Augmentation and will allow for more to be found.
When you craft items they will become personalized to that character, an example, would be Krogan-style hammer named GRABTHAR'S HAMMER.
Keep in mind Mass Effect Andromeda Crafting is not the only way players will find exciting new tech in the game.
Mass Effect Andromeda Guides: Skills
Skill Classes
A complete walkthrough of each of the 3 major Skill Classes in ME: A. Biotics, Tech, and Combat We will also include ideal builds for each character regarding these class powers.
Mass Effect Andromeda Guides: Weapons & Gear
Weapons & Gear
A list of all available weapon types and rarities found within in the game.