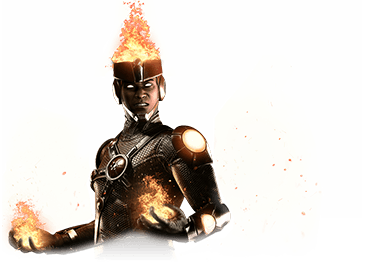 Firestorm
"LEAVE. NOW. OR YOU'LL GET A HELLUVA LOT WORSE THAN A SUNBURN..."
Injustice 2 Firestorm Base Stats
| | | |
| --- | --- | --- |
| Strength | 1150 | |
| Ability | 1050 | |
| Defense | 1000 | |
| Health | 950 | |
Two minds sharing one super-powered body, Jason Rusch and Martin Stein are only beginning to master their abilities as Firestorm. However reconciling Jason's brash personality with Martin's more empirical approach is no small task. While these two don't agree on much, one thing they never argue about is helping Batman rebuild a safer world.
Welcome to our Injustice 2 Firestorm Gear Build Guide, Below we will list the best gear to use on Firestorm we also have this characters Base Stats, Moves list, and Abilities below.
Jump to
Firestorm Moves and Combos
These Moves are combo button sequences unique to this character's skill set. These will often provide Mobility, Burst Damage, Air Juggle and Crowd Control Effects.
Fusion Blast
Back, Forward + Light Attack
(Meter Burn available)
Energy Shield
Down, Back + Light Attack
Molten Trap
Back, Down + Medium Attack
(Meter Burn available, can change where the trap is placed by pressing Back or Forward after the normal input)
Atomic Burst
Down, Back + Heavy Attack
(Meter Burn available)
Fusion Charge
Back, Forward + Heavy Attack
(can be performed mid-air)
Air Dash
Jump, Forward, Forward OR Jump, Back, Back
Firestorm Abilities and Powers
Injustice 2 Firestorm Gear Build
Head and Cape Gear
Atomic Helm
Guantlets Gear
Atomic Arms
Thermoelectric Armguards
Augmented Maxwell Sleeves
Greaves Gear
Atomic Greaves
Accessories Gear
Atomic Matrix
The Best Gear Stats To Build on this Character. Head/Cape, Torso, Gauntlets, Greaves and Accessory Equipment.
Firestorm Costumes and Skins
Below You Can View List of Each Characters Injustice 2 Gear Builds, Stats, Moves, Character Powers and Abilities by Clicking their Image or Name Link.
Character Select
This Page is being updated frequently