Everyone is waiting on blizzard to announce HotS season 3 end and the season rewards along with it. Hero League Players will receive season rewards at the HotS Season 3 end. So its important to know the exact date you need the rank your trying to earn.
HotS Season 3 End
Season 3 Started: Week of December 12
Season 3 End Date: Week of March 13
Currently HotS Season 3 is expected to last at least 2-3 months. Blizzard has decided this will give players enough time to rank up and earn season 3 rewards. After which the ladder will reset and players will climb again and earn the next season rewards.
If we want to figure out when HotS season 1 ends we need to know when it started.
HotS Season 3 Starts: December 23rd 2016
Since 2-3 months is the duration, we jump ahead 2-3 months to find the date.
HotS Season 3 End: March 13 2017
In MarchHotS Season 3 will end.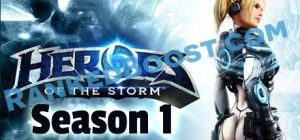 When Do I Get Season Rewards?
Traditionally Season Rewards are given to players at the end of the Season. The types of Rewards you receive will be Based on your Rank in Heroes of the Storm.
Portrait Icon
Each portrait will be unique to there respective tier, as well as the League. Players can unlock both a Hero League Portrait and a Team League Portrait. This Icon will be Visible to other players, displaying your level of skill based on the Ranking you have achieved.
HotS Portrait Icon Season Reward


Skin Mount
Skin Mounts can be unlocked by players who have reach at least Platinum in hero league, or Bronze in team league. Reaching a even higher ranking will award HotS player with a epic skin mount.
HotS Skin Mount Season Reward