Welcome to our Fire Emblem Heroes Arena Guide, We will explain how to get High Scores in Arena Duels and the different rewards you get based on the type scores.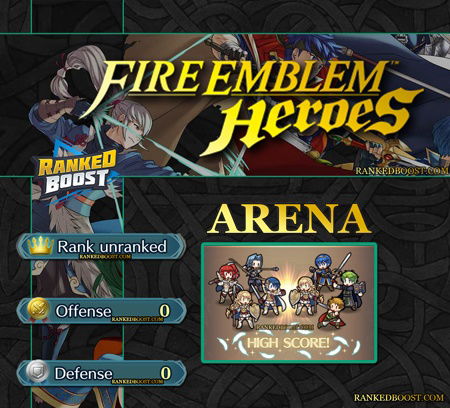 What Is The Arena?
In Fire Emblem Heroes Arena you can duel rival player teams from around the world. You can receive high scores and rankings for that arena duel season.
Each season will last one week. after it ends, you will receive rewards based on your rank and high scores for that season.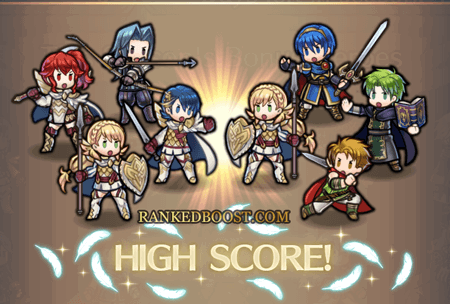 (Note: Requires 1x Dueling Sword to battle.)
Your Dueling Swords are restored each day at 12:00 a.m Automatically.
How To Get High Scores In Fire Emblem Heroes Arena?
If you win a duel against a rival you will earn points based on the strength of your foe. during a winning streak you'll gain a chain bonus, This will be the main method for getting high scores in arena.

(Note: The chain bonus will reset after the 7th win in a row.)
Character Bonuses
You can double the score you earn by using certain Characters in the Arena Duels. This another great way to get High Score In Fire Emblem Heroes Arena.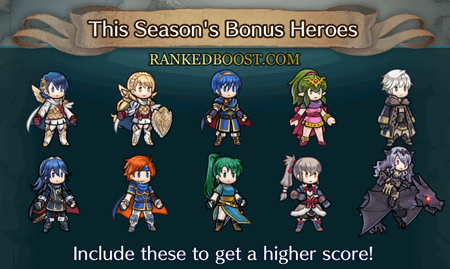 Fire Emblem Heroes Season Rewards
At the end of the season you'll receive Arena Rewards based on your High Score and Ranking. Below we have listed all the rewards players will receive this season based on score type.

Fire Emblem Heroes Arena Duel Rewards (Ranks)



| | |
| --- | --- |
| Ranking | Feather |
| 50,001 ~ 100,000 | 500 |
| 30,001 ~ 50,000 | 1,000 |
| 10,001 ~ 30,000 | 1,500 |
| 5,001 ~ 10,000 | 2,000 |
| 1,001 ~ 5,000 | 2,500 |
| 101 ~ 1,000 | 3,000 |
| 11 ~ 100 | 3,500 |
| 2 ~ 10 | 4,000 |
| 1 | 5,000 |
Fire Emblem Heroes Arena Duel Rewards (Offense Score)



| | |
| --- | --- |
| Offense Score | Feather |
| 1 ~ 200 | 100 |
| 201 ~ 400 | 200 |
| 401 ~ 600 | 300 |
| 601 ~ 800 | 400 |
| 801 ~ 1,000 | 500 |
| 1,001 ~ 1,200 | 600 |
| 1,201 ~ 1,400 | 700 |
| 1,401 ~ 1.600 | 800 |
| 1,601 ~ 1,800 | 900 |
| 1,801 ~ 2,000 | 1,000 |
| 2,001 ~ 2,200 | 1,100 |
| 2,201 ~ 2,400 | 1,200 |
| 2,401 ~ 2,600 | 1,300 |
| 2,601 ~ 2,800 | 1,400 |
| 2,801 ~ 3,000 | 1,500 |
| 3,001 ~ + | 1,600 |
Fire Emblem Heroes Arena Duel Rewards (Defense Score)



| | |
| --- | --- |
| Defense Score | Feather |
| 1 ~ 100 | 100 |
| 101 ~ 150 | 200 |
| 151 ~ 200 | 300 |
| 201 ~ 250 | 400 |
| 251 ~ + | 500 |