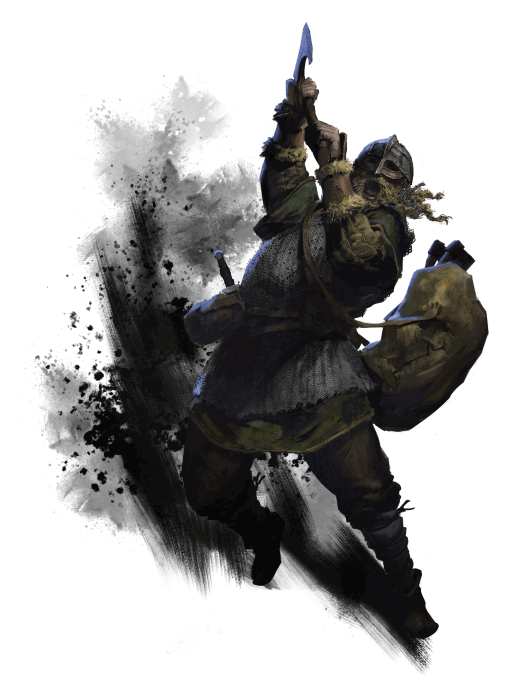 Dark and Darker Barbarian
The Dark and Darker Barbarian is a S Tier Class. The strengths of playing Barbarian are Lots of Health, Damage bonus with 2-Hand Weapons, Innate magic resistance. However, the Barbarian class also suffers from Slow base movement speed, slow attack speed, slow interaction speed.
The Barbarian is known for his hardy nature, fiery temper, and ability to endure immense pain. His rage and reckless abandon allow him to lead the charge into battle.
Barbarian Stats
| Rank | Stat | Value |
| --- | --- | --- |
| S | Health | 130 |
| S | Strength | 30 |
| F | Agility | 11 |
| D | Will | 18 |
| F | Knowledge | 6 |
| C | Resourcefulness | 10 |
| F | Spell Memory | 6 |
Barbarian Advanced Stats
| Stat | Stat | Value |
| --- | --- | --- |
| F | Movement Speed | 276 |
| F | Action Speed | -12% |
| F | Spell Casting Speed | -70% |
| F | Equip Speed | -28% |
| F | Regular Interaction Speed | -23% |
| F | Magical Interaction Speed | -45% |
| S | Buff Duration | 3% |
| E | Debuff Duration | -2.9% |
| F | Physical Damage Reduction | 0 |
| A | Magic Resist | 39 |
| S | Physical Power | 30 |
| S | Magic Power | 18 |
Barbarian Guide
| Barbarian | Detail |
| --- | --- |
| Weak Against | Ranger, Wizard |
| Tip #1 | Instead of using the traditional method, use the Smash perk to break open chests and doors for faster interaction speed. |
| Tip #2 | Take advantage of Francisca Axes, which offer powerful ranged damage with the Axe Specialization Perk. (Francisca Axe is a throwable weapon) |
| Tip #3 | Avoid using two-handed weapons against Rogues, as their fast swing speed will out match the slow recovery time of 2 hand weapons. Keep a Hatchet or Horseman's Axe as a secondary weapon to counter them. |
Best Barbarian Builds To Use
Barbarian Builds
Tier
Build
Skills
Perks
Spells

A Tier

Two-Hand DPS

Double Axe

Stat Priority:

B Tier

Tank Build

Hatchet

Heater Shield

Stat Priority:

Best Builds Tier List

Best Team Comps To Use
Best Barbarian Skills To Use
Rank
Skill
Cooldown
Desc

S Tier

Reckless Attack
24s
Next hit ignores 75% enemy defense. Self -55 armor rating.

Armor Pen

A Tier

Rage
28s
STR greatly increased and movement speed increased by 15%. Defense reduced by -20% for short duration.

Str

+% Move Speed

A Tier

War Cry
24s
Increase Max HP of yourself and your party by 25% for 7s.

HP

Area of Effect

Buff

B Tier

Savage Roar
28s
Frightens NPCs within a 7.5m range for 6s. Reduces their damage bonuses by -25% (28s Cooldown)

+% Damage Reduction

Area of Effect

Debuff

Skills List
Best Barbarian Perks To Use
Rank
Perk
Desc

S Tier

Axe Specialization
Adds +10 damage to axe attacks.

+ Physical Damage

A Tier

Carnage
STR increases by +10 for 4s after killing a target.

Str

Stat Buff

A Tier

Iron Will
Increases magic resistance by 100

Magic Resistance

A Tier

Savage
Not wearing chest armor results in 10% damage bonus.

+% Physical Damage

B Tier

Berserker
The less HP you have the more damage you do. Each 10% HP loss grants 2% additional attack power up to a max of 18% physical power

+% Physical Damage

B Tier

Morale Boost
Recover 10% HP after killing a player

HP

B Tier

Toughness
Additional 10% HP

HP

B Tier

Two Handed Weapon Expert
Two handed weapons deal additional 5% damage.

+% Physical Damage

C Tier

Smash
Can destroy normal doors and sturdy containers. Increases impact power of attacks +1 to better defeat blocks/parries.

Impact Power

Perks List
Best Barbarian Stats To Use
| Rank | Stat | Desc |
| --- | --- | --- |
| S Tier | All Attributes | Increases all stats of your character. |
| S Tier | True Damage | Damage that bypasses all armor and physical damage reductions. |
| A Tier | Agility | Increases Base Move Speed, Action/Attack Speed, and Equip/Interaction Speed |
| A Tier | Max Health | Increases your character's maxmium health. |
| A Tier | Physical Power | Increases your damage with physical weapons. |
| A Tier | Strength | Increases Base Health and Physical Damage Bonus |
| A Tier | Weapon Damage | Increases Weapon damage. |
| B Tier | Magic Resistance | Reduces the amount of magical damage you recieve by another player (Magical Armor Rating) |
| B Tier | Magical Damage Reduction | Reduces the amount of magical damage you recieve by another player |
| B Tier | Physical Damage Reduction | Reduces the amount of physical damage you recieve by another player. |
| C Tier | Action Speed | Increases how fast you interact with objects (looting ,chest, portals, corpses, etc). |
| C Tier | Resourcefulness | Increases how fast you interact with objects, and significanly increases how quickly you install items such as traps and campfires. |
| E Tier | Item Equip Speed | Increase how long it takes you equip items you put on your character. |

Map Guides

Stats Explained
Best Barbarian Weapons To Use
Dark and Darker Best Barbarian Weapons
Tier
Weapon
Type
Flat Damage
Combo/Speed/Damage
Move Speed
Action Speed

S Tier

Double Axe

2-Handed Axe

Barbarian

40

44 ~ 47

48 ~ 53

53 ~ 58

58 ~ 64

64 ~ 70

70 ~ 74

74 ~ 77

-45

Attack: -45%

S Tier

Quarterstaff

2-Handed Polearm

Barbarian

Cleric

Wizard

25

31 ~ 40

37 ~ 45

43 ~ 50

48 ~ 54

53 ~ 58

57 ~ 61

61 ~ 64

Range:

-30

Attack: -30%

Blockreaction: -35%

Defensemode: -35%

A Tier

Hatchet

1-Handed Off-Hand Axe

Barbarian

Fighter

15

18 ~ 19

20 ~ 22

22 ~ 24

24 ~ 27

27 ~ 30

30 ~ 33

33 ~ 35

-25

Attack: -25%

A Tier

Horsemans Axe

1-Handed Main-Hand Axe

Barbarian

Fighter

19

22 ~ 23

24 ~ 26

26 ~ 28

28 ~ 31

31 ~ 34

34 ~ 37

37 ~ 39

-30

Attack: -25%

B Tier

Battle Axe

2-Handed Axe

Barbarian

Fighter

35

39 ~ 41

42 ~ 46

46 ~ 50

50 ~ 55

55 ~ 60

60 ~ 64

64 ~ 67

-45

Attack: -40%

B Tier

Felling Axe

2-Handed Axe

Barbarian

33

37 ~ 39

40 ~ 44

44 ~ 48

48 ~ 53

53 ~ 58

58 ~ 62

62 ~ 65

-40

Attack: -30%

B Tier

Zweihander

2-Handed Sword

Barbarian

Fighter

33

37 ~ 39

40 ~ 44

44 ~ 48

48 ~ 53

53 ~ 58

58 ~ 62

62 ~ 65

-50

Attack: -40%

C Tier

War Maul

2-Handed Mace

Barbarian

Cleric

45

49 ~ 52

53 ~ 58

58 ~ 63

63 ~ 69

69 ~ 75

75 ~ 79

79 ~ 82

-55

Attack: -55%

E Tier

Bardiche

2-Handed Polearm

Barbarian

39

43 ~ 45

46 ~ 50

50 ~ 54

54 ~ 59

59 ~ 64

64 ~ 68

68 ~ 71

-50

Attack: -45%

Blockreaction: -35%

Defensemode: -35%

? Tier

Francisca Axe

Throwable

Barbarian

Fighter
Best Barbarian Armor To Use
Dark and Darker Best Barbarian Armor
Tier
Armor
Type
Armor Rating
Move Speed
Default Stats

? Tier

Barbuta Helm

Head

Barbarian, Fighter

19

20 ~ 21

22 ~ 23

24 ~ 25

26 ~ 27

28 ~ 30

30 ~ 31

31 ~ 32

-10

12.0% Headshot Reduction

10 Magic Resistance

? Tier

Cobalt Viking Helmet

Head

Barbarian

26 ~ 27

-10

10.0% Headshot Reduction

4% Projectile Reduction

10 Magic Resistance

? Tier

Gjermundbu

Head

Barbarian

17

18 ~ 19

20 ~ 21

22 ~ 23

24 ~ 25

26 ~ 28

28 ~ 29

29 ~ 30

-8

12.0% Headshot Reduction

4% Projectile Reduction

15 Magic Resistance

? Tier

Northern Full Tunic

Chest

Barbarian

43

44 ~ 47

48 ~ 56

57 ~ 62

63 ~ 69

69 ~ 74

74 ~ 79

79 ~ 83

-15

20 Magic Resistance

? Tier

Ruby Silver Barbuta Helm

Head

Barbarian, Fighter

28 ~ 30

-10

12.0% Headshot Reduction

10 Magic Resistance

? Tier

Viking Helmet

Head

Barbarian

19

20 ~ 21

22 ~ 23

24 ~ 25

26 ~ 27

28 ~ 30

30 ~ 31

31 ~ 32

-10

12.0% Headshot Reduction

10 Magic Resistance

4% Projectile Reduction