Welcome to our Cyberpunk 2077 Best Cyberdeck List here; you can find the strongest Cyberdeck to use with your build. Cyberdecks have Daemons, which are programs that allow you to perform many different actions, such as infiltrating enemy networks or distracting an enemy.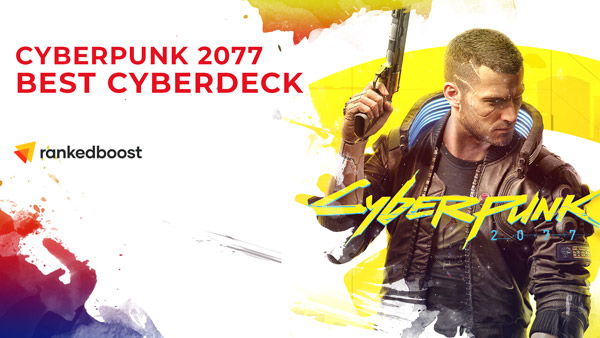 Need a build to combine with these Cyberdecks? Then check out our Best Builds Guide and find a build that fits your playstyle.
Cyberpunk 2077 Best Cyberdecks
When it comes to Cyberdecks, the Rarity will determine how strong it is, for example, Uncommon, Common, Rare, Epic, and Legendary being the Best and highest Rarity of the Cyberdecks in Cyberpunk 2077. Each one will have pre-installed device hacks and an effect on your Ram Recovery, Quickhacks, etc, which is very useful for Breach Protocol Builds.
List of Best Cyberdecks in Cyberpunk 2077.
Name
Price
Specs
Effects
Hacks
Req Street Cred

MILITECH PARALINE

Common

5000

RAM: 2

Buffer Size: 4

Slots: 2

Short Circuit and Reboot Optics quickhacks already installed.
Distract, Remote Activation, Take Control, Breach Protocol, Steal Data
-

ARASAKA MK.3

Epic

25000

RAM: 8

Buffer Size: 7

Slots: 5

Cost of stealth quickhacks is reduced by 1. Combat quickhacks have 30% increased duration. Quickhacking a pinged enemy refreshes Ping duration.
Distract, Remote Activation, Take Control, Breach Protocol, Steal Data, Overload, Friendly Mode, Assist Mode
-

ARASAKA MK.4

Legendary

35000

RAM: 10

Buffer Size: 8

Slots: 6

Cost of stealth quickhacks is reduced by 2. Combat quickhacks have 40% increased duration. Quickhacking a pinged enemy refreshes Ping duration.
Distract, Remote Activation, Take Control, Breach Protocol, Steal Data, Overload, Friendly Mode, Assist Mode
50

BIODYNE MK.1

Uncommon

7500

RAM: 6

Buffer Size: 5

Slots: 3

-
Distract, Remote Activation, Take Control, Breach Protocol, Steal Data
-

BIODYNE MK.2

Rare

15000

RAM: 9

Buffer Size: 6

Slots: 4

Increases RAM recovery rate by 3 units per 60 seconds.
Distract, Remote Activation, Take Control, Breach Protocol, Steal Data, Overload, Friendly Mode, Assist Mode
-

BIOTECH MK.1

Uncommon

7500

RAM: 5

Buffer Size: 5

Slots: 3

Increases RAM recovery rate by 6 units per 60 seconds.
Distract, Remote Activation, Take Control, Breach Protocol, Steal Data
-

BIOTECH MK.2

Rare

15000

RAM: 7

Buffer Size: 6

Slots: 4

Increases RAM recovery rate by 9 units per 60 seconds. Quickhacks deal 10% more damage.
Distract, Remote Activation, Take Control, Breach Protocol, Steal Data, Overload, Friendly Mode, Assist Mode
14

BIOTECH MK.3

Epic

25000

RAM: 10

Buffer Size: 7

Slots: 5

Increases RAM recovery rate by 9 units per 60 seconds. Quickhacks deal 20% more damage.
Distract, Remote Activation, Take Control, Breach Protocol, Steal Data, Overload, Friendly Mode, Assist Mode
27

FUYUTSUI ELECTRONICS MK.1

Common

5000

RAM: 3

Buffer Size: 5

Slots: 2

-
Distract, Remote Activation, Take Control, Steal Data
29

FUYUTSUI ELECTRONICS MK.3

Legendary

35000

RAM: 8

Buffer Size: 7

Slots: 6

Increases RAM recovery rate by 9 units per 60 seconds. Quickhack spread distance increased by 40%. Combat quickhacks have 50% increased duration.
Distract, Remote Activation, Take Control, Breach Protocol, Steal Data, Overload, Friendly Mode, Assist Mode
37

NETWATCH NETDRIVER MK.5

Legendary

35000

RAM: 11

Buffer Size: 8

Slots: 6

Increases RAM recovery rate by 9 units per 60 seconds. Quickhack spread distance increased by 60%. Combat quickhacks can be uploaded on 3 targets within 6-meter radius. Quickhacks deal 30% more damage.
Distract, Remote Activation, Take Control, Breach Protocol, Steal Data, Overload, Friendly Mode, Assist Mode
49

RAVEN MICROCYBER MK.3

Epic

25000

RAM: 8

Buffer Size: 7

Slots: 5

Increases RAM recovery rate by 3 units per 60 seconds. Enemy netrunners need 50% more time to hack you. Quickhack spread distance increased by 40%.
Distract, Remote Activation, Take Control, Breach Protocol, Steal Data, Overload, Friendly Mode, Assist Mode
49

RAVEN MICROCYBER MK.4

Legendary

35000

RAM: 10

Buffer Size: 8

Slots: 6

Increases RAM recovery rate by 6 units per 60 seconds. Enemy netrunners need 100% more time to hack you. Quickhack spread distance increased by 60%.
Distract, Remote Activation, Take Control, Breach Protocol, Steal Data, Overload, Friendly Mode, Assist Mode
14

SEACHO ELECTRONICS MK.1

Uncommon

7500

RAM: 4

Buffer Size: 5

Slots: 3

Cost of stealth quickhacks is reduced by 1.
Distract, Remote Activation, Take Control, Steal Data, Overload, Friendly Mode, Assist Mode
-

SEACHO ELECTRONICS MK.2

Rare

15000

RAM: 6

Buffer Size: 6

Slots: 4

Cost of stealth quickhacks is reduced by 1. Upload time is reduced by 25%.
Distract, Remote Activation, Take Control, Breach Protocol, Steal Data, Overload, Friendly Mode, Assist Mode
-

STEPHENSON TECH MK.2

Rare

15000

RAM: 6

Buffer Size: 7

Slots: 4

Duration of combat +30%. All quickhacks have cooldown reduced by 30%.
Distract, Remote Activation, Take Control, Breach Protocol, Steal Data, Overload, Friendly Mode, Assist Mode
-

STEPHENSON TECH MK.3

Epic

25000

RAM: 8

Buffer Size: 7

Slots: 5

Duration of combat +40%. All quickhacks have cooldown reduced by 45%.
Distract, Remote Activation, Take Control, Breach Protocol, Steal Data, Overload, Friendly Mode, Assist Mode
11

STEPHENSON TECH MK.4

Legendary

35000

RAM: 10

Buffer Size: 8

Slots: 6

Duration of combat +50%. All quickhacks have cooldown reduced by 45%. Upload time is reduced by 25%.
Distract, Remote Activation, Take Control, Steal Data, Overload, Friendly Mode, Assist Mode
37

TETRATRONIC MK.1

Uncommon

7500

RAM: 4

Buffer Size: 5

Slots: 3

Quickhacks deal 10% more damage.
Distract, Remote Activation, Take Control, Steal Data
-

TETRATRONIC MK.2

Rare

15000

RAM: 6

Buffer Size: 6

Slots: 4

Quickhacks deal 20% more damage. Cost of ultimate quickhacks is reduced by 1.
Distract, Remote Activation, Take Control, Steal Data, Overload, Friendly Mode, Assist Mode
14

TETRATRONIC MK.3

Epic

25000

RAM: 8

Buffer Size: 7

Slots: 5

Quickhacks deal 30% more damage. Cost of ultimate quickhacks is reduced by 2.
Distract, Remote Activation, Take Control, Steal Data, Overload, Friendly Mode, Assist Mode
37

TETRATRONIC RIPPLER MK.4

Legendary

35000

RAM: 10

Buffer Size: 8

Slots: 6

Ultimate quickhacks can spread once. Cost of ultimate quickhacks is reduced by 3. Upload time is reduced by 75%. All quickhacks have cooldown reduced by 45%.
Distract, Remote Activation, Take Control, Breach Protocol, Steal Data, Overload, Friendly Mode, Assist Mode
29
---