Welcome to our Pokemon Lets Go Candy Guide, we will explain what each type of candy does to your pokemon. We also listed all the different ways you can get Candy in Pokemon Lets Go Eevee! and Pikachu!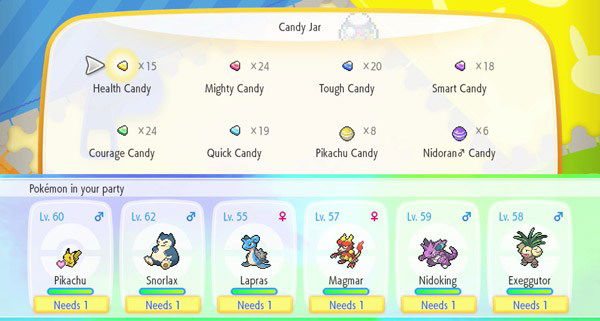 Pokemon Let's Go Candy
Pokemon Lets Go Candy explained and what type of candy you need to raise your HP, Attack, Special Attack or even Defense with. Just below that we listed the methods you can use to gather more candy to power up your favorite pokemon.
Candy
What It Does
How To Get
Health Candy
+1 HP
Transferring and Catching Pokemon
Mighty Candy
+1 Attack
Tough Candy
+1 Defense
Smart Candy
+1 Special 
Courage Candy
+1 Special
Quick Candy
+1 Speed
Pokemon Candy
+1 All Stats
Obtained from Transferring and Catching that specific pokemon
Rare Candy
Increases Level by 1
Found in various locations
Not sure what each base stats does? check out our guide where we explain each Base Stats In Pokemon Lets Go
How to Get Candy in Pokemon Let's Go
There are various way players can get candy in Pokemon Lets Go, below we will list every way you can get some extra candy to power up your favorite pokemon.
Send to Professor – You can convert extra pokemon into candy, similar to Pokemon GO. (Go To Pokemon Box, then select a pokemon and Send To Professor)
GO Park – Successfully completing games in the GO Park complex's Play Yard.
Walking Pokemon – Taking Pokémon for a stroll via the Poké Ball Plus device.
Did You Know? You can transfer Mobile Pokemon GO pokemon to your Let's Go game. You can view the full guide on how to transfer pokemon here.