Welcome to our Overwatch Guide to the Best Heroes rankings based on map. Each hero has its strengths and weaknesses, those with less weaknesses tend to be overall better for every Overwatch map. Below we put together some easy to follow quick Overwatch guides for each map and the best heroes for that specific map.
There are two characters that are left out of many of these Overwatch Guide, since they are pretty much good no matter what. They would take up space being placed in every single one of these Overwatch guides.
Mercy


Lucio


These 2 supports are easily always a good pick in terms of support.
Best Hero Overwatch Guide
Map | HanaMura
Game-Mode | Assault
This map has two major choke points at each capture point, this makes characters like Torbjorn and Junkrat excellent for defending. While it will almost be required for players attacking to have at least a Winston and or Reinhardt. This map Overwatch Guide is focused on hero picks that defend choke points really well, as well as tank heroes who are able to push threw these same areas.
Map | Gibralter
Game-Mode | Escort
This map has lots of areas for players to "Flank"(Suprise attack form behind). This will give one specific character a huge advantage, Reaper who isn't usually among the best hero picks based on maps. However on this map having lots of close corters and flanks available, there are a couple more hero pick in this Overwatch guide who stand out. Pharah can be really annoying inside and outside this entire map, the same goes for junkrat.
Map | Dorado
Game-Mode | Escort
Tanks Winston and Reinhardt are a important part of the escort game-mode, player will need at least one these to make delivering the payload easy. This is even more true if there dealing with a Pharah in the sky, or a Tracer running amok.
Map | Nepal
Game-Mode | Control
This map is really good for junkrat both in door and out door control points. This is also true for Mei, it also helps the she is a direct counter pick to Junkrat. A recurring hero pick in this Overwatch guide you will see often due to his flexbility is solider 76.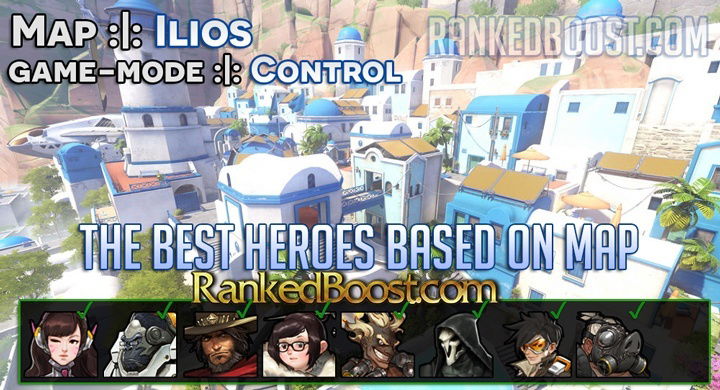 Map | Ilios
Game-Mode | Control
This map is full of tight spaces, making it ideal for Mei with her Ice Wall and Roadhog with his Hook. Even D.Va which you will rarely see in these Overwatch guides. There some good opportunity for D.Va to make use of her mobility to knock enemy players off the map, even bigger opportunity's with D.Va Ult.
Map | Kings Row
Game-Mode | Hybrid
Winston is a effective tank pick on this map, both being good at escorting the payload and jumping to high areas to remove pesky Offensive/Defensive heroes. Speaking of which Widowmaker and Junkrat are among the strongest and most annoying hero picks on this map.
Map | Lijinag Tower
Game-Mode | Control
D.Va making her appearance once again, for the same reason as the last time. Moblity + Knockback = Play Of The Game. Mei is also really good on this map thanks to her Ice Wall.
Map | Route 66
Game-Mode | Escort
One of the rare maps you may see a Bastion from time to time. With so many turns every corner, you better hope there isn't a Bastion players waiting around it. In this Overwatch Guide Pharah is seen as a fairly effective hero pick up till the end when the escort enters in doors.
Map | Temple Of Anubis
Game-Mode | Assault
Its no surprise that Pharah does really well on this map, since the whole map takes place out doors. Much like the hanamura overwatch guide, on the temple of Anubis you will need a Reinhardt and or Winston too make it past some major choke points.
Map | Volskaya
Game-Mode | Assault
This map is great for bastion if your defending, while soldier 76 fits perfectly for attacking. Along with having a Tank like Winston or Reinhardt, your team should have no trouble.
Early in our Overwatch Guide we talked about heroes who have very little to no weaknesses. These characters rank among the highest in our Overwatch tier list and in this guide, mainly due to there flexibility to be used on any map in any game-type.