Welcome to our League of Legends Wild Rift Runes Guide, here you can find a description of what each Minor and Keystone Rune does in Wild Rift. We also list the Best Rune Builds for each champion in wild rift, this includes 1 Keystone and 3 Minor Runes.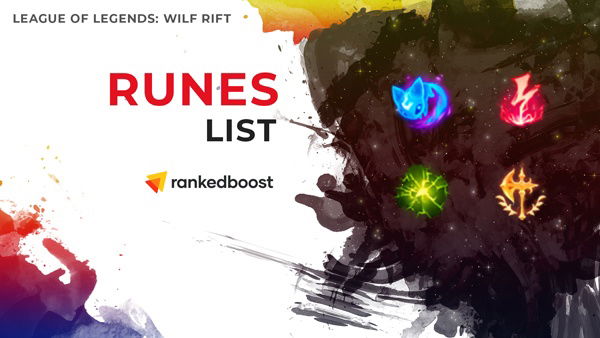 LoL Wild Rift Runes List
Below you will find an LoL Wild Rift Runes List, and what each one does. it's important you choose the right runes for each champion as this will affect how you play your champions in-game.
Keystone – Players can only select 1 of these powerful Runes; these will affect your rune build more than any other rune you choose.
Minor – Players can choose 3 of these runes and help boost your champion's strengths or complement their already existing strength.
Runes
What It does

Conqueror

Keystone

Gain stacks of Adaptive Force when hitting a champion with separate attacks or abilties.Stack up to 5 times. When fully stacked, deal bonus adaptive damage to champions.Per stack: 2 - 6 bonus

AD

or 4 - 12

AP

for 8s.Fully stacked bonus: 10% bonus adaptive damage to champions.

Electrocute

Keystone

Hitting a champion with 3 seperate attacks or abilities in 3s deals bonus adaptive damage. Damage: 30 - 184 + 40% bonus

AD

+ 25%

AP

. Cooldown: 25s

Summon Aery

Keystone

Your attacks and abilities send Aery to a target, damaging enemies or shielding allies. Damage: 10 - 60 + 20% bonus

AD

+ 10%

AP

. Shield: 20 - 120 + 40% bonus

AD

+ 20%

AP

. Aery cannot be sent out again until she returns to you.

Grasp of the Undying

Keystone

Every 4s in combat, your next attack on a champion will be enhanced based on your max health.Heal:2% of your max healthPermanently increase your health by 5.Bonus damage: 4% of your max health, magic damage on Ranged champions, the effect are reduced by 60%.

Aftershock

Keystone

After immobilizing an enemy champion, gain defenses and later deal a burst of magic damage around you.Defenses:50

AR

+ 50% bonus armor and 50

MR

+ 50bonus

MR

for 2.5s.Damage: 12 - 110 + 4% max health, magic damage.Cooldown: 35s

Fleet Footwork

Keystone

Moving attacking and casting builds Energy stacks. At 100 stacks, your next attack heals you and grants increased movement speed. Heal: 15 - 85 + 30% bonus

AD

+ 30%

AP

. Movement Speed bonus: 20% for 1s.

Font of Life

Keystone

Imparing the movement of an enemy champion marks them. Allies who attack marked champions heal based on your health.Heal: equal to 3% of your max health in 2s.Mark duration: 4s

Kleptomancy

Keystone

After using an ability, your next ability hit or attack on an enemy champion will grant you a random item effect.Cooldown: 25s

Spirit Walker

Minor 2

Gain 50 max health and 20% slow resistance.

Loyalty

Minor 2

You gain 2

AR

and 5

MR

. Your closest ally champion gains 5

AR

and 2

MR

.

Regeneration

Minor 2

Every 3 seconds, regen 2% missing heath or mana based on whichever percentage is lower.

Mastermind

Minor 2

Deal 10% bonus true damage to Epic Monsters and Turrets. Earn an extra 100 gold and 500XP upon taking or assisting in taking these objectives.

Hunter Genius

Minor 3

Gain 2.5% cooldown reduction. Unique champion takedowns grant 1.5% cooldown reduction.

Sweet Tooth

Minor 3

Increases Honyfruit healing by 25%, Each fruit also provides 20 gold.

Pack Hunter

Minor 3

While neary ally champions, gain 2% movement speed. For each unique ally you participate in a takedown with, you gain 50 gold and the ally gains 50 gold.

Manaflow Band

Minor 3

Hitting an enemy champion with an ability or empowered attack permanently increases your max mana by 30, up to 300 mana.

Brutal

Minor 1

Gain 7

AD

and 2% armor penetration, or 14

AP

and 2% magic penetration. (Adaptive)

Gathering Storm

Minor 1

Every 2 min, gain 2

AD

or 4

AP

. (Adaptive)

Hunter Vampirism

Minor 1

Gain 2% physical vamp or 2% magic vamp. Unique champion takedowns grant 2

AD

with 1% physical vamp or 4

AP

with 1% magic vamp. (adaptive)

Triumph

Minor 1

Champion takedowns restore 10% missing health. Deal 3% more damage to enemies below 35% health

Weakness

Minor 1

Impairing the movement of enemy champion makes them take 5% more damage in the following 5s.

Champion

Minor 1

Gain 10% damage against champions. Lose 5% each time you die until the bonus disappears.

Backbone

Minor 2

Gain 10

AR

or 10

MR

, based on whichever stat you have less of.

Conditioning

Minor 2

Gain 8 bonus

AR

and

MR

after 5 minutes of game time.

Hunter Titan

Minor 2

Gain 20 max health. Unique champion takedowns grant 20 max health and 4% tenacity.

Pathfinder

Minor 3

Gain 8% Movement Speed in brush, jungle and River when out of combat.
Best Runes for Each Champion in Wild Rift
Here we have a list of the Best Rune Builds for each champion in Wild Rift, since you can only choose 1 Keystone that will be the most essential choice, were as the Minor Runes can be swapped as you see fit for your playstyle in the game.