Welcome to our Apex Legends Weapons List, here we have listed every weapon in Apex Legends based on their type. Then we went a step ahead of that and found which are the Best Weapons To Use In Apex, we display this using a Tier List which we explain about more below.

Apex Legends Best Weapons
At RankedBoost we rank Apex Legends Weapons using a Tier List. You can find the Apex Legends Best Weapons in the S Tier, the further down you go the weaker they become ending with F Tier. Any upcoming DLC Weapons will be included and ranked once they are available in the game. This list will apply across all platforms PS4, XBOX1, and PC.
S

Mastiff

Peacekeeper

Spitfire

Wingman

A

Kraber

Longbow

Devotion

R-301

R-99

Hemlok

EVA-8 Auto

Havoc

B

Flatline

Triple Take

G7 Scout

C

Alternator

RE-45

Prowler

D

P2020

E

Mozambique

F
Apex Legends Weapon Stats
Below we have a list of each Weapon, Type and Damage Per Bullet to both the body and the head since that will affect the amount of damage dealt. We have also included the type of weapon attachments each gun can equip to further improve its stats.
(This handy image comes from a Reddit user by the name of u/Krazyflipz)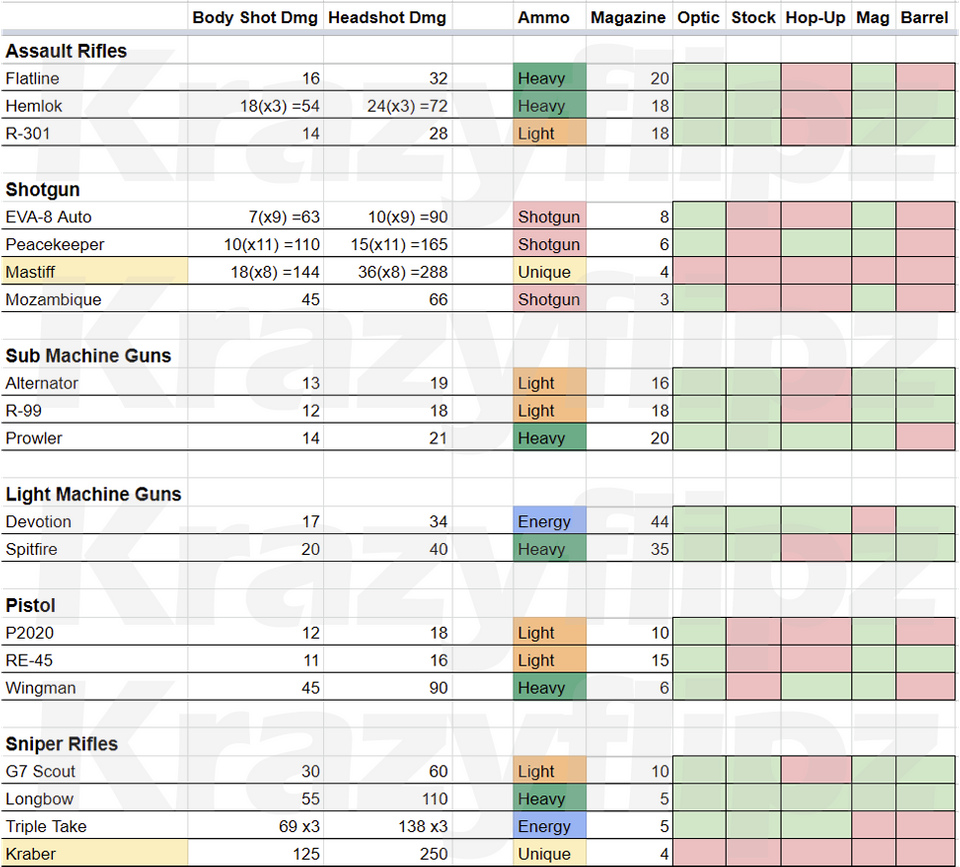 ---
(Here we have another useful all weapons chart for apex legends from @notohfamous)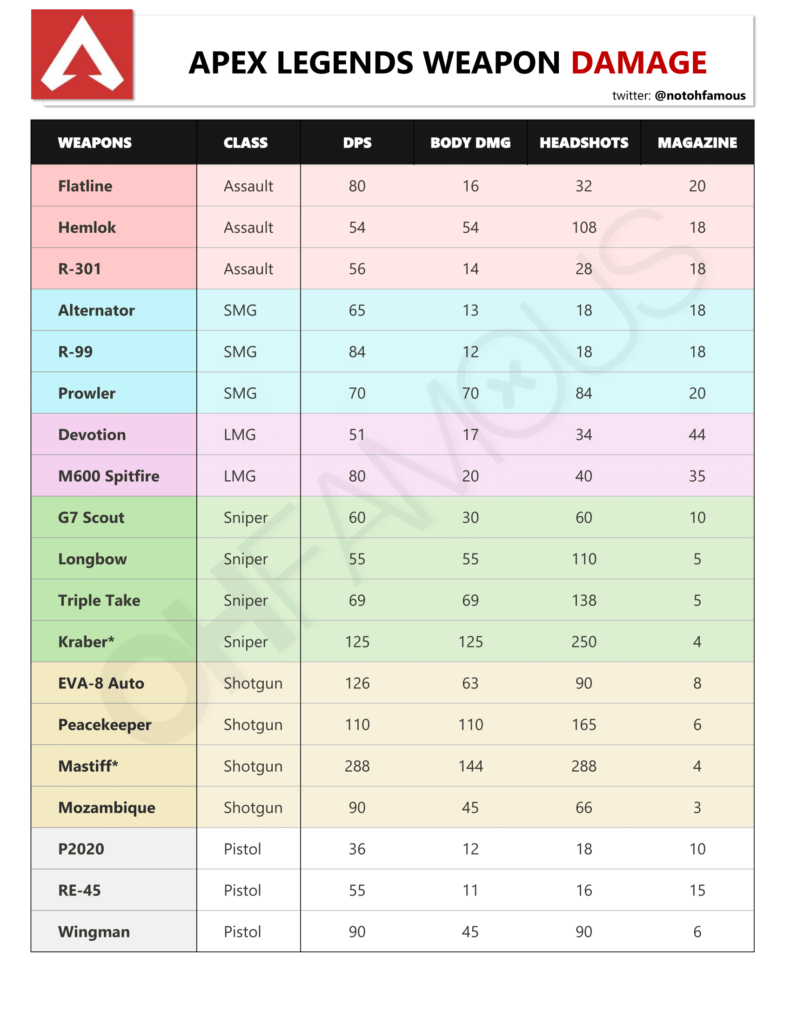 Links to each weapon with more in-depth stats such as RPM, Reload Time, Weapon Attachments and more.
Tap any of the links below to view our character guides with ability details, Counters, Best Weapons To Use and even legends that are Good With those specific characters.
You can Click/Tap the weapon names to view more in-depth stats such as damage per bullet, reload speed, attachments.
Weapons
Type
Body Damage
Head Damage
Attachments
Info
Mozambique
Pistol/Shotgun
45
66
-Optic
-Mag
Triple-barrel shotgun pistol.
RE-45
Pistol
11
16
-Optic
-Mag
-Barrel
Full-auto pistol.
P2020
Pistol
12
18
-Optic
-Mag
Semi-auto Pistol.
Wingman
Pistol
45
90
-Optic
-Mag
-Hop-up
High powered revolver.
Peacekeeper
Shotgun
110
165
-Optic
-Mag
-Hop-up
Lever-action shotgun.
EVA-8 Auto
Shotgun
63
90
-Optic
-Mag
Full-auto shotgun.
Mastiff
Shotgun
144
288
None
Powerful semi-auto shotgun.
R-99
SMGs
12
18
-Optic
-Mag
-Barrel
-Stock
Rapid-fire automatic SMG.
Alternator
SMGs
13
19
-Optic
-Mag
-Barrel
-Stock
Twin barrel full-auto SMG.
Prowler
SMGs
14
21
-Optic
-Mag
-Barrel
-Hop-up
5-round burst SMG.
R-301
Assault Rifles
14
28
-Optic
-Mag
-Barrel
-Stock
Full-auto and high accuracy.
Hemlok
Assault Rifles
18
(3x)=54
24
(3x)=72
-Optic
-Mag
-Barrel
-Stock
3-round burst assault rifle.
Flatline
Assault Rifles
16
32
-Optic
-Mag
-Stock
Full-auto with a punch.
Spitfire
LMGs
20
40
-Optic
-Mag
-Barrel
-Stock
Full-auto LMG.
Devotion
LMGs
17
34
-Optic
-Barrel
-Stock
-Hop-up
Full-auto energy LMG.
G7 Scout
Sniper Rifles
30
60
-Optic
-Mag
-Barrel
-Stock
Semi-auto light sniper rifle
Longbow
Sniper Rifles
55
110
-Optic
-Mag
-Barrel
-Stock
-Hop-up
Semi-auto sniper rifle
Triple Take
Sniper Rifles
69
138
-Optic
-Stock
-Hop-up
Triple-barrel sniper rifle.
Kraber
Sniper Rifles
125
250
None
Powerful bolt-action sniper rifle.
Want to View other Apex Legends Guides? Tap any of the links below to view other content in the game.