This is our guide on Star Ratings in Animal Crossing New Horizons. In this guide, you will learn what a Star Rating is, why it is important, and how to obtain the Highest Rating. Star Rating is a system in Animal Crossing New Horizons that dictates how good your island is, and is considered the end goal for this game by some players.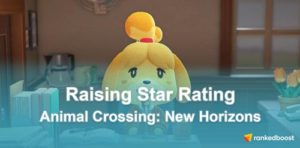 What Is Your Island's Star Rating In Animal Crossing New Horizons
Your Island's Star Rating is an evaluation of your Island. It raises depending on what you do with your Island. Before you can evaluate your Island, you will need to unlock the ability to do so, and this is what you will need to do.
Pay off your Island Get Away Package. (Worth 5,000 Miles.)

Have Built Nook's Cranny.

Built the first bridge.

Built and Furnished the three Villager houses.

Constructed the building for Resident Services.

Constructed the

Campground

.
You will then have the ability to speak to Isabelle about the Rating of your Island; you can also ask her for tips on how to raise it even further if you run out of ideas.
Since these steps can take a long time, if you do not have the time or patience to wait for Shops to upgrade or Bridges to be built, you can always Time skip, doing this late game can cause Villagers to move away and weeds will sprout so be careful.
How To Raise Your Island's Star Rating In ACNH
There is a Rating up to Five Stars, and the 5 Star Rating will unlock the Golden Watering Can, which enables you to make Golden Roses, if you only want to unlock the Landscaping options you will need to reach 3 Star Rating.
Placing Furniture outside.

Upgrade or build 

Shops and Facilities

.

Build more Bridges and Slopes.

Placing Furniture outside.

Placing Fences. (Tom Nook had given you 50 Pieces of fence, placing those down anywhere can raise your Rating.)

Planting a lot of Flowers and Trees, 

Breeding

 Flowers can help in this situation to lessen the time needed to gather all the flowers needed. (You can 

grow too many trees

, Isabelle, will tell you this if you have gone over that limit.)

Inviting 

Villagers

 to your Island. (for the 3 Star Rating, you will need about seven, for the 5 Star Rating you will need ten Villagers, you can invite more Villagers by using the Campground or 

Mystery Island Tours

.)

Plucking weeds and picking up Garbage. (You do not need to pluck all the Weeds on your Island unless you are going for a Five Star Rating. The game considers items left on the ground and Resources as Garbage, be sure you pick those up so you can obtain the highest Ranking.
Be mindful these steps can take a long time to accomplish, and some can take days or months to complete.