This is our Guide on The Happy Home Academy in Animal Crossing New Horizons. In this guide, you will learn what the HHA is, how to get the highest Rank, and what rewards there are. The HHA has been around since the very first Animal Crossing, and they went by the name of Happy Room Academy (HRA) until New Leaf. Most people see this system as a nuisance in an understandable sense, but it is a fantastic tool that can help guide you in the right direction in creating the perfect looking home.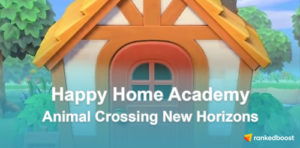 What Is The Happy Home Academy In Animal Crossing New Horizons
The Happy Home Academy (HHA) rates your home depending on the way your furniture is arranged, the types of furniture used, and the color of said furniture in your house. Every Sunday, they will evaluate your home and send you a letter giving you a Rank on your home based on points.
How To Raise Your HHA Rank In Animal Crossing New Horizons
Below is a list of all of the ways to best raise your HHA rank in ACNH.
Basic Necessities (Chair, Table, Wardrobe or Dresser, and a Bed. Try to keep them in the same set, this raises your points.)
Hang Wall Furniture (You will be docked points for not having any wall Furniture on your walls, so try making a clock and hang it up on your walls.)
Use Furniture Series (A good example of a Furniture series is the Bunny Day Series, first introduced with the Bunny Day Event. Using Series Furniture can give a lot of points.)
Matching Colors (Using Furniture with matching colors is a great way to boost your Points, you can change the color of your furniture using the DIY workbench.)
Bonus Points (Some furniture will give you bonus points to your score, Pictures of Villagers, and the rewards you get from the HHA, for example.)
What Is Feng Shui?
Feng Shui is a system in which you place furniture depending on its color in different areas of the room. Using this method can increase your Points and Rank.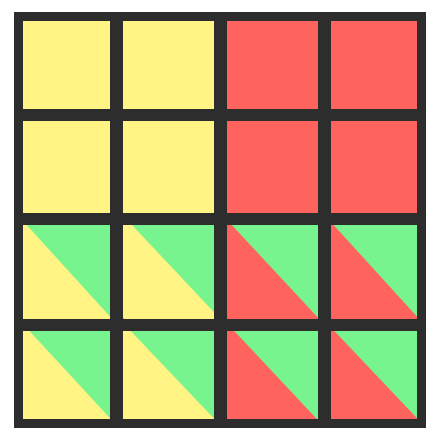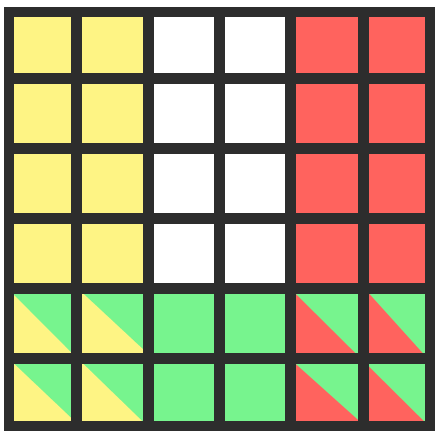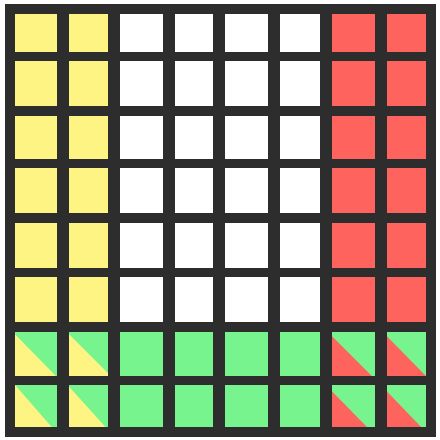 The primary colors for Feng Shui are Red, Yellow, and Green. The squares with nothing in them means you can put whatever color you want in them. You do not have to use both colors in the two corners, you can use one or the other without getting a point reduction, but you will get bonus points for using both colors. Since not every part of the room is affected by Feng Shui, it is best to use smaller items and decorations for the maximum amount of Points.
Note: The pictures represent the different sizes of your main room. (The least amount of squares being the graph for your newly built house.)
Things That Can Reduce Your Points
Certain things can dock your points in your home; most of these things are simple and can be avoided easily.
Cockroaches (These appear from not playing the game for an entire month, you can get rid of these pests by stepping on them. These reduce your points drastically.)
Front side of Furniture against the wall (For example; you set the front of your wardrobe against the wall, this will dock your points by a fair amount)
Certain objects (Technically Shirts do not dock your score or anything, but they do not add to it or not enough to make it worth it. Some items won't do anything for your rating)
All HHA Rewards In ACNH
Below is a list of all of the HHA rewards we know of so far.
| Rewards | Points |
| --- | --- |
| Gold HHA Trophy | 150,000 |
| Silver HHA Trophy | 100,000 |
| Bronze HHA Trophy | 70,000 |
| Gold HHA Plague | 50,000 |
| Silver HHA Plague | 30,000 |
| Bronze HHA Plague | 20,000 |
| HHA Pennant | 10,000 |
Note: This list of Rewards is not complete; it will be updated when we can confirm our information.
As stated before, the HHA evaluation is only for fun and is not mandatory for you to participate in. You can ignore the letters you are sent, and there are no penalties for not following their advice or guidelines.