This is our List on Furniture in Animal Crossing New Horizons. Before we jump into the list, you will learn what furniture can be found in the game, what you can do with said furniture, and how to customize it. Furniture in past games never really did much and was not able to be placed outside. Some pieces of furniture could be customized in New Leaf, but the furniture in past games was only for decoration.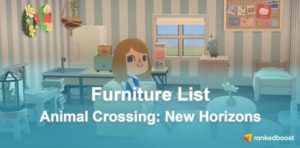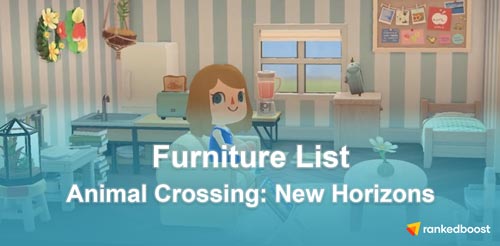 How To Get Furniture In ACNH
Gathering furniture in Animal Crossing New Horizons can be done in multiple ways. Some are easier than others, of course. Below is a list of the different ways you can obtain furniture.
Popping Balloons (You might see a Balloon holding a present flying over your Island, you can shoot them down with a Slingshot which you purchase the DIY recipe for and craft them, or you can buy them from Timmy and Tommy.)
Crafting (Some furniture can be crafted at the DIY Crafting Bench in Nook's Tent or at your crafting bench you have made.)
Buy Furniture (You can buy furniture from Timmy and Tommy, some can be purchased at the Nook Stop with Nook Miles, and some can be bought with Bells using Nook Shopping at the Nook Stop.)
Shaking Trees (Every day you can shake the trees on your Island and furniture will sometimes fall out. It is always random, only two furniture items will fall out of the trees on your Island daily.)
Villagers (Sometimes your Villagers might give you a random piece of furniture.)
Furniture is mostly used as decoration and is excellent for setting up an atmosphere and can be a very relaxing past time to collect and place around your Island or your House. It can be placed around your Island to raise your Star Rating (Be sure you use different kinds of furniture, putting the same furniture everywhere will not help your Star Rating all that much.)
What Is The Happy Home Academy In Animal Crossing New Horizons
The HHA evaluates your home every Saturday and will send you a letter when you move things around in your home and add items. Depending on your score, you will receive gifts in the mail, and there are multiple ranks you can obtain, the best being S Rank. You gain points to your overall score on your home, depending on how you match your items and where you place them. The best way to increase your Rank would be to use matching furniture sets and use matching colors.
Customizing Furniture In Animal Crossing New Horizons
There is a lot of furniture that can be customized in different ways. Some can have their entire color changed, and some can also have custom patterns applied to them. Not every furniture can be customized both of those ways, some might only allow you to add custom patterns, or they might only allow you to change the color of the object itself.
List Of Furniture In ACNH
Below is a list of the Furniture you can find in Animal Crossing New Horizons, along with Flooring, Walling, Carpeting, and wall fixtures.
Housewares

Recipe
Materials Needed
Obtained From

Acoustic guitar

3,210

Housewares

Message in a bottle

Angled signpost

600

Housewares

Apple chair

2,480

Housewares

Island residentTom Nook after receiving first three housing kits, if the native fruit is apples

Aquarius urn

22,125

Housewares

Celeste

Aries rocking chair

12,125

Housewares

Celeste

Asteroid

4,000

Housewares

Celeste

Astronaut suit

6,250

Housewares

Celeste OR Island resident

Bamboo basket

1,120

Housewares

Balloon

Bamboo bench

1,280

Housewares

Balloon

Bamboo doll

2,400

Housewares

Balloon

Bamboo floor lamp

1,280

Housewares

Island resident

Bamboo noodle slide

3,160

Housewares

Balloon Isabelle

Bamboo partition

2,020

Housewares

Balloon

Bamboo shelf

2,400

Housewares

Message in a bottle

Bamboo speaker

1,230

Housewares

Island resident

Bamboo stool

800

Housewares

Message in a bottle

Bamboo stopblock

480

Housewares

Island resident

Barbell

7,500

Housewares

Island residentMessage in a bottle

Barrel

2,100

Housewares

Island residentTom Nook

Beekeeper's hive

2,400

Housewares

Island resident

Big festive tree

3,200

Housewares

Birdbath

400

Housewares

Tom Nook after receiving first three housing kits

Birdcage

960

Housewares

Island resident

Birdhouse

840

Housewares

Tom Nook after receiving first three housing kits

Blossom-viewing lantern

2,880

Housewares

Balloon

Bonfire

1,230

Housewares

Tom Nook

Bonsai shelf

8,460

Housewares

Message in a bottle

Brick oven

3,820

Housewares

Wildest Dreams DIY

Brick well

2,800

Housewares

Nook Stop (2,000 Nook Miles)

Bunny Day arch

4,800

Housewares

Bunny Day

Bunny Day bed

2,400

Housewares

Bunny Day

Bunny Day festive balloons

1,200

Housewares

Bunny Day

Bunny Day merry balloons

1,200

Housewares

Bunny Day

Bunny Day stool

1,200

Housewares

Bunny Day

Bunny Day table

1,600

Housewares

Bunny Day

Bunny Day vanity

1,600

Housewares

Bunny Day

Butter churn

1,980

Housewares

Message in a bottle

Campfire

30

Housewares

Tom Nook (first DIY workshop)

Cancer table

21,975

Housewares

Celeste

Capricorn ornament

22,650

Housewares

Celeste

Cardboard bed

240

Housewares

Message in a bottle

Cardboard chair

60

Housewares

Cardboard sofa

120

Housewares

Message in a bottle

Cardboard table

240

Housewares

Cherry-blossom branches

4,240

Housewares

Balloon

Cherry-blossom-petal pile

2,000

Housewares

Balloon

Cherry-blossom pond stone

2,700

Housewares

Balloon

Clackercart

960

Housewares

Island resident Message in a bottle

Clothesline

100

Housewares

Tom Nook after receiving first three housing kits

Cosmos shower

3,050

Housewares

Crescent-moon chair

8,500

Housewares

Crewed spaceship

20,000

Housewares

Deer scare

1,740

Housewares

Balloon

Destinations signpost

1,440

Housewares

Nook Stop (1,500 Nook Miles)

DIY workbench

6,630

Housewares

Island resident

Doghouse

2,040

Housewares

Island resident

Drinking fountain

2,700

Housewares

Nook Stop (800 Nook Miles)

Festive tree

1,400

Housewares

Flat garden rock

3,000

Housewares

Message in a bottle

Flower stand

2,880

Housewares

Island resident

Flying saucer

15,000

Housewares

Celeste

Fountain

11,700

Housewares

Nook Stop (3,000 Nook Miles)

Frozen arch

9,000

Housewares

Frozen bed

9,000

Housewares

Frozen chair

6,200

Housewares

Frozen counter

7,000

Housewares

Frozen partition

7,400

Housewares

Frozen pillar

6,200

Housewares

Frozen sculpture

6,600

Housewares

Frozen table

8,200

Housewares

Frozen tree

8,200

Housewares

Garden bench

4,440

Housewares

Island resident

Garden rock

2,250

Housewares

Balloon

Garden wagon

3,180

Housewares

Message in a bottle

Gemini closet

22,000

Housewares

Celeste

Giant teddy bear

6,300

Housewares

Island resident

Golden casket

80,000

Housewares

Golden seat

50,000

Housewares

Island resident

Golden toilet

60,000

Housewares

Gong

5,100

Housewares

Message in a bottle

Grass standee

480

Housewares

Island residentMessage in a bottle

Green-leaf pile

600

Housewares

Balloon

Hay bed

400

Housewares

DIY for Beginners

Hearth

5,470

Housewares

Wildest Dreams DIY

Hedge standee

600

Housewares

Villager

Illuminated present

2,950

Housewares

Illuminated reindeer

4,350

Housewares

Illuminated snowflakes

3,150

Housewares

Illuminated tree

6,700

Housewares

Iron closet

9,000

Housewares

Iron frame

15,000

Housewares

Island residentMessage in a bottle

Iron garden bench

6,000

Housewares

Island resident

Iron garden chair

2,250

Housewares

Tom Nook after receiving first three housing kitsMessage in a bottle

Iron garden table

3,750

Housewares

Tom Nook after receiving first three housing kits

Iron hanger stand

2,250

Housewares

Iron worktable

7,500

Housewares

Island residentMessage in a bottle

Iron shelf

10,500

Housewares

Island resident

Ironwood bed

9,900

Housewares

Message in a bottle

Ironwood cart

3,720

Housewares

Ironwood chair

1,860

Housewares

Message in a bottle

Ironwood cupboard

9,780

Housewares

Island resident

Ironwood DIY workbench

8,520

Housewares

Message in a bottle

Ironwood dresser

3,840

Housewares

Ironwood kitchenette

7,560

Housewares

Wildest Dreams DIY

Ironwood low table

3,720

Housewares

Ironwood table

5,940

Housewares

Message in a bottle

Jail bars

3,750

Housewares

Message in a bottle

Juicy-apple TV

3,500

Housewares

Tom Nook after receiving first three housing kits, if the native fruit is applesMessage in a bottle

Kettle bathtub

6,270

Housewares

Message in a bottle

Large cardboard boxes

300

Housewares

Leaf campfire

1,330

Housewares

Message in a bottle

Leaf stool

1,560

Housewares

Lily record player

3,010

Housewares

Message in a bottle

Log bed

3,600

Housewares

Island resident

Log bench

600

Housewares

Tom Nook after receiving first three housing kits

Log decorative shelves

1,560

Housewares

Message in a bottle

Log dining table

1,800

Housewares

Tom Nook after receiving first three housing kits

Log extra-long sofa

1,920

Housewares

Island Resident

Log garden lounge

1,440

Housewares

Tom Nook after receiving first three housing kits

Log round table

1,800

Housewares

Message in a bottle

Log chair

960

Housewares

Island resident

Log stakes

360

Housewares

Unlocked when Tom Nook gives you your first recipes (resident representative only)

Log stool

480

Housewares

Island residentMessage in a bottle

Lunar lander

16,250

Housewares

Celeste

Lunar rover

12,580

Housewares

Manhole cover

2,250

Housewares

Nook Stop (800 Nook Miles)

Maple-leaf pond stone

2,700

Housewares

Medium cardboard boxes

240

Housewares

Mini DIY workbench

2,580

Housewares

Test Your DIY Skills

Moon

12,500

Housewares

Celeste

Mossy garden rock

2,550

Housewares

Message in a bottle

Mountain standee

1,080

Housewares

Message in a bottle

Mum cushion

440

Housewares

Message in a bottle

Mush lamp

1,600

Housewares

Mush log

1,680

Housewares

Mush low stool

800

Housewares

Mush parasol

1,200

Housewares

Mush partition

1,800

Housewares

Mush table

1,520

Housewares

Music stand

960

Housewares

Island residentMessage in a bottle

Natural garden chair

2,220

Housewares

Message in a bottleTom Nook after receiving first three housing kits

Natural garden table

3,330

Housewares

Tom Nook after receiving first three housing kitsIsland resident

Natural square table

1,980

Housewares

Island resident

Oil-barrel bathtub

655

Housewares

Balloon

Orange end table

2,480

Housewares

Message in a bottleTom Nook after receiving first three housing kits, if the native fruit is oranges

Outdoor bath

4,350

Housewares

Nook Stop (3,000 Nook Miles)

Outdoor picnic set

4,000

Housewares

Isabelle during morning announcement while talking about cherry blossom seasonBalloon

Palm-tree lamp

3,280

Housewares

Message in a bottle

Pansy table

760

Housewares

Message in a bottle

Peach chair

2,600

Housewares

Tom Nook after receiving first three housing kits, if the native fruit is peaches

Pear bed

2,720

Housewares

Tom Nook after receiving first three housing kits, if the native fruit is pears

Pear wardrobe

2,600

Housewares

Tom Nook after receiving first three housing kits, if the native fruit is pearsIsland resident

Pile of leaves

1,300

Housewares

Pile of zen cushions

750

Housewares

Island resident

Pisces lamp

22,050

Housewares

Celeste

Plain sink

2,270

Housewares

Wildest Dreams DIY

Plain wooden shop sign

720

Housewares

Island resident

Pond stone

1,500

Housewares

Message in a bottle

Raccoon figurine

1,200

Housewares

Message in a bottle

Red-leaf pile

1,280

Housewares

Isabelle during morning announcement while talking about fall season

Robot hero

250,000

Housewares

Nook Stop (5,000 Nook Miles)

Rocket

20,000

Housewares

Celeste wandering island

Rocking chair

960

Housewares

Test Your DIY Skills

Rocking horse

600

Housewares

Island resident

Rose bed

1,400

Housewares

Message in a bottle

Satellite

16,250

Housewares

Celeste wandering island

Sauna heater

3,510

Housewares

Message in a bottle

Scarecrow

130

Housewares

Scattered papers

400

Housewares

Island resident

Scorpio lamp

22,125

Housewares

Celeste

Shell arch

12,360

Housewares

Message in a bottle

Shell bed

10,200

Housewares

Island residentMessage in a bottle

Shell fountain

9,450

Housewares

Message in a bottle

Shell partition

8,000

Housewares

Island resident

Shell stool

600

Housewares

Message in a bottle

Shell table

2,280

Housewares

Island resident

Signpost

600

Housewares

Silo

13,920

Housewares

Nook Stop(3,000 Nook Miles)

Simple DIY workbench

1,350

Housewares

Mail from Nintendo after the first night on the islandMessage in a bottle

Simple well

2,850

Housewares

Nook Stop (2,000 Nook Miles)

Sleigh

960

Housewares

Message in a bottle

Small cardboard boxes

120

Housewares

Message in a bottle Villager

Space shuttle

10,000

Housewares

Stall

1,440

Housewares

Nook Stop (2,000 Nook Miles)

Standard umbrella stand

2,250

Housewares

Message in a bottle

Stone arch

13,500

Housewares

Nook Stop (2,000 Nook Miles)

Stone lion-dog

3,600

Housewares

Stone stool

450

Housewares

Unlocked when Tom Nook gives you your first recipes

Stone table

1,200

Housewares

Island residentMessage in a bottle Tom Nook after receiving first three housing kits

Stone tablet

1,800

Housewares

Nook Stop (800 Nook Miles)

Street piano

26,755

Housewares

Island resident

Swinging bench

1,440

Housewares

Test Your DIY Skills

Tall garden rock

9,000

Housewares

Balloon

Tall lantern

2,700

Housewares

Taurus bathtub

12,350

Housewares

Celeste

Tea table

1,440

Housewares

Message in a bottle

Three-tiered snowperson

7,420

Housewares

Tiki torch

650

Housewares

Tom Nook

Tiny library

1,035

Housewares

Island resident

Tire stack

60

Housewares

Fishing up an old tire

Tire toy

20

Housewares

Fishing up an old tire

Tree standee

1,560

Housewares

Balloon Island resident

Tree's bounty arch

5,750

Housewares

Tree's bounty big tree

6,080

Housewares

Tree's bounty little tree

4,120

Housewares

Isabelle

Trophy case

33,690

Housewares

Tulip surprise box

760

Housewares

Island resident

Virgo harp

22,050

Housewares

Celeste

Water pump

2,700

Housewares

Tom Nook after receiving first three housing kits Message in a bottle

Wave breaker

3,500

Housewares

Nook Stop (2,000 Nook Miles)

Western-style stone

4,500

Housewares

Wild log bench

960

Housewares

Wildest Dreams DIY from Nook's CrannyMessage in a bottle

Wooden-block bed

2,400

Housewares

Island resident

Wooden-block bench

840

Housewares

Island resident

Wooden-block bookshelf

720

Housewares

Test Your DIY Skills

Wooden-block chair

720

Housewares

Tom Nook after receiving first three housing kitsTest Your DIY Skills

Wooden-block chest

1,800

Housewares

Island resident

Wooden-block stereo

2,460

Housewares

Tom Nook after receiving first three housing kits

Wooden-block stool

600

Housewares

Island resident Message in a bottle

Wooden-block table

1,320

Housewares

Tom Nook after receiving first three housing kits

Wooden bookshelf

1,925

Housewares

Island resident

Wooden bucket

1,110

Housewares

Island residentTom Nook after receiving first three housing kits

Wooden chair

720

Housewares

Message in a bottleTom Nook after receiving first three housing kits

Wooden chest

1,920

Housewares

Island residentMessage in a bottle

Wooden double bed

3,600

Housewares

Letter from harvey

Wooden end table

960

Housewares

Island resident Letter from mom Message in a bottle

Wooden full-length mirror

1,350

Housewares

Message in a bottle

Wooden low table

1,200

Housewares

Wooden mini table

720

Housewares

Wooden simple bed

2,160

Housewares

Message in a bottleTom Nook after receiving first three housing kits

Wooden stool

480

Housewares

Message in a bottle

Wooden table

1,800

Housewares

Wooden wardrobe

1,440

Housewares

Tom Nook (Customization Workshop)

Wooden waste bin

480

Housewares

Message in a bottle

Yellow-leaf pile

1,300

Housewares

Zen-style stone

4,500

Housewares
Miscellaneous

Recipe
Materials Needed
Obtained From

Aroma pot

600

Miscellaneous

Message in a bottle

Bamboo candleholder

880

Miscellaneous

Island resident

Bamboo drum

720

Miscellaneous

Message in a bottle

Bamboo lunch box

640

Miscellaneous

Message in a bottleIsland resident

Bamboo-shoot lamp

4,900

Miscellaneous

Balloon

Bamboo sphere

480

Miscellaneous

Island resident

Bunny Day lamp

1,600

Miscellaneous

Bunny Day

Cherry-blossom bonsai

3,300

Miscellaneous

Balloon

Cherry speakers

3,500

Miscellaneous

Tom Nook after receiving first three housing kits, if the native fruit is cherriesMessage in a bottle

Classic pitcher

800

Miscellaneous

Tom Nook after receiving first three housing kits

Coconut juice

500

Miscellaneous

Message in a bottle

Cutting board

990

Miscellaneous

Decoy duck

480

Miscellaneous

Island resident

Document stack

400

Miscellaneous

Message in a bottle

Firewood

960

Miscellaneous

Frozen-treat set

5,400

Miscellaneous

Fruit basket

1,000

Miscellaneous

Message in a bottle

Frying pan

1,500

Miscellaneous

DIY for Beginners

Golden arowana model

30,000

Miscellaneous

Message in a bottle

Gold bars

30,000

Miscellaneous

Message in a bottle

Golden candlestick

20,000

Miscellaneous

Golden dishes

10,000

Miscellaneous

Message in a bottle

Golden dung beetle

30,000

Miscellaneous

Message in a bottle

Hyacinth lamp

3,000

Miscellaneous

Island resident

Infused-water dispenser

3,000

Miscellaneous

Kettlebell

3,750

Miscellaneous

Island residentMessage in a bottle

Libra scale

21,750

Miscellaneous

Celeste

Lucky gold cat

21,675

Miscellaneous

Balloon

Magazine rack

690

Miscellaneous

Island resident

Matryoshka

600

Miscellaneous

Message in a bottle

Modeling clay

400

Miscellaneous

Old-fashioned washtub

360

Miscellaneous

DIY for Beginners

Peach surprise box

2,480

Miscellaneous

Message in a bottleTom Nook after receiving first three housing kits, if the native fruit is peaches

Pine bonsai tree

4,200

Miscellaneous

Pot

1,000

Miscellaneous

Tom Nook after receiving first three housing kits

Recycled-can thumb piano

890

Miscellaneous

Fishing up cans

Ringtoss

480

Miscellaneous

Test Your DIY Skills

Scorpio lamp

22,125

Miscellaneous

Celeste

Shell lamp

4,200

Miscellaneous

Island Resident

Shell speaker

5,700

Miscellaneous

Island Resident

Stack of books

725

Miscellaneous

Island resident

Stacked magazines

630

Miscellaneous

Island resident

Steamer-basket set

2,400

Miscellaneous

Balloon

Succulent plant

220

Miscellaneous

Fishing up an empty can

Tabletop festive tree

930

Miscellaneous

Terrarium

1,740

Miscellaneous

Island residentMessage in a bottle

Traditional balancing toy

1,840

Miscellaneous

Trash bags

60

Miscellaneous

Fishing up trash

Tree's bounty lamp

3,200

Miscellaneous

Ukulele

600

Miscellaneous

Island resident

Unglazed dish set

600

Miscellaneous

Message in a bottle

Windflower fan

1,740

Miscellaneous

Message in a bottle

Wobbling Zipper toy

9,600

Miscellaneous

Bunny Day

Wooden-block toy

360

Miscellaneous

Wooden fish

360

Miscellaneous

Wildest Dreams DIY

Wooden table mirror

1,110

Miscellaneous

Given when Tom Nook gives you your first recipes

Wooden toolbox

1,980

Miscellaneous

Message in a bottle
Wall-mounted

Recipe
Materials Needed
Obtained From

Bamboo wall decoration

160

Wall-mounted

Message in a bottle

Blue rose wreath

20,000

Wall-mounted

Bone doorplate

360

Wall-mounted

Island resident

Boomerang

360

Wall-mounted

Villager

Bunny Day glowy garland

2,400

Wall-mounted

Bunny Day

Bunny Day wall clock

1,200

Wall-mounted

Bunny DayIsland resident

Bunny Day wreath

2,400

Wall-mounted

Bunny Day

Cherry lamp

2,400

Wall-mounted

Tom Nook after receiving first three housing kits, if the native fruit is cherriesMessage in a bottle

Cherry-blossom clock

2,750

Wall-mounted

Balloon

Chic cosmos wreath

4,800

Wall-mounted

Chic windflower wreath

4,800

Wall-mounted

Coconut wall planter

600

Wall-mounted

Island resident

Cool hyacinth wreath

1,440

Wall-mounted

Cool pansy wreath

4,800

Wall-mounted

Cool windflower wreath

1,200

Wall-mounted

Cosmos wreath

720

Wall-mounted

Tom Nook after receiving first three housing kits, if flowers on top of the player's island are cosmos

Crest doorplate

3,000

Wall-mounted

Message in a bottleIsland resident

Dark lily wreath

1,600

Wall-mounted

Dark rose wreath

4,320

Wall-mounted

Dark tulip wreath

1,600

Wall-mounted

Deer decoration

960

Wall-mounted

Message in a bottle

Fancy mum wreath

1,200

Wall-mounted

Message in a bottle

Fancy lily wreath

1,200

Wall-mounted

Fancy rose wreath

1,200

Wall-mounted

Message in a bottle

Floral swag

200

Wall-mounted

Message in a bottle

Fossil doorplate

500

Wall-mounted

Island resident

Fruit wreath

2,000

Wall-mounted

Gold rose wreath

20,000

Wall-mounted

Golden gears

11,125

Wall-mounted

Island residentMessage in a bottle

Hanging terrarium

3,240

Wall-mounted

Island resident

Hyacinth wreath

720

Wall-mounted

Message in a bottle

Iron doorplate

1,500

Wall-mounted

Balloon

Iron wall lamp

3,400

Wall-mounted

Wildest Dreams DIY

Iron wall rack

2,450

Wall-mounted

Ironwood clock

1,740

Wall-mounted

Message in a bottle

Key holder

1,110

Wall-mounted

Island resident

Leo sculpture

21,975

Wall-mounted

Celeste

Lily wreath

720

Wall-mounted

Tom Nook after receiving first three housing kits, if flowers on top of the player's island are lilies; Message in a bottle

Log wall-mounted clock

990

Wall-mounted

Mum wreath

720

Wall-mounted

Tom Nook after receiving first three housing kits, if flowers on top of the player's island are mums.

Mushroom wreath

1,500

Wall-mounted

Natural mum wreath

4,800

Wall-mounted

Orange wall-mounted clock

2,240

Wall-mounted

Tom Nook (if native fruit is oranges)

Ornament mobile

340

Wall-mounted

Ornament wreath

800

Wall-mounted

Pansy wreath

720

Wall-mounted

Tom Nook after receiving first three housing kits, if flowers on top of the player's island are pansies

Paw-print doorplate

360

Wall-mounted

Potted ivy

1,100

Wall-mounted

A villager after being stung

Pretty cosmos wreath

1,200

Wall-mounted

Pretty tulip wreath

2,400

Wall-mounted

Island resident

Purple hyacinth wreath

4,800

Wall-mounted

Rose wreath

720

Wall-mounted

Island residentTom Nook when giving you 3 housing plots

Sagittarius arrow

21,750

Wall-mounted

Celeste

Shell wreath

4,720

Wall-mounted

Snazzy pansy wreath

1,200

Wall-mounted

Message in a bottle

Snowflake wreath

1,600

Wall-mounted

Star clock

2,250

Wall-mounted

Celeste

Starry garland

5,000

Wall-mounted

Celeste

Timber doorplate

400

Wall-mounted

BalloonIsland resident

Tree's bounty mobile

2,030

Wall-mounted

Tree branch wreath

100

Wall-mounted

Island resident

Tulip wreath

720

Wall-mounted

Windflower wreath

720

Wall-mounted

Tom Nook after receiving first three housing kits, if flowers on top of the player's island are windflowers

Wooden-block wall clock

1350

Wall-mounted

Message in a bottle

Wooden-plank sign

600

Wall-mounted

Message in a bottle
Wallpaper/Floors/Rugs

Recipe
Materials Needed
Obtained From

Apple rug

1,200

Wallpaper/Floors/Rugs

Apple wall

4,000

Wallpaper/Floors/Rugs

Message in a bottle

Autumn wall

4,700

Wallpaper/Floors/Rugs

Backyard lawn

600

Wallpaper/Floors/Rugs

Island resident

Bamboo flooring

2,400

Wallpaper/Floors/Rugs

Bamboo wall

2,400

Wallpaper/Floors/Rugs

Bamboo-grove wall

4,300

Wallpaper/Floors/Rugs

Balloon

Basement flooring

1,500

Wallpaper/Floors/Rugs

Island resident

Brown herringbone wall

1,800

Wallpaper/Floors/Rugs

Message in a bottle

Bunny Day flooring

4,800

Wallpaper/Floors/Rugs

Bunny Day

Bunny Day rug

2,400

Wallpaper/Floors/Rugs

Bunny Day

Bunny Day wall

4,800

Wallpaper/Floors/Rugs

Bunny Day

Cabin wall

1,800

Wallpaper/Floors/Rugs

Cherry rug

1,200

Wallpaper/Floors/Rugs

Island resident

Cherry wall

4,000

Wallpaper/Floors/Rugs

Balloon

Cherry-blossom flooring

4,400

Wallpaper/Floors/Rugs

Balloon

Cherry-blossom-trees wall

4,600

Wallpaper/Floors/Rugs

Balloon

Chocolate herringbone wall

1,800

Wallpaper/Floors/Rugs

Island resident

Classic-library wall

1,450

Wallpaper/Floors/Rugs

Island residentMessage in a bottle

Colored-leaves flooring

4,300

Wallpaper/Floors/Rugs

Dark bamboo rug

960

Wallpaper/Floors/Rugs

Dark wooden-mosaic wall

1,800

Wallpaper/Floors/Rugs

Island resident

Forest flooring

35,000

Wallpaper/Floors/Rugs

Forest wall

44,000

Wallpaper/Floors/Rugs

Galaxy flooring

7,500

Wallpaper/Floors/Rugs

Celeste

Garbage-heap flooring

120

Wallpaper/Floors/Rugs

Fishing up trash

Garbage-heap wall

120

Wallpaper/Floors/Rugs

Fishing up trash

Golden flooring

40,000

Wallpaper/Floors/Rugs

Balloon

Golden wall

40,000

Wallpaper/Floors/Rugs

Island resident

Gold-screen wall

20,750

Wallpaper/Floors/Rugs

Honeycomb flooring

3,000

Wallpaper/Floors/Rugs

Island resident

Honeycomb wall

3,600

Wallpaper/Floors/Rugs

Island resident

Ice flooring

8,200

Wallpaper/Floors/Rugs

Ice wall

8,200

Wallpaper/Floors/Rugs

Iceberg flooring

4,000

Wallpaper/Floors/Rugs

Iceberg wall

4,000

Wallpaper/Floors/Rugs

Jingle wall

2,500

Wallpaper/Floors/Rugs

Jungle flooring

2,200

Wallpaper/Floors/Rugs

Balloon

Jungle wall

1,380

Wallpaper/Floors/Rugs

Balloon

Light bamboo rug

2,400

Wallpaper/Floors/Rugs

Balloon

Lunar surface

7,500

Wallpaper/Floors/Rugs

Celeste

Manga-library wall

1,050

Wallpaper/Floors/Rugs

Message in a bottle

Modern wood wall

1,800

Wallpaper/Floors/Rugs

Money flooring

25,000

Wallpaper/Floors/Rugs

Mush wall

21,400

Wallpaper/Floors/Rugs

Orange rug

1,200

Wallpaper/Floors/Rugs

Orange wall

4,000

Wallpaper/Floors/Rugs

Message in a bottle

Peach rug

1,200

Wallpaper/Floors/Rugs

Peach wall

4,000

Wallpaper/Floors/Rugs

Island resident

Pear rug

1,200

Wallpaper/Floors/Rugs

Pear wall

4,000

Wallpaper/Floors/Rugs

Island resident

Rustic-stone wall

1,750

Wallpaper/Floors/Rugs

Sakura-wood flooring

3,200

Wallpaper/Floors/Rugs

Balloon

Sakura-wood wall

3,200

Wallpaper/Floors/Rugs

Balloon

Sandy-beach flooring

4,120

Wallpaper/Floors/Rugs

Island resident

Sci-fi flooring

7,500

Wallpaper/Floors/Rugs

Sci-fi wall

7,500

Wallpaper/Floors/Rugs

BalloonCeleste

Shell rug

5,400

Wallpaper/Floors/Rugs

Ski-slope flooring

3,200

Wallpaper/Floors/Rugs

Ski-slope wall

3,200

Wallpaper/Floors/Rugs

Snowflake wall

4,800

Wallpaper/Floors/Rugs

Stacked-wood wall

1,800

Wallpaper/Floors/Rugs

Starry wall

7,500

Wallpaper/Floors/Rugs

Celeste

Starry-sands flooring

7,720

Wallpaper/Floors/Rugs

Message in a bottle

Starry-sky wall

7,500

Wallpaper/Floors/Rugs

Steel flooring

5,250

Wallpaper/Floors/Rugs

Message in a bottle

Steel-frame wall

6,000

Wallpaper/Floors/Rugs

Message in a bottle

Stone wall

1,500

Wallpaper/Floors/Rugs

Island resident

Tropical Vista

6,000

Wallpaper/Floors/Rugs

Message in a bottle

Underwater flooring

6,600

Wallpaper/Floors/Rugs

Message in a bottle

Underwater wall

8,600

Wallpaper/Floors/Rugs

Message in a bottle

Water flooring

7,200

Wallpaper/Floors/Rugs

Balloon

Wild-wood wall

1,800

Wallpaper/Floors/Rugs

Wooden-knot wall

1,800

Wallpaper/Floors/Rugs

Message in a bottle

Wooden-mosaic wall

1,800

Wallpaper/Floors/Rugs

Island resident

Woodland wall

1,380

Wallpaper/Floors/Rugs

Island Resident