Welcome to our PlayerUnknown's Battlegrounds Pistols List. You can view the TOP 3 Best Pistols in PUBG and other useful Tips and Tricks. We have also included some important Weapon Stats, such as Bullet Speed, Range and Damage.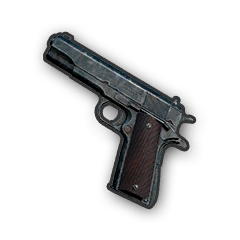 These are by far the weakest of all gun types and for the most part, are only picked up when no other choices are available. Catching enemy players off guard will be the only likely way this gun will do any real damage.
| Weapon Stats | Description |
| --- | --- |
| Damage | The per shot damage without any multipliers applied. |
| Magazine Capacity | The amount of Ammo you can fit into your gun at one time. |
| Fire Rate | The effective rate of fire, in other words, the time between each bullet shot. |
| Range | The effective range before the damage is reduced to 0. (Measured using Zeroing) |
| Bullet Speed | The speed in which the bullet travels from the barrel of the gun to aimed location. (The Higher the Number the less you will need to lead your shoots.) |
All Pistols In PUBG
[ Top 3 Best Pistols In PlayerUnknowns Battlegrounds are indicated by the # and Ranked by the Pistol Weapon Stats]
#
Other Weapons
AMMO
Damage
Magazine
Capacity
Range
Bullet
Speed
Fire Rate

#1


P18C


9mm
19
17
25-25
375
0.060s

#2


P92


9mm
29
7
25-25
380
0.110s

#3


P1911


.45
35
15
25-25
250
0.090s
#4

R1895


7.62
46
7
25-25
330
0.400s
PUBG Pistol Attachments
List of PUBG Pistol Attachments and how they affect your guns reload and sight.
Attachments
Effect Description

Extended Mag
-Increases magazine capacity

QuickDraw Mag
– 30.00% Reload Duration

Extended QuickDraw Mag
– 30.00% Reload Duration
-Increases magazine capacity

Red Dot Sights

+20.00% Faster ADS

Holographic Sights

+20.00% Faster ADS