Welcome to our PlayerUnknown's Battlegrounds Grenade List. You can view the TOP 3 Best Grenade in PUBG and other useful Tips and Tricks. Timers before a Grenade Explodes and how to throw these weapons to do the maximum damage.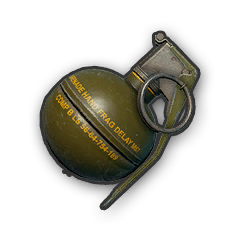 This weapon type is your best friend when it comes to players camping or hiding in a building. Throwing these through windows and other openings can flush enemy players out of cover.
Press (and hold) your attack button to pull the pin. The internal timer of the grenade starts now.
Release the attack button to throw the grenade as indicated by the red landing zone.
How To Cook Grenades?
This is a term used for holding the Grenade after pulling the pin just long enough before you throw it at the enemy, giving the enemy less time to react and escape the explosive damage.
Holding it for about 3 seconds after pulling the pin will make reacting to the grenade much harder for your enemies.
Grenades will explode 5 seconds after ready delay.
All Grenades In PUBG
[ Top 3 Best Grenades In PlayerUnknowns Battlegrounds are indicated by the # and Ranked by their effectiveness in-game.]
#
Other Weapons
How It Works

#1


Stun Grenade

Will cause strong disorientation to everyone within the blast radius (~5m) in the form of a loud ringing and a strong reduction in framerate.

It should be noted that the Stun Grenade ignores cover (rocks, walls) and can affect the user, making it unsafe to use for clearing buildings.

#2


Frag Grenade

Explosive charge to fragment the outer shell of the grenade in a shaped or radial pattern.

#3


Molotov Cocktail

This best use for Molotov is an AOE Denial, for example, using the fire from the Molotov on a stair case making it difficult for the enemy to cross the choke point from the burning AOE Damage.
#4

Smoke Grenade

Temporarily removes battlefield Vision allowing for sneaky reposition or just a good ole plain escape.