Yu-Gi-Oh Duel Links Gate Key Guide, these keys are used to battle legendary duelist, by visiting the Gate within the Duel World.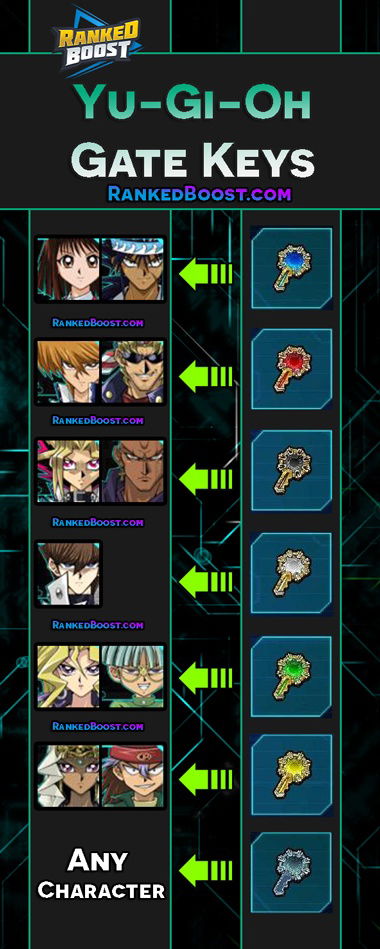 What Are Gate Keys?
Yu Gi Oh Duel Links Gate Keys are items used to battle against Legendary Duelist in the Duel World. You will need a specific amount of Gate Keys per duel, higher duelist levels require more keys.
Duelist
Level
Required Keys
(Neutral)
Required Keys
(Color)
10
24
7
20
40
14
30
64
28
40
104
56
How Do I Use Gate Keys?
Using Yu-Gi-Oh Duel Links Gate Keys will require a select amount of both Neutral & Colored Keys.
YuGiOh Duel Links Gate Keys

Black

Yami Yugi

Odion

White
Seto Kaiba

Red

Joey Wheeler

Bandit Keith

Blue

Tea Gardner

Mako Tsunami

Yellow

Rex Raptor

Ishizu Ishtar

Green

Mai Valentine

Weevil Underwood

Neutral
All Legend Duelist
Gate Keys
Quick Guide How To Get Gate Keys in YuGiOh Duel Links.
There are multiple ways to farm the required items you need to challenge a legendary duelist in the duel world.
Duel Rewards
Players can earn keys from duel rewards, dueling standard (regular) duelist is how you will collect many items including Stones, Jewels, cards and even keys.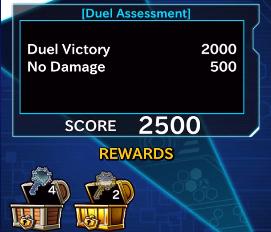 If you ran out of Standard Duelist to duel you should consider using a Duel Orb.
Stage & Weekly Missions
You also have the option of earning 

 via Stage and weekly Missions in Duel Links.

Card Trader
Players can convert Neutral

 into Colored ones by visiting the Card Trader NPC.

Keep in mind you will be using Neutral 

 a lot more than the Colored Versions.