Yu-Gi-Oh Duel Links Age of Discovery Card List Guide, View all set cards in this booster pack. The rarity of the card and the best cards within the Booster Pack.

What Cards are in Age of Discovery?
YuGiOh Duel Links Age of Discovery has 40 cards in the set it includes Levia-Dragon – Daedalus Monster card. It's the rarest card in the set and is used to built one of the most powerful decks. The booster pack contains a majority of Effect Monsters.
Age of Discovery
Below is a full list of all the available cards in the card set. You can sort the pack's card list below based on card name, it's rarity and the type.
List of Age of Discovery Cards In Yu Gi Oh Duel Links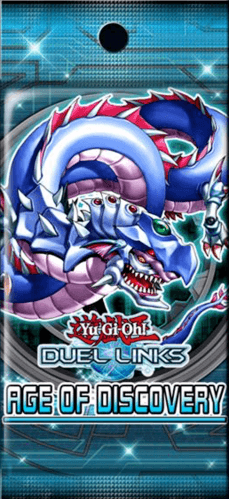 Age of Discovery

| Name | Rarity | Type |
| --- | --- | --- |
| Overwhelm | Common | Counter Trap Card |
| Deepsea Macrotrema | Common | Effect Monster |
| Blizzed, Defender of the Ice Barrier | Common | Effect Monster |
| Ooguchi | Common | Effect Monster |
| Sea Lord's Amulet | Common | Continuous Spell Card |
| Aquamirror Cycle | Common | Normal Trap Card |
| Silent Abyss | Common | Effect Monster |
| Gora Turtle of Illusion | Common | Effect Monster |
| Blizzard Warrior | Common | Effect Monster |
| Grass Phantom | Common | Effect Monster |
| Star Boy | Common | Effect Monster |
| Piranha Army | Common | Effect Monster |
| Bubonic Vermin | Common | Flip monster |
| Fairy Guardian | Common | Effect Monster |
| Maryokutai | Common | Effect Monster |
| Don Turtle | Common | Effect Monster |
| Kazejin | Rare | Effect Monster |
| Suijin | Rare | Effect Monster |
| The Reliable Guardian | Rare | Quick-Play Spell Card |
| Big Wave Small Wave | Rare | Normal Spell Card |
| Attack and Receive | Rare | Normal Trap Card |
| Numinous Healer | Rare | Normal Trap Card |
| Guardian of the Throne Room | Rare | Normal Monster |
| High Tide Gyojin | Rare | Normal Monster |
| Gyaku-Gire Panda | Rare | Effect Monster |
| Arsenal Summoner | Rare | Flip monster |
| Naturia Guardian | Rare | Effect Monster |
| Sanga of the Thunder | Rare | Effect Monster |
| Whirlwind Prodigy | Rare | Effect Monster |
| Unshaven Angler | Rare | Effect Monster |
| Needle Sunfish | Super Rare | Effect Monster |
| Yomi Ship | Super Rare | Effect Monster |
| Black Dragon's Chick | Super Rare | Effect Monster |
| The Unfriendly Amazon | Super Rare | Effect Monster |
| Piercing Moray | Super Rare | Effect Monster |
| Stray Lambs | Super Rare | Normal Spell Card |
| Moray of Greed | Super Rare | Normal Spell Card |
| Cost Down | Super Rare | Normal Spell Card |
| Levia-Dragon – Daedalus | Ultra Rare | Effect Monster |
| Michizure | Ultra Rare | Normal Trap Card |