Welcome to our The Elder Scrolls Blades Perks List, here you can view the best perks in elder scroll blades and what they do and cost. Each perk will cost skill points the stronger the perk the more skill points it will cost, you will also have to be the required level to unlock it.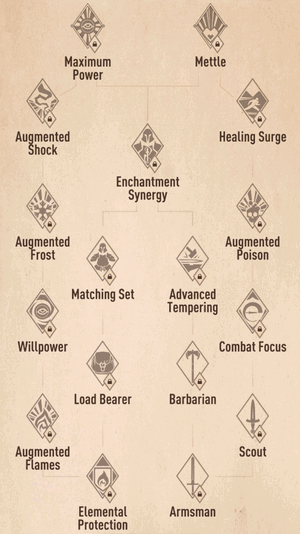 Elder Scrolls Blades Perks List
The Elder Scrolls Blades Perks List Guide, view each Perk Level Requirement To Unlock. You can use this list to help decide what path you want to take to unlock the best perk for your character. For example, if you are an Orc Race with its race bonus you will most likely be interested in the Matching Set Perk within this Perk Skill Tree.
Perk Skills
Cost
What It Does
Armsman
1
+4 Damage with versatile weapons (longswords, war axes and maces).
Requires Level: 2
Elemental Protection
1
+33 Block Rating against elemental damage while blocking with a shield.
Requires Level: 2
Scout
1
+4 Damage with light weapons (daggers, hand axes, and light hammers).
Requires Level: 4
Augmented Flames
1
Increase fire damage by 6.
Requires Level: 5
Barbarian
1
+7 Damage with heavy weapons (greatswords, battleaxes, and warhammers).
Requires Level: 5
Load Bearer
2
Increases inventory size by 10.
Requires Level: 6
Combat Focus
2
+7 Resistance to all damage while using an ability.
Requires Level: 7
Willpower
2
Recover up to 50 points of the magicka spent on an interrupted spell.
Requires Level: 8
Advanced Tempering
2
Increases the smithy's maximum tempering level by 2, up to level 6.
Requires Level: 10
Matching Set
3
+58 Armor Rating while wearing a matched set of armor (armor, helmet, gauntlets, and boots).
Requires Level: 14
Augmented Poison
3
Increases Poison damage by 9.
Requires Level: 15
Augmented Frost
4
Increases frost damage by 8.
Requires Level: 16
Enchantment Synergy
6
Stacked enchantments are 5% more effective.
Requires Level: 27
Healing Surge
5
Increases health regeneration while stamina is high, by up to 9 per second.
Requires Level: 23
Augmented Shock
5
Increases shock damage by 11.
Requires Level: 24
Mettle
10
Abilities are 10% more effective while health is critical.
Requires Level: 35
Maximum Power
10
Spells are 10% more effective when cast while magicka is full.
Requires Level: 35
You can view more elder scrolls blades Guides by Clicking/Tapping the links below.