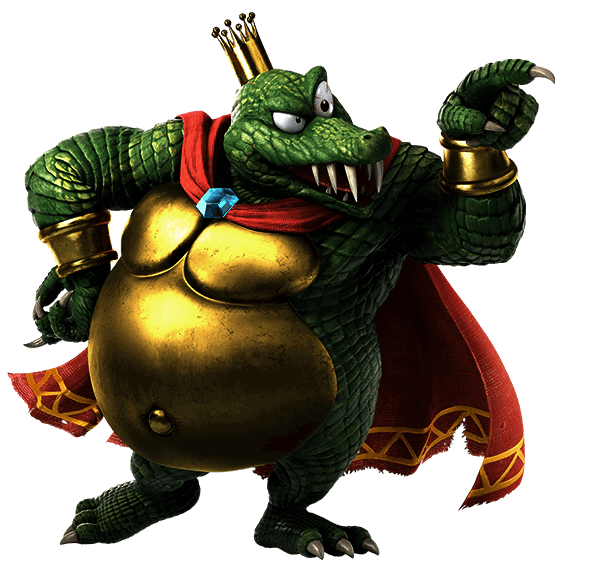 King K. Rool
Super Smash Bros Ultimate King K. Rool is from the Donkey Kong Series and ranks as a A Tier Pick (Strong). This How To Play King K. Rool Guide details the Best Spirits to use and highest Stats. This New character is in the Super Heavy Weight Class and has a Slow Run Speed, Average Air Speed, Average Dash Speed. You unlock King K. Rool by playing as in the VS. Game Mode.
| | |
| --- | --- |
| Weight | |
| Air Speed | |
| Fall Speed | |
| Run Speed | |
| Dash Speed | |

Weight
Super Heavy

Air Speed
Average

Fall Speed
Average

Run Speed
Slow

Dash Speed
Average
Super Smash Blog Entry

With long-distance special moves like the Blunderbuss, and counter moves like Stomach Attack, he is a versatile fighter. His Final Smash, Blast-O-Matic, was apparently a weapon created to destroy DK Island...
How To Unlock King K. Rool In SSBU
You can Unlock King K. Rool from playing VS. Matches, Classic Mode and World of Light Game Modes In Super Smash Bros Ultimate.
World of Light Unlock Method - Mysterious Dimension, near Risky Boots' spirit (World of Dark)
Cassic Mode Unlock Method - Unlocked by Link
VS Mode Unlock Method - Play
You can learn more about the fastest way to unlock King K. Rool HERE.
Best Spirits for King K. Rool
These are the Best Primary and Support Spirits to use with King K. Rool based on their Moves and playstyle.
| Best King K. Rool Spirits | Spirit Name |
| --- | --- |
| Primary Spirit | Hoopa (Unbound) |
| Support Slot 1 | Ezlo |
| Support Slot 2 | Revali |
| Support Slot 3 | Shine Sprite |
Improves vertical launch power, projectiles, and all special move power.
You can learn more about Spirits HERE.
The Best Character Matchups for King K. Rool, these are Counter Picks King K. Rool is Weak Against.
Bayonetta
Greninja
Little Mac
Pichu
Pikachu
King K. Rool Movesets
Here you can view all the Neutral, Dash, Defensive, Tilt, Smash, Grab, Aerial and Special Move Attacks.
| Technique | Description |
| --- | --- |
| Reflecting | It's possible to reflect projectiles and items. The strength, and speed of reflected things goes up, making them more dangerous. If you get in a reflecting war with another fighter, the power of the reflected thing can increase and break through your reflecting move. |
| Belly Power | Being hit in the belly will not cause King K. Rool to flinch, allowing to counterattack. it also reduces the damage you take. However taking too much belly damage will break your belly and leave you stunned. The belly can be hit during these attacks: Side Tilt, Dash Attack, Up Smash, Down Smash, Neutral Air Attack and Down Special. |
| Blunderbuss | Fire a cannonball with your neutral special. Once you shoot, keep holding the special move button to suck in not only the cannonball but opponents, too. Depnding on the direction you tilt L Stick you can change which direction you fire things. |
| Final Smash | Description |
| --- | --- |
| Blast-O-Matic | K. Rool blasts opponents with the Blast-O-Matic |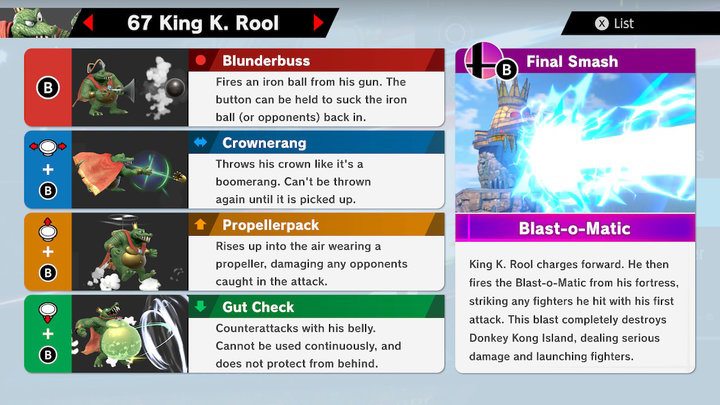 King K. Rool Amiibo for SSBU
Buy on Amazon
RankedBoost may receive a commission from Amazon purchases.
You can learn more about Leveing Up your Amiibos HERE.
All Alternate King K. Rool Costumes in SSBU
Images of all Alternate Costumes.