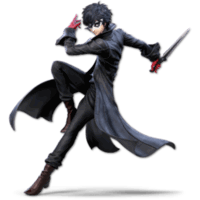 Joker
Super Smash Bros Ultimate Joker is from the Persona Series and ranks as a Tier Pick (). This DLC character is in the Class and has a Run Speed, Air Speed, Dash Speed. You unlock Joker by purchasing in the Shop.
| | |
| --- | --- |
| Weight | |
| Air Speed | |
| Fall Speed | |
| Run Speed | |
| Dash Speed | |

Weight

Air Speed

Fall Speed

Run Speed

Dash Speed
Super Smash Blog Entry

His Smash invitation gracefully stolen by the Phantom Thieves of Hearts, Joker begins his preparations!
How To Unlock Joker In SSBU
You can Unlock Joker from playing VS. Matches, Classic Mode and World of Light Game Modes In Super Smash Bros Ultimate.
World of Light Unlock Method -
Cassic Mode Unlock Method -
VS Mode Unlock Method - Play
You can learn more about the fastest way to unlock Joker HERE.
The Best Character Matchups for Joker, these are Counter Picks Joker is Weak Against.
All Alternate Joker Costumes in SSBU
Images of all Alternate Costumes.
These are the best Primary and Support Spirits to use.
Joker Movesets
Here you can view all the Neutral, Dash, Defensive, Tilt, Smash, Grab, Aerial and Special Move Attacks.
| | |
| --- | --- |
| Normal Attacks | - |
| Ground Attacks | - |
| Aerial Attacks | - |
| Grabs and Throws | - |
| Smash Attacks | - |
| Special Moves | - |