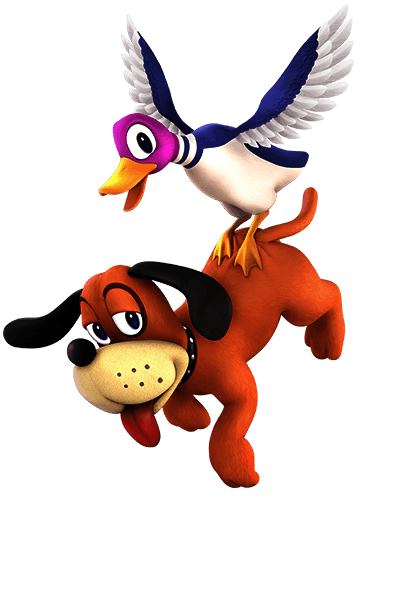 Duck Hunt
Super Smash Bros Ultimate Duck Hunt is from the Duck Hunt Series and ranks as a C Tier Pick (Average). This How To Play Duck Hunt Guide details the Best Spirits to use and highest Stats. This character is in the Light Weight Class and has a Average Run Speed, Average Air Speed, Slow Dash Speed. You unlock Duck Hunt by playing as Palutena in the VS. Game Mode.
| | |
| --- | --- |
| Weight | |
| Air Speed | |
| Fall Speed | |
| Run Speed | |
| Dash Speed | |

Weight
Light

Air Speed
Average

Fall Speed
Average

Run Speed
Average

Dash Speed
Slow
Super Smash Blog Entry

This duo excels at long-range attacks, like kicking exploding cans and throwing clay pigeons. For their Final Smash, three games from the Light Gun Series team up: Duck Hunt, Hogan's Alley, and Wild Gunman!
How To Unlock Duck Hunt In SSBU
You can Unlock Duck Hunt from playing VS. Matches, Classic Mode and World of Light Game Modes In Super Smash Bros Ultimate.
World of Light Unlock Method - Poison Woods (World of Light)
Cassic Mode Unlock Method - Unlocked by Pichu
VS Mode Unlock Method - Play Palutena
You can learn more about the fastest way to unlock Duck Hunt HERE.
Best Spirits for Duck Hunt
These are the Best Primary and Support Spirits to use with Duck Hunt based on their Moves and playstyle.
| Best Duck Hunt Spirits | Spirit Name |
| --- | --- |
| Primary Spirit | Dark Daroach |
| Support Slot 1 | Shine Sprite |
| Support Slot 2 | Rock Mario |
| Support Slot 3 | Revali |
Improves fire and explosion attacks, all special movepower, overall physical strength, and projectiles.
You can learn more about Spirits HERE.
The Best Character Matchups for Duck Hunt, these are Counter Picks Duck Hunt is Weak Against.
Pichu
Pikachu
Bayonetta
Captain Falcon
Cloud
Duck Hunt Movesets
Here you can view all the Neutral, Dash, Defensive, Tilt, Smash, Grab, Aerial and Special Move Attacks.
| Technique | Description |
| --- | --- |
| Shooting | after you've thrown out a can or clay pigeon with your special moves, you can shoot them by pressing the special move button again. |
| Final Smash | Description |
| --- | --- |
| NES Zapper Posse | Takes opponents to a desert where they are caught in a gunfight |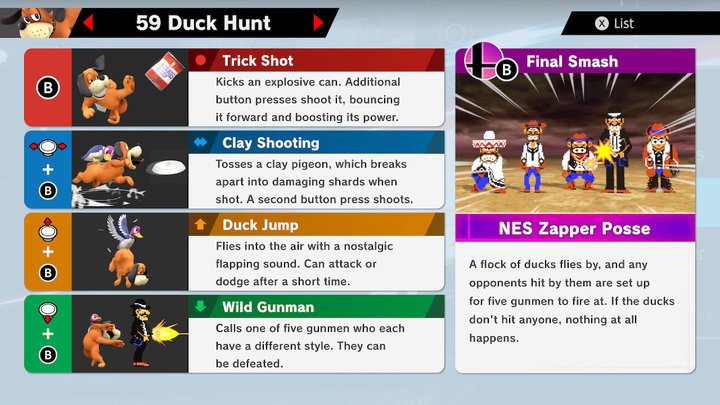 Duck Hunt Amiibo for SSBU
Buy on Amazon
RankedBoost may receive a commission from Amazon purchases.
You can learn more about Leveing Up your Amiibos HERE.
All Alternate Duck Hunt Costumes in SSBU
Images of all Alternate Costumes.