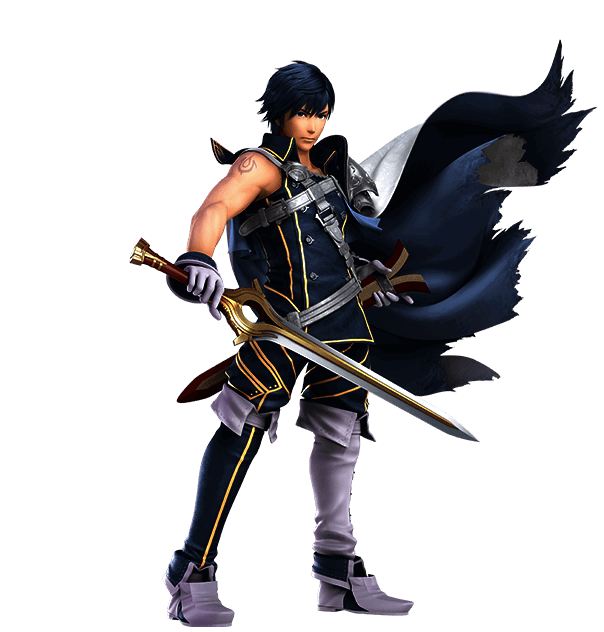 Chrom
Super Smash Bros Ultimate Chrom is from the Fire Emblem Series and ranks as a A Tier Pick (Strong). This How To Play Chrom Guide details the Best Spirits to use and highest Stats. This New Echo character is in the Medium Weight Class and has a Fast Run Speed, Super Fast Air Speed, Fast Dash Speed. You unlock Chrom by playing as Roy in the VS. Game Mode.
| | |
| --- | --- |
| Weight | |
| Air Speed | |
| Fall Speed | |
| Run Speed | |
| Dash Speed | |

Weight
Medium

Air Speed
Super Fast

Fall Speed
Fast

Run Speed
Fast

Dash Speed
Fast
Super Smash Blog Entry

The protagonist of Fire Emblem Awakening joins the battle as Roy's echo fighter. His Final Smash is Awakening Aether. Like Aether in the original game, this move has Chrom charge toward his opponent, slashing with his sword.
How To Unlock Chrom In SSBU
You can Unlock Chrom from playing VS. Matches, Classic Mode and World of Light Game Modes In Super Smash Bros Ultimate.
World of Light Unlock Method - Sacred Land. Near a treasure chest. Press (A) on an open treasure chest. (World of Dark)
Cassic Mode Unlock Method - Unlocked by Ridley, Yoshi
VS Mode Unlock Method - Play Roy
You can learn more about the fastest way to unlock Chrom HERE.
Best Spirits for Chrom
These are the Best Primary and Support Spirits to use with Chrom based on their Moves and playstyle.
| Best Chrom Spirits | Spirit Name |
| --- | --- |
| Primary Spirit | Alucard |
| Support Slot 1 | Hard Man |
| Support Slot 2 | Reaper & Reapette |
| Support Slot 3 | Ezlo |
Improves sword and weapon attacks, side special power, and vertical launch power.
You can learn more about Spirits HERE.
The Best Character Matchups for Chrom, these are Counter Picks Chrom is Weak Against.
Bayonetta
Pichu
Pikachu
Captain Falcon
Cloud
Chrom Movesets
Here you can view all the Neutral, Dash, Defensive, Tilt, Smash, Grab, Aerial and Special Move Attacks.
| Final Smash | Description |
| --- | --- |
| Awakening Aether | |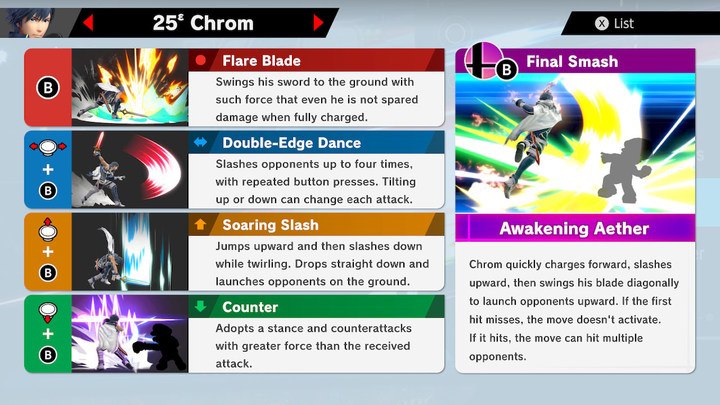 Buy on Amazon
RankedBoost may receive a commission from Amazon purchases.
You can learn more about Leveing Up your Amiibos HERE.
All Alternate Chrom Costumes in SSBU
Images of all Alternate Costumes.