In this Mobile Mario Game players will traverse through Worlds and Levels, along the way you will collect everything from Coins to a Super Star. Super Mario Run Worlds each have 4 Levels and there are 6 Super Mario Run Worlds in total at the moment.
Currently, if you are playing the Free-To-Play Version you will only have access to a portion of Levels.
Since Mario will constantly be running throughout the Level without stopping, aside from when activating a Pause Block. It's important to know what to expect before you come across it.
Super Mario Run Levels and Worlds
Super Mario Run World 1

World 1-1: Up and Over
World 1-2: Wall-Kicking It Underground
World 1-3: Paratroopas in Mushroom Valley
World 1-4: Bowser's Castle Hangout (World 1 Castle)

Super Mario Run World 2

World 2-1: Ghost-Door Deception
World 2-2: Sky-High Lifts and Leaps!
World 2-3: Treasure-Hoarding Swoops
World 2-4: Airship Cannons…Fire! (World 2 Castle)

Super Mario Run World 3

World 3-1: Big Spiny Blitz
World 3-2: Bullet Bill Barrage
World 3-3: Shell Me the Way!
World 3-4: Fire Bar Castle! Youch! (World 3 Castle)

Super Mario Run World 4

World 4-1: Cutting-Edge Spire
World 4-2: Slope to Success
World 4-3: Danger High and Low
World 4-4: Firing the Airship's Burners (World 4 Castle)

Super Mario Run World 5

World 5-1: Lakitu's Revenge
World 5-2: Pokey Vaulting
World 5-3: Boohind Lock and Key
World 5-4: Rings of Fire! (World 5 Castle)

Super Mario Run World 6

World 6-1: Land of Spikes
World 6-2: Switch Ghost House
World 6-3: Throwing It All Overboard
World 6-4: Bowser's Bob-ombing Run (World 6 Castle)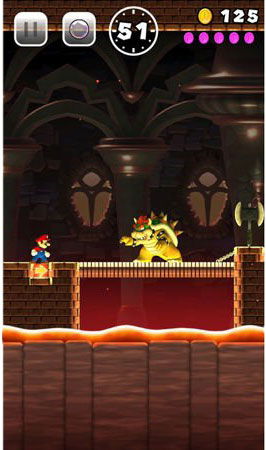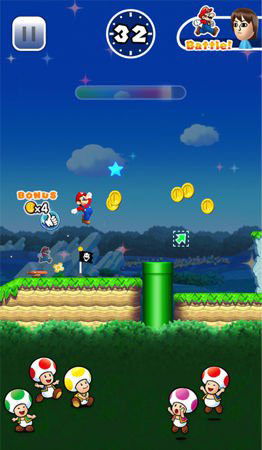 In each Level, players will collect coins when enough coins have been collected. Mario can activate "Coin Rush", this game mechanic will allow players to run through and into enemies to collect even more coins. This is just one of the many ways players can increase their high score for each level.
Gain the advantage using Cheats and Exploits that players find!