Welcome to our Sekiro Shinobi Arts Skill Tree Guide, players who like to play a stealth game will enjoy this skill tree. Certain skills such as "Suppress Presence" can make it harder for the enemies to see you and this can be useful while progressing through the game.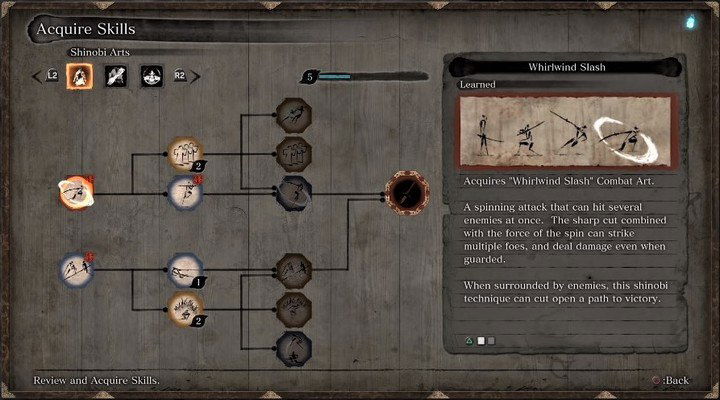 Sekiro Shinobi Skills
Sekiro Shinobi Skill Tree Guide for each skill within the Shinobi Tree, these range from Counters Attacks, Mid Air Attacks and most importantly the stealth abilities. For example, the "Suppress Sound"  allows players to more easily sneak up on the enemies to perform an execution.
Shinobi Arts
| Shinobi Skills | What It Does |
| --- | --- |
| Mid-air Combat Arts | Players can perform Combat Arts while in mid-air |
| Mid-air Deflection | Players can guard against or deflect enemy attacks in mid-air |
| Mikiri Counter | Allows a player to counter an enemy's thrust attack and dealing a large amount of damage to their Posture. |
| A Shinobi's Karma: Body | Increases the amount of Spirit Emblems that players can hold |
| A Shinobi's Karma: Mind | Greatly increases the amount of Spirit Emblems that players can hold |
| Breath of Life: Light | Recovers Vitality upon performing a successful Deathblow |
| Run and Slide | Players can slide into a crouched position while sprinting |
| Shinobi Eyes | Increases the damage inflicted to Posture upon executing a successful Mikiri Counter Skill |
| Suppress Presence | Reduces an enemy's ability to perceive those who are in stealth |
| Suppress Sound | Suppresses movement noise by inhibiting an enemy's ability to hear it |
| Vault Over | Players can leap over and behind a Posture-broken enemy |
| Whirlwind Slash | A spinning attack that can hit several enemies at once |
| – | – |
You can view more Sekiro Guides by Clicking/Tapping the links below.