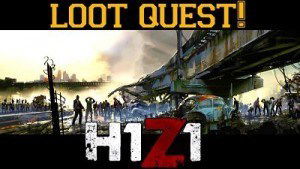 Quest Loot Caches are quests you can complete in H1Z1 to receive powerful loot like the AR-15 and more. You can obtain a quest by killing a zombie, they have a chance to drop keys with notes, the letter will tell you where you need to go to find the loot cache you need to open with your key. Today i'll be showing you exactly where you can find each quest loot cache location.
Locating Where Quest Loot Caches Are
Loot caches are everywhere in H1Z1 some are in caves others are under bridges, depending on where your quest may be will determine how far and where you need to travel. if you need to get some loot here is how you can get geared quickly.
First things first, you'll want to figure out where you are so you have a better shot at reaching your destination. If your lucky enough you could find a car and drive to the cache.
I found a simple and easy way to locate and find quest loot caches, i was able to safely get my loot by using this locator to find where i need to go.
I obtained a shotgun with ammunition, first aid kits, spark plug and more from my chest i opened, make sure you travel keeping a low profile. This means don't cross through busy locations like gas stations, neighborhoods and more. By keeping those tips in mind you'll make your way to find some amazing loot, good luck!