This is a Pokemon Mystery Dungeon Rescue Team DX Dungeon List, below you can view the entire map and dungeon locations found within this game. Each dungeon has different types of wild pokemon, traps, weather and in some cases job objectives.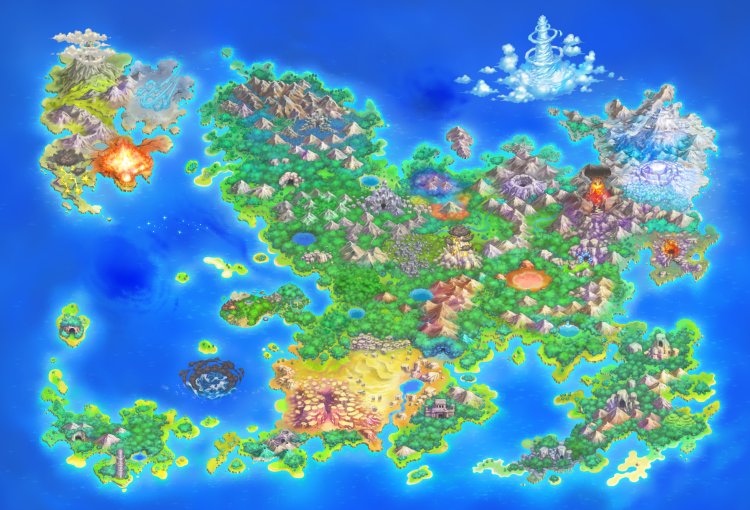 Pokemon Mystery Dungeon List
When players enter a dungeon it will be randomly generated and includes various types of pokemon, traps and even weather. In particular, the weather will have a big range of effects, some boost a type of pokemon others will make it impossible to use items.
List of Pokemon Mystery Dungeon Locations.
Tiny Woods
Thunderwave Cave
Mt. Steel
Sinister Woods
Silent Chasm
Mt. Thunder
Mt. Thunder Peak
Great Canyon
Lapis Cave
Mt. Blaze
Mt. Blaze Peak
Frosty Forest
Heart of the Frosty Forest
Mt. Freeze
Mt. Freeze Peak
Magma Cavern
Magma Cavern Pit
Sky Tower
Sky Tower Summit
Rock Path
Snow Path
Uproar Forest
Waterfall Pond
Desert Region
Southern Cavern
Wyvern Hill
Darknight Relic
Unown Relic
Grand Sea
Far-Off Sea
Howling Forest
Stormy Sea
Buried Relic
Solar Cave
Fiery Field
Lightning Field
Northwind Field
Mt. Faraway
Western Cave
Northern Range
Pitfall Valley
Wish Cave
Joyous Tower
Purity Forest
Murky Cave
Silver Trench
Meteor Cave
Oddity Cave
Remains Island
Marvelous Sea
Fantasy Strait
You can visit more of our Guides Here: