Welcome to our Pokemon Mystery Dungeon Rescue Team DX Clothing Items List, below we have listed every clothing item we have found so far and what their effect with be on your pokemon. These effects can range from SP Def boost and even Increasing the Critical Strike Chance of Moves.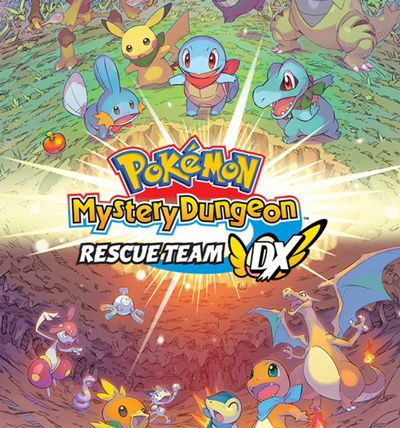 There are a variety of item types, each of which has their own use.
Clothing – Items that can be equipped by Pokemon for effects.
Food – Used to feed your pokemon when they are hungry.
Orbs – Items that can be activated in a Dungeon to provide various effects.
Seed – This Item can be eaten or thrown and used against enemies.
Vitamin – Items used to Permanently Boost Pokemon Stats.
Other – Miscellaneous Items used for various things in the game.
Pokemon Mystery Dungeon Clothing Items List
This Pokemon Mystery Dungeon Clothing Items List displays each equipable item and their effect on pokemon that wear them. As soon as information on how to get these items is available this page will be updated with it.
| | | |
| --- | --- | --- |
| Type | Name | What It Does |
| | Big Eater Belt | the wearer's Belly fills twice as much when they eat something |
| | Cover Band | if a teammate with low HP is nearby, the wearer takes the attack instead. |
| | Defense Scarf | it boosts the wearer's Defense, reducing the damage taken from physical moves! |
| | Detect Band | it boosts the wearer's evasiveness |
| | Efficient Bandanna | When this item is euqipped, moves sometimes won't cost PP to use. |
| | Explosive Band | it sometimes explodes when the wearer takes damage. It damages nearby Pokémon and makes items on the floor disappear. The wearer doesn't get Exp. Points if an enemy faints due to damage caused by the blast |
| | Fickle Specs | it boosts the cricial-hit rate when using a different move than the turn before |
| | Fierce Bandanna | the power of moves is greatly increased. |
| | Friend Bow | Pokémon you battle will be more likely to join you. It's also said that Shiny Pokémon will want to join you, too. It's only effective when the leader equips it, though. |
| | Goggle Specs | traps that have been set on the floor become visible. |
| | Heal Ribbon | it speeds up the wearer's natural HP recovery |
| | Heavy Rotation Specs | they boost the critical-hit rate when using the same move as the turn before. |
| | Insomniscope | it prevents the wearer from getting the Sleep, yawning or Nightmare condition. |
| | Joy Ribbon | the wearer can earn Exp. Points as turns go by, even if the Pokémon doesn't battle |
| | Lock-On Specs | the wearer's thrown items will never miss. |
| | Lucky Ribbon | it prevents the wearer from taking critical hits. |
| | Mach Ribbon | it boosts the wearer's Speed |
| | Mobile Scarf | it enables the wearer to move through walls, across the water, and to other places that normally can't be reached. But be careful! The Pokémon's belly will empty while travelling through walls. |
| | Munch Belt | it boosts the wearer's Attack and Sp. Atk, but it also makes their Belly empty more quickly. |
| | No-Stick Cap | If the leader equips it, it prevents items in your Bag from getting sticky as a result of traps or other means. |
| | Nullify Bandanna | it prevents the wearer's Ability from working. |
| | Pass Scarf | it enables the wearer to shrug off moves and pass them onto a nearby Pokémon. But the wearer's Belly gets emptier every time this happens. If the Pokémon's Belly gets too empty, this effect won't work. |
| | Pecha Scarf | it prevents the wearer from getting Poisoned or Badly Poisoned. |
| | Persim Band | it prevents the wearer from getting Confused. |
| | Phase Ribbon | the wearer can ignore the topography and walk anywhere. They can even break through most walls, but doing so will make their Belly less full. When their Belly reaches 0, they won't be able to break through any more walls. There are also some walls that can't be broken |
| | Pierce Band | thrown items that fly in a straight line will pass through walls and Pokémon. |
| | Power Band | it boosts the wearer's Attack, increasing the power of physical moves |
| | Prosper Ribbon | it heals the wearer's bad statuses, like being poisoned or paralyzed, if the wearer picks up money. It also slightly restores the wearer's HP |
| | Recovery Scarf | the user recovers more quickly from bad statuses like being confused or paralyzed |
| | Reunion Cape | it warps you near your teammates if you get separated from them. |
| | Scope Lens | it boosts the wearer's critical-hit rate for moves used on enemies |
| | Sneak Scarf | the wearer will be able to walk next to a sleeping enemy without waking them up. |
| | Special Band | it boosts the wearer's Sp. Atk, increasing the power of special moves! |
| | Stamina Band | the wearer's Belly empties more slowly. |
| | Tight Belt | the wearer's Belly won't empty unless they pass through walls or use linked moves. |
| | Trap Scarf | traps the wearer steps on won't go off. |
| | Twist Band | it prevents all the wearer's stats from being lowered |
| | Warp Scarf | it sometimes warps the wearer somewhere on the floor |
| | Weather Band | it shields the wearer from weather as if it's always Clear |
| | X-Ray Specs | the locations of items and Pokémon (but not traps) on the floow become visible |
| | Zinc Band | it boosts the wearer's Sp. Def, reducing the damage taken from special moves. |
You can visit more of our Guides Here: