Welcome to our Pokemon Duel Evolution Guide, we will explain how to evolve your Pokemon in Pokemon Duel.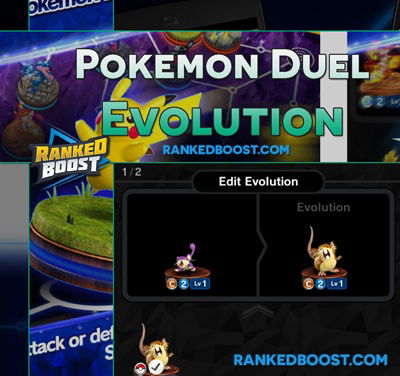 How Do I Evolve Pokemon?

To Evolve Pokemon In Pokemon Duel, you need both the base and evolution figure. Go to your "Deck" screen then "Edit Figures", below the figure will be some Dot Symbols, tap that button to see if the Evolution is available.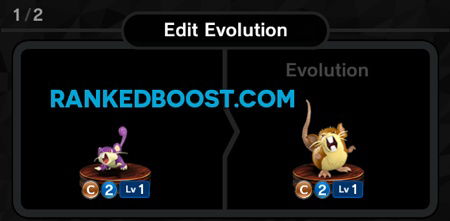 What Do I Need To Evolve Pokemon Figures?
The Base Pokemon Figure (Rattata is the example here.)
The Evolved Pokemon Figure ( Raticate is the example here.)
Higher Stage Pokemon can only be set to be the evolution for one Pokemon figure in one deck at a time.
Evolving Pokemon Duel Figures
What's Evolving Pokemon Duel Figures Do?
Evolving Pokemon Duel Figures is not necessary. however, evolved Pokemon tend to have Stronger Attack Move Damage. The trade off is they also tend to move less spaces.
During Duels
In-game you can play a figure as the Evolved Version or Base Figure if you choose the base form you can evolve it mid-battle.
You need to knock out or move an opponent's Pokemon to have a chance to evolve.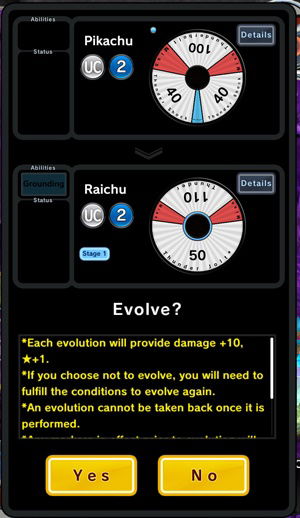 Doing so offers +10 Damage Boost and an Extra Star to Status Attacks.
However, Evolved Figures have Less MP (Movement Speed) to move on the board.