Welcome to our Pokemon Duel Daily Missions Guide. We will explain what Daily Missions are in Pokemon Duel and what you can Unlock doing them.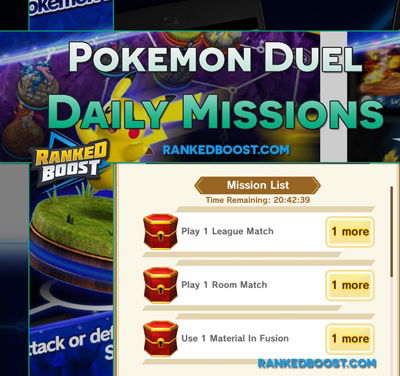 What Are Daily Missions?

Pokemon Duel Daily Missions are objective that players can complete and earn rewards like Coins, Rare Metals and Gems.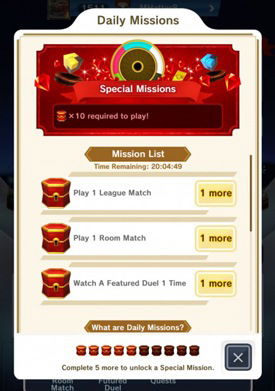 Each day 3 Daily Missions will become available.
Any unfinished missions will be reset/replaced at 09:00:00 UTC.
What Do You Get From Daily Missions?

Here you can view a list of rewards from Daily Missions:
Rare Metals

C X1

AI Tickets X5

Coins X3000 
Gems

X25

 
Gems

X20

 
Gems

X10

 
Rare Metals

C X1

AI Tickets X5

Special Wheel Spin
After you have complete 10 Daily Missions you will Unlock a Special Mission (Only Active for 24 Hours). After you completion, you will be able to access the Special Wheel Spin, Rewards from the special spin are as follows:
Booster Ticket X1

Rare Metal

UC X1

Ingot UC X4

Gems

X30

 
Gems

X70

 
There are different ways players can earn more Gems, Coins and other Rewards in Pokemon Duel.
Practice Challenges – Can rewards players with lots of loot if all requirements are met.
Quests – The Single Player Mode is another great way to gain lots of Coins and Gems.