Welcome to our PlayerUnknowns Battlegrounds Map Guide to find Loot Spawns. Below we have a map thanks to a player known as ShatterNL, who took the time to make a Map of the best places to find Weapons and 100% guaranteed Vehicle Spawn Locations in PUBGs.
PUBG Gun Locations and Vehicle Spawns
[Click on the MAP to Zoom In on Gun Locations & Vehicle Spawns.]
Or Right-Click and "Save Image As" For Later.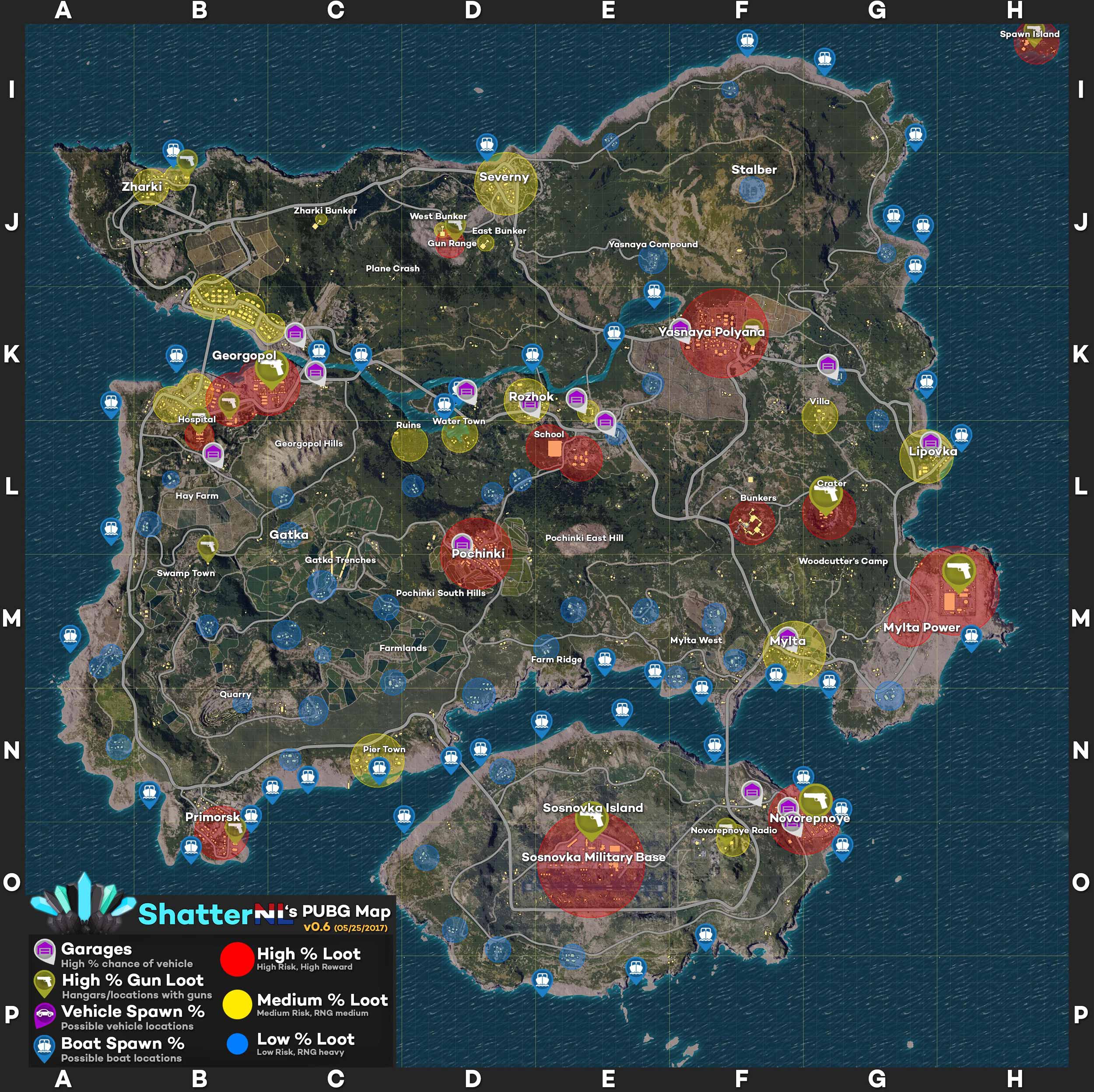 The Map of PlayerUnknowns Battlegrounds Loot Spawn Locations. Let's get some clarification on the legend of this map image made by ShatterNL.
PlayerUknowns Battlegrounds Map Loot Spawn Locations
Description
High % Loot (RED): High Risk, High Reward locations
Popular locations for players to land, mostly due to the plane passing right over it and the high amounts of gun spawns in PUBGs.
Medium % Loot (YELLOW): Medium Risk, Medium Reward locations
Good for a squad of 3-4 players, but can vary based on RNG. It's recommended your squad continue looting other

BLUE

&

YELLOW

Loot Spawn Locations after landing.
Low % Loot (BLUE): Low Risk, Low Reward locations
Usually safe locations, but only has loot for duos of 1-2 players, varies a lot based on RNG. Additional gun looting will almost always be required.
High % PUBG Gun Spawn Locations:
Places where you'll find a gun in PUBG 90% or more of the time.
100% Guaranteed Garages

 

Vehicle Spawns:
Garages across the map you can ALWAYS find a car in them!
Vehicle Spawn Location %:
Possible locations where vehicles can be in PUBG.
Boat Spawn Location %:
Possible locations where boats can be in PUBG.
What Type of Loot Spawns is in PlayerUnknown Battlegrounds Air Drops?
Air Drops are random equipment drops from passing airplanes which contain ammunition, weapons, equipment, and other healing items.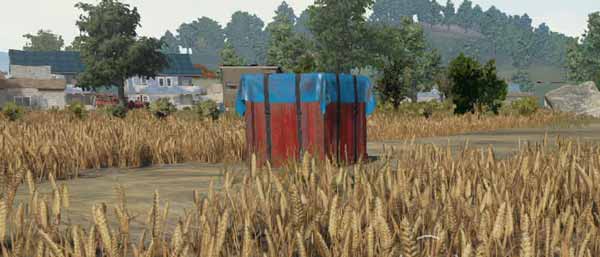 -Weapons-

AWM
Kar98k
M24
M249
SKS
Tommy Gun
VSS Vintorez
OTs-14 Groza

-Mods-

8x CQBSS Scope
15x PM II Scope

-Clothing-

-Equipment-

Backpack (Level 3)
Helmet (Level 3)
Vest (Level 3)

-Other Items-

Adrenaline Syringe
Medical Kit
You can view more PlayerUnknown Battlegrounds Guide Here: