Welcome to our Daily Persona 5 Guide, below we will walkthrough each day of every month to help you make the most of every day.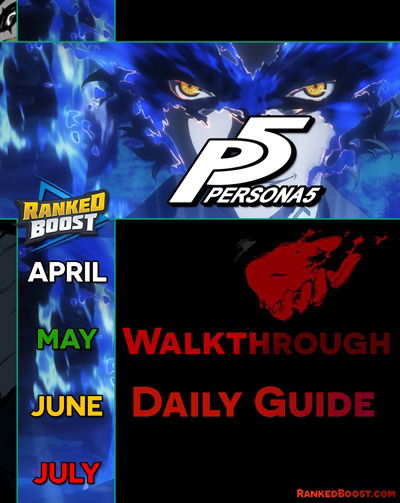 To left is the date and to the right has everything you can accomplish for that specific date. Each day in persona 5 you will be given opportunities to explore and event participate in events, jobs or just watch movies. Doing these activities can reward you in various ways, but the most important is the extra Parameter points you will earn. such as Knowledge from answering school question or participating in an eating contest for Courage points.
Quickly Navigate To Our Persona 5 Guide
If you want to learn more about Persona 5 Guide For Parameter points such as Knowledge and Kindness you should visit our Parameter guide.
Persona 5 Guide APRIL Walkthrough
4/9
Moving into Café Leblanc
4/10
Visiting Shujin High School
4/11
First day of school
4/12
Class Question: B (Knowledge +1)

Kamoshida Palace investigation

4/13
Investigation
4/14
Speaking with Ann Takamaki
4/15
Kamoshida Palace infiltration
4/16
Visiting Takemi Medical Clinic
4/17
Visiting Untouchable

Crafting tutorial (Handiness +2)

4/18
Afternoon

Check out "Captain Kidd" book at Shujin High School library
Take convenience store job at Shibuya Station
Buy 1 'plant nutrient' at Flower Shop at Shibuya Station underground mall.

The plant nutrients are one of the best items in the game for gaining Kindness. Using these on the plant in your room will grant points of Kindness without passing the time.

Buy crafting materials at Yongenjaya recycling shop

It's a good idea to always be stocked on items that you can use for crafting – especially during the summer time of the game where you will be required to craft frequently.

You will want to be aware that a limited number of SP replenishing items can be bought at select vending machines throughout the game (like in Yogenjaya and Shujin Academy). These items will sell out but are restocked every week. They are very useful for a playthrough like this where you are being asked to clear as much of a dungeon as possible in a single day.
Spend time with Tae Takemi (Courage +1)

Evening

4/19
Class question: B (Knowledge +1)

Afternoon

Spend time with Ryuji Sakamoto (Chariot arcana not required)

Response 1: A
Response 3: Either

Evening

Use plant nutrients you purchased earlier on plant in your room (Kindness +2)
Read "Captain Kidd" book at Leblanc bar

Interacting with customers will cause them to leave, opening up this option

4/20
Reading on train: Captain Kidd book (Courage +3)

Afternoon

Exchange "Captain Kidd" book for "Zorro" book
Kamoshida Palace

4/21
Afternoon

Evening

Crafting (Handiness +2 or 3)

4/22
Take Kamoshida's heart
4/23
Class question: B (Knowledge +1)

Afternoon

Spend time with Ryuji Sakamoto

Response 1: A
Response 2: A

Evening

Spend time with Sojiro Sakura

4/24
Afternoon

Drink juice at Shibuya station (Charisma +1)

This 5000 yen item can only be purchased on Sundays.

Watch movie at Shibuya theater (Courage +3)

Evening

4/25
Reading on train: "Zorro" book (Kindness +3)

Class question: A > C (Knowledge +1)

Afternoon

Exchange "Zorro" book for "Carmen" book
Spend time with Tae Takemi (Courage +1)

Response 1: A
Response 2: A

Evening

Yongenjaya Bathhouse (Charisma +3)

4/26
Afternoon

Order Hamburger at Shibuya family restaurant (Knowledge +2, Kindness +1)

Evening

Spend time with Sojiro Sakura (Kindness +3)

Response 1: A
Response 2: B
Response 3: A

4/27
Class question: B (Knowledge +1)

Afternoon

Spend time with Ryuji Sakamoto

Evening

Train in how to make coffee (Leblanc)

4/28
Afternoon

Spend time with Ryuji Sakamoto

Response 1: B
Response 2: A

Evening

4/29
Afternoon

Spend time with Ryuji Sakamoto at Ogikubo

Evening

4/30
Reading on train: "Carmen" book

Class question: B > B > C (Knowledge +1)

Afternoon

Spend time with Tae Takemi (Courage +1)

Evening

Spend time with Sojiro Sakura

Response 1: A
Response 2: B
Persona 5 Guide MAY Walkthrough
5/1
Afternoon

Drink juice at Shibuya Station (Handiness +1)
Purchase 3 plant nutrients at Shibuya flower shop
Order Hot Coffee at Shibuya family restaurant (Knowledge +2, Courage +1)

Evening

5/2
Kamoshida fallout

Evening

5/3
Kamoshida news report
5/4
Sell treasure
5/5
Team celebration

Evening

Use plant nutrients (Kindness +2)

5/6
Class lecture (Knowledge +1)

Afternoon

Spend time with Ann Takamaki

Response 1: A
Response 2: B
Response 3: B
Response 4: B

Evening

Take the fast food and flower shop jobs at Shibuya Station
Work the fast food job (Shibuya alley)

5/7
Class question: B (Knowledge +1)

Infiltrating Mementos

5/8
Speaking with Yuuki Mishima

Evening

Drink juice at Shibuya Station (Courage +1)
Work the fast food job (Handiness +3)

5/9
Afternoon

Spend time with Ryuji Sakamoto

Response 1: B
Response 2: A
Response 3: B

Evening

Spend time with Toranosuke Yoshida

5/10
Class question: B (Knowledge +1)

Afternoon

Spend time with Ryuji Sakamoto

Response 1: C
Response 2: A
Response 3: B

Evening

Spend time with Toranosuke Yoshida

5/11
Exams
5/12
Exams
5/13
Exams
5/14
Confronting the stalker
5/15
Art gallery
5/16
Class question: B (Knowledge +1)

Visiting Yusuke Kitagawa

5/17
Yusuke Kitagawa painting
5/18
The Strength Confidant can be established starting today

Afternoon

Spend time with Tae Takemi (Guts +1)

Response 1: B
Response 2: A

Evening

Coffee training (You should Interact with customers to have them leave before you begin)

5/19
Afternoon

Evening

TV quiz: B (Knowledge +1)

These can be done by interacting with the TV in Café Leblanc

5/20
Madarame Palace
5/21
Reading on train: Carmen book (Charisma +3)

Class question: C (Knowledge +1)

Afternoon

Swap Carmen book for Goemon book
Spend time with Ann Takamaki

Response 5: C
Response 8: B
Response 9: B

Evening

Use plant nutrients (Kindness +2)
Spend time with Sojiro Sakura

5/22
Afternoon

Drink juice at Shibuya Station (Kindness +1)
Spend time with Tae Takemi (Courage +1)

Evening

Spend time with Toranosuke Yoshida (Charisma +3)

5/23
Class question: C (Knowledge +1)

Afternoon

Work at convenience store

Evening

5/24
Reading on train: Goemon book

Afternoon

Spend time with Ann Takamaki

Response 1: A
Response 2: B
Response 3: A
Response 4: A
Response 5: C

Evening

5/25
Afternoon

Spend time with Tae Takemi (Courage +1)

Evening

Read message from Ryuji Sakamoto and accept invitation

Response 1: B
Response 2: A

5/26
Class question: B (Knowledge +1)

Afternoon

Spend time with Ann Takamaki

Response 1: B
Response 2: B
Response 3: A

Evening

TV quiz: A (Knowledge +1)
Bathhouse (Charisma +3)

5/27
Afternoon
5/28
Afternoon

Spend time with Tae Takemi (Courage +1)

Response 1: A
Response 3: A
Response 4: B

Evening

Spend time with Sojiro Sakura

5/29
Afternoon

Drink juice at Shibuya Station (Knowledge +1)
Movies with Ryuji Sakamoto (Kindness +3)

Evening

Spend time with Toranosuke Yoshida

5/30
Reading on train: Goemon book (Courage +3)

Class question: A (Knowledge +1)

Afternoon

Swap Goemon book for Arsene book
Write notice

Evening

5/31
Take Madarame's heart
Persona 5 Guide JUNE Walkthrough
6/1
Afternoon

Spend time with Ryuji Sakamoto

Response 2: A
Response 3: A
Response 4: B

Evening

Big Bang Burger challenge (Courage, Knowledge, Charisma, Handiness+1)

6/2
Afternoon

Buy 'Vague' at Shibuya bookstore
Work at convenience store

Evening

TV quiz: B (Knowledge +1)
Spend time with Yuuki Mishima

6/3
Reading on train: 'Vague'

Afternoon

Speak with Sadayo Kawakami (2F of Shujin)
Spend time with Ann Takamaki at Harajuku

Evening

Spend time with Sadayo Kawakami

6/4
Class question: B (Knowledge +1)

Afternoon

Spend time with Ann Takamaki

Response 1: A
Response 4: C

Evening

Spend time with Sadayo Kawakami

Response 1: A
Response 2: B

6/5
Madarame fallout

Evening

Drink juice at Shibuya Station (Charisma+1)
Spend time with Toranosuke Yoshida (Charisma+3)

6/6
Afternoon

Spend time with Ann Takamaki at Shibuya buffet

Evening

Use plant nutrients (Kindness +2)
Bathhouse (Charisma+3)

6/7
Class question: C (Knowledge +1)

Afternoon

Spend time with Ryuji Sakamoto at Tsukishima

Evening

Order Hot Coffee at Shibuya family restaurant (Knowledge +2, Courage +1)

6/8
Class question: D (Knowledge +1)

Afternoon

Order Hot Coffee at Shibuya family restaurant (Knowledge +2, Courage +1)

Evening

Spend time with Sojiro Sakura

6/9
Field trip
6/10
TV show

Evening

Spend time with Sadayo Kawakami

6/11
Class question: A (Knowledge +1)

Hot pot

6/12
Afternoon

Drink juice at Shibuya Station (Handiness +1)
Spend time with Ann Takamaki

Response 1: B
Response 4: B

Evening

Spend time with Toranosuke Yoshida (Charisma +3)

6/13
Class question: A (Knowledge +1)

Meeting with Makoto Niijima

6/14
Team meeting

Evening

Order Hot Coffee at Shibuya family restaurant (Knowledge +3, Courage +1)

6/15
Reading on train: Arsene book

Class question: A (Knowledge +1)

Investigation

Evening

Spend time with Sadayo Kawakami

Response 1: A
Response 3: B

6/16
Investigation

Evening

Order Hot Coffee at Shibuya family restaurant (Knowledge, Courage +1)

6/17
Team meeting

Evening

Spend time with Sadayo Kawakami

6/18
Afternoon

Spend time with Yusuke Kitagawa

Evening

Visiting Shinjuku with Ryuji Sakamoto

6/19
Investigation
6/20
Kaneshiro Palace infiltration
6/21
Afternoon

Spend time with Ann Takamaki at Inokashira Koen

Evening

Buy organic plant nutrients at Shinjuku flower shop
Order Hot Coffee at Shibuya family restaurant (Knowledge +3, Courage +1)

6/22
Afternoon

Spend time with Ryuji Sakamoto

Response 1: A
Response 2: C
Response 3: B
Response 4: A

Evening

Use organic plant nutrients (Kindness +3)
Shinjuku fortune telling

6/23
Reading on train: Arsene book (Knowledge +3)

Class question: B (Knowledge +1)

Afternoon

Swap Arsene book for Johanna book
Spend time with Yusuke Kitagawa

Response 1: A
Response 2: A

Evening

TV quiz: B (Knowledge +1)
Spend time with Ichiko Ohya (Charisma +3)

6/24
Afternoon

Spend time with Ann Takamaki

Evening

Spend time with Sadayo Kawakami

Response 2: A
Response 3: C

6/25
Afternoon

Spend time with Ryuji Sakamoto at Suidobashi

Evening

Spend time with Sadayo Kawakami

Response 1: A
Response 2: C

6/26
Afternoon

Drink juice at Shibuya Station (Courage +1)
Spend time with Ann Takamaki

Response 1: B
Response 2: A
Response 4: Either

Evening

Spend time with Toranosuke Yoshida

6/27
Class question: C (Knowledge +1)

Afternoon

Spend time with Yusuke Kitagawa

Response 1: C
Response 3: B
Response 4: Either

Evening

Spend time with Ichiko Ohya (Charisma +3)

Response 1: C
Response 3: B

6/28
Afternoon

Spend time with Ryuji Sakamoto

Evening

Spend time with Ichiko Ohya (Charisma +3)

Response 1: C
Response 4: C

6/29
Class question: C (Knowledge +1)

Afternoon

6/30
Afternoon

Do NOT spend newly earned yen

You're going to need at least 100,000 yen for an upcoming event

Write notice

Evening
Persona 5 Guide JULY Walkthrough
7/1
Reading on train: Johanna book

Class question: D (Knowledge +1)

Afternoon

7/2
Class free time: read Johanna book (Kindness +3)

Afternoon

Spend time with Makoto Niijima

Evening

Shinjuku fortune telling (requires 100,000 yen)

7/3
Afternoon

Buy 'Medjed Menace' at Shibuya bookstore
Drink juice at Shibuya station (Kindness +1)
Spend time with Makoto Niijima

Response 1: A
Response 2: B

Evening

7/4
Reading on train: 'Medjed Menace'

Class question: C (Knowledge +1)

Afternoon

7/5
Afternoon

Spend time with Makoto Niijima

Response 1: A
Response 2: B

Evening

Spend time with Chihaya Mifune

7/6
Class free time: read 'Medjed Menace' (Knowledge +3)

Afternoon

Buy 'Tidying the Heart' at Shibuya bookstore
Order Hot Coffee at Shibuya family restaurant (Knowledge +3, Courage +1)

Evening

Spend time with Sadayo Kawakami

7/7
Class question: A (Knowledge +1)

Afternoon

Spend time with Makoto Niijima

Response 1: A
Response 4: A
Response 5: C

Evening

Spend time with Chihaya Mifune

7/8
Reading on train: 'Tidying the Heart'

Class question: A (Knowledge +1)

Afternoon

Work at Shibuya flower shop (Kindness +2)

Evening

Use organic plant nutrients (Kindness +3)
Spend time with Sadayo Kawakami

Response 1: B
Response 2: A

7/9
Kaneshiro fallout

Class question: C (Knowledge +1)

Evening

Spend time with Sadayo Kawakami

7/10
Team study session
7/11
Class question: C (Knowledge +1)

Afternoon

Work flower shop job (Kindness +3)

Crimson rose
Gold Gebera
Ginkgo

Evening

Spend time with Yuuki Mishima

7/12
Class question: B (Knowledge +1)

Afternoon

Read message from Yuuki Mishima
Eavesdrop on students near Shujin High School front gate
Spend time with Yusuke Kitagawa

Response 1: C
Response 2: A

Evening

Spend time with Chihaya Mifune

7/13
Exams
7/14
Exams
7/15
Exams
7/16
Team meeting

Evening

Spend time with Sadayo Kawakami

Response 1: C
Response 2: C

7/17
Afternoon

Drink juice at Shibuya station (Knowledge +1)
Movies with Ann Takamaki (Charisma +3)

Evening

Spend time with Chihaya Mifune

7/18
Summer festival
7/19
Test results (Charisma +2)

Afternoon

Spend time with Ann Takamaki

Evening

Spend time with Chihaya Mifune

7/20
Team meeting
7/21
Contact with Alibaba
7/22
Investigation
7/23
Team meeting
7/24
Sushi
7/25
Confronting Futaba Sakura

Evening

Use organic plant nutrients (Kindness +3)

7/26
Afternoon

Spend time with Makoto Niijima

Response 1: C
Response 2: A

Evening

Spend time with Chihaya Mifune

7/27
Afternoon

Spend time with Ann Takamaki

If you're intimate with her, she can be taken back to your room for an optional scene. Just make sure you get +3 towards the Confidant

Evening

Order Hot Coffee at Shibuya family restaurant (Knowledge +3, Courage +1)

7/28
Afternoon

Spend time with Yusuke Kitagawa

Response 1: C
Response 2: B

Evening

Spend time with Chihaya Mifune

7/29
Afternoon

Spend time with Ann Takamaki

Evening

Order Hot Coffee at Shibuya family restaurant (Knowledge +3, Courage +1)

7/30
Afternoon

Movies with Makoto Niijima (Courage +3)

Evening

Spend time with Chihaya Mifune

7/31
Afternoon

Drink juice at Shibuya station (Charisma +1)
Futaba Palace