Welcome to our Minecraft Dungeons Weapons List, here we will display every weapon found in the game along with its stats such as Rarity, Damage, Weapons Speed Weapon Power. There are a variety of weapon types swords, hammers, staffs, and daggers, and anytime you hit a mob you have a small chance of landing a critical strike.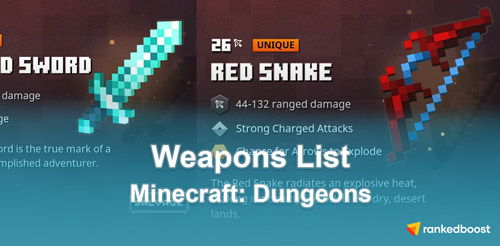 Rarity – Common, Rare and Unquie
Bonus – Extra special effects that some weapons may have.
Power – The amount of damage this weapon does.
Speed – The speed at which you weapon can be used.
Area – The range of the weapons attacks.
How To Get Weapons?
You will find the majority of Weapons from exploring Dungeons, whether it is slaying mobs or finding hidden treasure chests that you can open.
All Weapons in Minecraft Dungeons
Weapon
Damage
Bonuses
Speed
Power
Area
Description

Bonebow

Unique

54-135

Arrows grow size

The Bonebow is the pride of Pumpkin Pastures, crafted within the walls of their humble village.

Bow

Butterfly Crossbow

Unique

19

High Fire Rate

Shoots Two Enemies At Once

High

Low

This crossbow moves faster than wings in flight and strikes down enemies before they see the bolt.

Claymore

Random

101-179

Very low

Very high

Medium

The greatblade of the Highblock royal guard. Forged to dispense the Arch-Illagers cruel justice.

Dark Katana

Unique

121-178

Extra Damage to Undead

Low

High

Medium

A blade that will not rest until the battle has been won.

Diamond Sword

Unique

57-74.5-92

The Diamond Sword is the true mark of a hero and an accomplished adventurer.

Elite Power Bow

Unique

107-213

Strong Charged Attacks Greater Damage

Low

Medium

The secrets of the Elite Power Bow's construction have been lost without a trace.

Feral Soul Crossbow

Unique

85

Soul Critical Boost +2 Soul Gathering

Soul Gathering

Low

Medium

If you listen closely you can hear the souls inside the crossbow, usually ridiculing you.

Firebrand

Unique

71-110

Burns Mobs Spin attack move

Low

High

Low

Crafted in the blackest depths of the Fiery Forge and enchanted with fiery powers.

Flail

Unique

56-77

Binds and Chains Enemies

Low

Medium

Low

This ancient weapon inflicts grave blunt damage to those who cannot evade the deadly metal ball.

Frost Scythe

Unique

78

Slows Mobs +2 Soul Gathering

Low

Medium

Low

The Frost Scythe is an indestructible blade that is freezing to the touch and never seems to melt.

Glaive

Common

90-132

Incredible reach

Low

High

Medium

Weilded by the servents of the Nameless One.

Great Hammer

Common

20

Low

Medium

Low

Guardian Bow

Unique

66-199

Strong charged attacks

Super charged arrows

Forged from fossilized coral, the Guardian Bow is a remnant from sunken civilizations of lost ages

Hammer of Gravity

Unique

86

Pulls in Enemies

Great Splash

Low

Medium

Medium

A hammer, embedded with a crystal that harnesses the power of gravity, that is incredibly powerful.

Hawkbrand

Unique

36-58

Increases critical hit chance

Low

Low

Low

The Hawkbrand is the legendary sword of proven warriors.

Nightmare's Bite

Unique

16-38

Spawns Poison Clouds Dual Wield

Medium

Low

Very low

The twin blades of Nightmare's Bite drip with deadly venom, still potent after all these years.

Red Snake

Unique

31-92

Strong charged attacks

Arrows sometimes explode when shot

Sickles

Sharpness, Fire Aspect, Rampaging

A ceremonial weapon that hails from the same region as the Desert Temple

Spirit Knife

Common

120

Thrust attack +2 Soul Gathering

Low

High

Low

A ceremonial knife empowered using illager evocation, it holds the wrath of spirits.

The Green Menace

The Last Laugh

Unique

32-75

Mobs Drop More Emeralds Dual Wield

Fast

Low

Low

Strange, distorted laughter seems to whisper from these menacing looking sickles.

The Pink Scoundrel

Unique

28-57

Hits multiple targets

Chance to enrage mobs

It would be a deadly mistake to underestimate the power of the Pink Scoundrel.