This is our list of Artifacts in Minecraft Dungeons. Here we list all of the Artifacts found, their abilities, and their Rarity. Artifacts in this game are usable objects with unique abilities that give you an advantage over your enemies.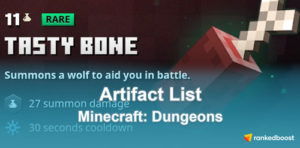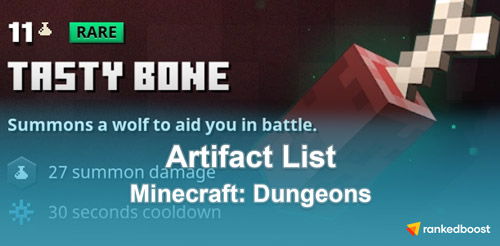 Artifacts are unique items which have special abilities, some of them deal immense damage to your foes. Others will summon a pet who will fight alongside you, and some even grant you extra defense and regeneration.
Artifacts have different attributes, such as being harder to find, the damage they deal, and so on.
Rarity – How Easy they are to find. Common, Rare, and Unique.
Cooldown – The time needed between each use.
Damage – The Amount of damage they deal to enemies.
Bonuses – Extra effects that Artifacts can have.
Where and how do you find Artifacts?
Artifacts can be found by exploring the game's dungeons, killing mobs and finding and opening chests.
List Of All Artifacts In Minecraft Dungeons
Below is a list of all the Artifacts in Minecraft Dungeons. This includes their stats such as Rarity, Bonuses, Cooldown, and Damage.
Artifact
Power
Cooldown
Bonuses
Description

Boots of Swiftness

Rare

5 seconds

Gives a short boost to movement speed.

Boots blessed with enchantments to allow for swift movements. Useful in uncertain times such as these.

Corrupt Beacon

Rare

26

185 artifact damage per second.

+1 Soul Gathering

Fires a high-powered beam that continuously damages mobs.

Death Cap Mushrooms

Common

30 Seconds

Greatly increases attack and movement speed.

Eaten by daring warriors before battle, the Death Cap Mushroom drives fighters into a frenzy.

Fireworks Arrow

Common

41 ranged damage.

30 seconds.

The explosive power of the TNT combined with the high velocity movement of an arrow, what could possibly go wrong?

Fishing Rod

Common

5

1.6 seconds

The trusted companion of any true adventurer, the Fishing Rod is useful for more than just fishing.

Flaming Quiver

Common

Let's you shoot flaming arrows.

This quiver is filled with the deadliest of arrows.

Light Feather

Rare

3 Seconds

Lets you tumble through the air, stunning and pushing enemies back as you go.

No one knows what mysterious creature this feather came from, but it is as beautiful and powerful.

Lightning Rod

Common

6-60 artifact damage

+1 Soul Gathering Requires Souls

Crafted by Illager Geomancers, this item is enchanted with the power of a storming sky.

Tasty Bone

Rare

27

30 seconds

Summons a wolf to aid you in battle.

You hear distant howling as you hold the Tasty Bone in your hand.

Totem of Regeneration

25 seconds

Totem of Shielding

25 Seconds

Totem of Soul Protection

Wind horn

Common

5 blocks pushed

10 seconds

Pushes enemies away from you and slows them briefly.

When the wind horn echoes through the forests of the Overworld the creatures of night tremble with fear.