Legends of Runeterra Zaunite Urchin is a Common Card from the Piltover & Zaun Region. It will Cost 1 Mana to use and has 1 Health, 2 Attack and will To play me, discard 1. Last Breath: Draw 1. Other Unit Type Cards similar to this one are as follows: Swiftwing Lancer, Cursed Keeper, Yeti Yearling.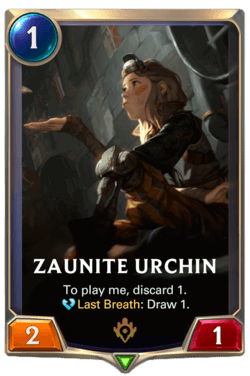 Tap the artwork to see full version
- SIXMOREVODKA
Unit

Zaunite Urchin

To play me, discard 1. Last Breath: Draw 1.

100 Shards to Craft

Common Wildcard

Last Breath: These abilities take effect when the unit dies.

"You'd think the sumprats would look after their own." "Too busy basking in their self-pity, brother." "Shame. Ah... have you seen my purse?"

Core Set
LoR Zaunite Urchin Deck Builds
Aggro Discard Deck Build
This Aggro Discard Deck Build is one of the Best LoR Zaunite Urchin Deck Builds, you can find many cards that are good with Zaunite Urchin in Legends of Runeterra here. This deck uses Piltover & Zaun, Noxus Cards and Jinx, Draven as its champions, it also has 18 Units and 16 Spells. In total thats 9 Common, 2 Rare, 1 Epic and 6 Champions. It will cost 25900 Shards to build this deck.
Import Deck Code: CEBAGAIDCQRSOCQBAQAQYDISDQTCOKBNGQAACAIBAMFQ