Legends of Runterra Wraithcaller is a Rare Card from the Shadow Isles Region. It will Cost 4 Mana to use and has 2 Health, 4 Attack and will Allegiance: Summon a Mistwraith. Other Unit Type Cards similar to this one are as follows: .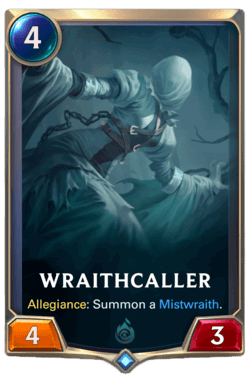 Wraithcaller

Shadow Isles

Unit

Rare

Allegiance: Summon a Mistwraith.

She appears without a sound. The terrors that follow her are far less subtle.
Associated Cards for Wraithcaller.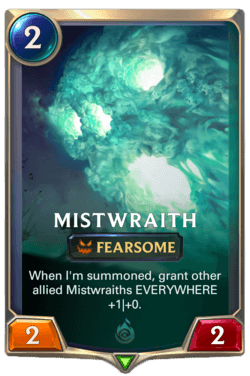 Mistwraith

Shadow Isles

Unit

Common

When I'm summoned, grant other allied Mistwraiths EVERYWHERE +1|+0.

Fearsome: Can only be blocked by enemies with 3 or more Attack.

These specters of the Isles shed their identities long ago to become amalgamations of pure, unappeasable hunger.
LoR Wraithcaller Deck Builds
Deck build coming soon ..