Legends of Runeterra Wolfrider is a Common Card from the Freljord Region. It's part of Rising Tides Expansion cards (Set 2). It will Cost 4 Mana to use and has 3 Health, 4 Attack and will Plunder: Get an empty mana gem. Other Unit Type Cards similar to this one are as follows: Darius, Crowd Favorite, Avarosan Outriders.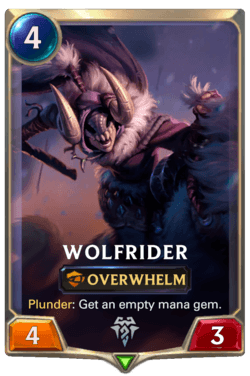 Tap the artwork to see full version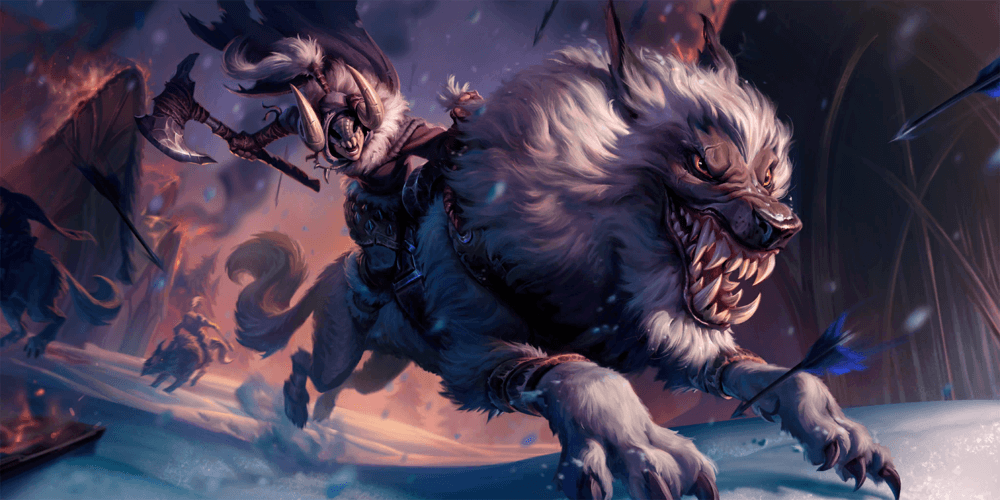 - MAR Studio
Unit

Wolfrider

Plunder: Get an empty mana gem.

100 Shards to Craft

Common Wildcard

Overwhelm: Inflicts damage beyond what would kill the target(s) to the enemy Nexus.
Plunder: A card triggers its plunder ability when played if you damaged the enemy Nexus this round.

The young riders of the Winter's Claw are given a wolf pup the moment they can hold a weapon. Their upbringing is devoted entirely to battle--the wolf trained to savage and maim, and the rider to pillage and steal.

Rising Tides (Set 2)
LoR Wolfrider Deck Builds
Sejuani Ramp Deck Build
This Sejuani Ramp Deck Build is one of the Best LoR Wolfrider Deck Builds, you can find many cards that are good with Wolfrider in Legends of Runeterra here. This deck uses Freljord, Shadow Isles Cards and Tryndamere, Sejuani, Thresh as its champions, it also has 17 Units and 17 Spells. In total thats 6 Common, 5 Rare, 3 Epic and 6 Champions. It will cost 30400 Shards to build this deck.
Import Deck Code: CEBQEAIBBQUQIAIFFA2DMNYEAIAQCBQJBIBACAIBCQBAEAICBABAEAIBC4TQEAIFAEMQ