Legends of Runeterra Vanguard Sergeant is a Rare Card from the Demacia Region. It will Cost 3 Mana to use and has 3 Health, 3 Attack and will When I'm summoned, create a For Demacia! in hand. Other Unit Type Cards similar to this one are as follows: .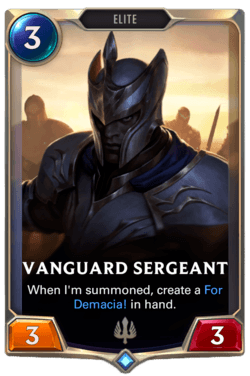 Vanguard Sergeant

Demacia

Unit

Rare

When I'm summoned, create a For Demacia! in hand.

"He leads our drills from morning to night, and he's the first to head into the fray. Hard as steel, steady as stone--couldn't choose a finer leader." - Demacian Ensign

Elite
Associated Cards for Vanguard Sergeant.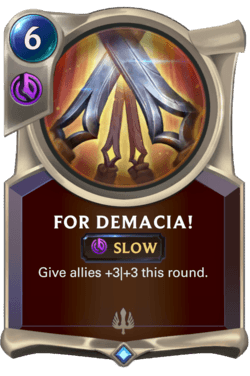 For Demacia!

Demacia

Spell

Rare

Give allies +3|+3 this round.

Slow: Slow spells can be cast outside of combat and other casting. The enemy can respond.

"It is our homes, our families, our comrades in arms. It is our pride, our honor, our strength. And so, today, as we fight for its defense and its very existence, let us shout its name: DEMACIA!"
LoR Vanguard Sergeant Deck Builds
Challenger Ramp Deck Build
This Challenger Ramp Deck Build is one of the Best LoR Vanguard Sergeant Deck Builds, you can find many cards that are good with Vanguard Sergeant in Legends of Runeterra here. This deck uses Demacia Cards and Garen as its champions, it also has 26 Units and 11 Spells. In total thats 6 Common, 5 Rare, 2 Epic and 3 Champions. It will cost 21000 Shards to build this deck.
Import Deck Code: CEAQYAIAAECAUDAOCQNBYIRHF4ZQCAQBAADAOAA
List of Cards similar to Vanguard Sergeant.
There are no other similiar cards