Legends of Runterra Vanguard Firstblade is a Common Card from the Demacia Region. It will Cost 4 Mana to use and has 2 Health, 2 Attack and will Attack: Grant me +2|+2. Other Unit Type Cards similar to this one are as follows: .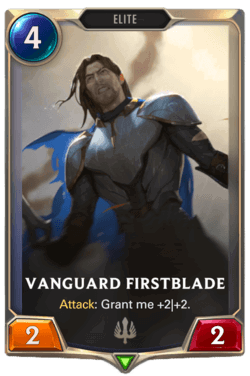 Vanguard Firstblade

Demacia

Unit

Common

Attack: Grant me +2|+2.

The battle cry sounds, and my feet are already turning over the soil. I need nothing but my lady's order to know my destiny and enact her will.

Elite
LoR Vanguard Firstblade Deck Builds
Deck build coming soon ..